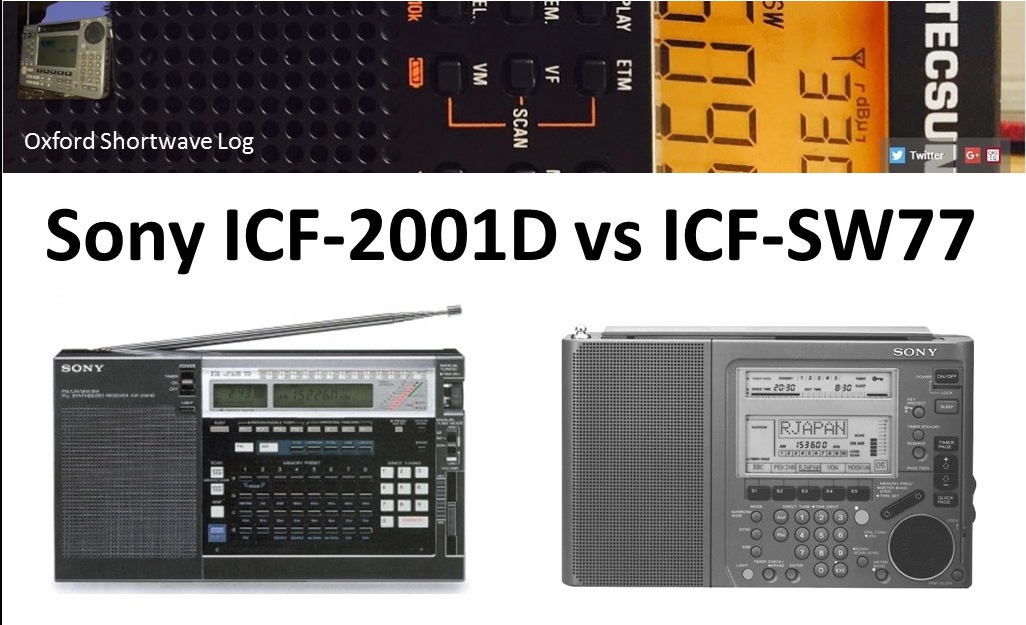 Hi there, subscribers to my YouTube channel Oxford Shortwave Log  will be aware that I currently operate both of these wonderful vintage portables. I purchased the ICF-2001D only 18 months ago from eBay, based largely on its reputation as one of the best performing portables ever made. Previously I had been using my excellent ICF-SW55 as the mainstay receiver for my numerous DXpeditions, coupled with irregular appearances from my Sangean ATS-803A and the excellent value-for-money Tecsun PL-360. The ICF-2001D proved to be a revelation in terms of sensitivity, selectivity and contrary to popular belief, with careful planning (to avoid crowded bands), is able to cope pretty well with very large antennas. As regards audio bandwidth filtering, SSB and synchronous detection, in my experience, the ICF-2001D is as good as it gets in a portable – or a vintage portable at least. I have lost count of the number of personal-firsts I've achieved using this wonderful receiver and as someone who likes to push the envelope a little, I soon started to wonder whether it's replacement, the ICF-SW77 might prove to be an even better performer. Subsequent online research  confirmed there was no absolute consensus on this issue, with followers of these two great receivers firmly placed in both camps.
Sometime later, a good friend of mine, fellow radio hobbyist and subscriber to Oxford Shortwave Log very kindly offered to send me his cherished ICF-SW77 on long-term loan. Like me, he was intrigued to know how it compared to it's venerable predecessor and thus the deal was done! Upon it's arrival in July, I started planning a back-to-back series of comparison tests at the very quiet wood in Oxfordshire I used for my DX'peditions, using the same antenna for both recievers – the excellent Wellbrook ALA1530 active loop. In total, I made fourteen reception videos comparing the ICF-2001D and ICF-SW77 and posted them to Oxford Shortwave Log. Both receivers performed very well, delivering excellent reception on the Tropical Band and elsewhere on the shortwave spectrum from Bolivia, Brazil, Guatemala, amongst others. At the halfway stage, I generated a video to summarise the results to-date and this will follow in my next post to swling.com.  In the meantime, I hope you enjoy the first half of the reception videos; which follow below:
---
---
Clint Gouveia is the author of this post and a regular contributor to the SWLing Post. Clint actively publishes videos of his shortwave radio excursions on his YouTube channel: Oxford Shortwave Log. Clint is based in Oxfordshire, England.