Over the past year, a number of SWLing Post readers have asked me to review the PK Loop portable magnetic loop antenna produced by Paul Karlstrand in Australia.
I finally caved in and purchased one.
I ordered the shortwave version of the loop, the  C-LOOP-HDSW6-18 in early November and received it about one week later.
I was first introduced to this antenna by SWLing Post contributor, Mark Fahey, who brought it to the SWL Fest and our 2015 PARI DXpedition.
Mark has taken his PK Loops (both the shortwave and mediumwave models) on his numerous travels around the world. He finds that they're relatively effective portable antennas in RFI-dense environments like hotels and guest houses. They're better at mitigating RFI than, say, portable wire antennas or telescopic whips.
Mark hooks up his portable SDR to the PK Loop and makes spectrum recordings (wideband recordings)–from, say, his hotel room in Kuala Lumpur–then takes the recording back home to listen and tune at his leisure via his laptop or tablet PC.  While I've certainly made spectrum recordings while travelling in the past, the appeal of such a portable loop antenna is what finally caused me to pull the trigger.
Overview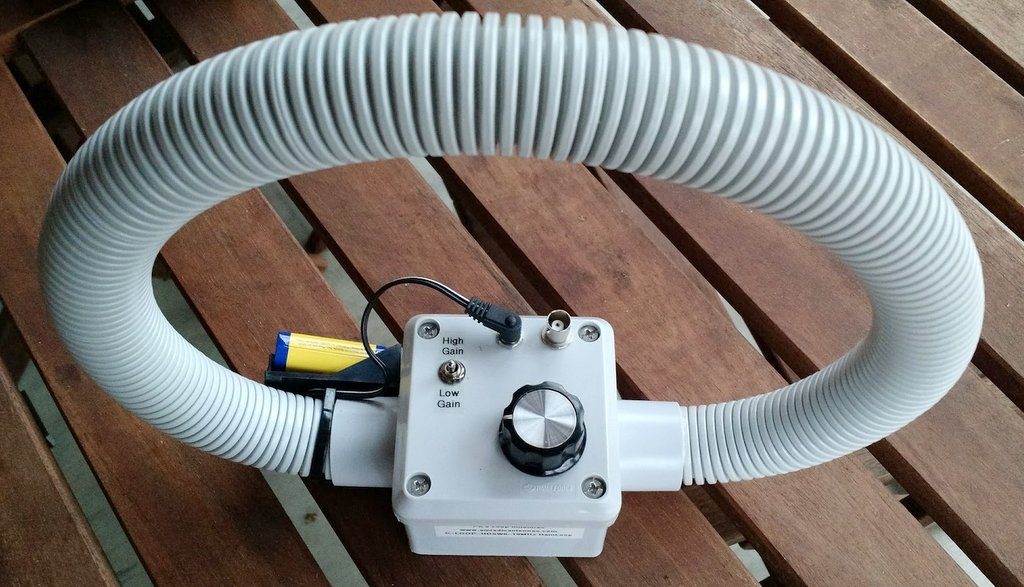 The PK Loop is a small loop antenna–measuring about 12″ in diameter. It's encased in UV-stabilized PVC conduit and the matching box also seems to be made of PVC. It feels very durable and can, no doubt, even survive the wildest of luggage handling.
The PK Loop has an attached battery 9V battery holder, but can actually be powered by any 9-18 volt DC supply. Current consumption is less than 15 mA. On the matching box, you'll find a tuning knob, a BNC connector, DC power in port and a HI/LOW gain switch. My loop shipped with a 2 meter BNC-BNC Cable, 3.5mm adapter, and DC Power lead to open ends.
Operation
Operating the loop is very simple:
Power the antenna with a 9V battery or other DC source
Chose either the high or low gain setting
Place it on a stable surface (height from the ground is not a critical issue, but you should avoid placing it next to noisy electronics or mobile phones)
Connect the PK Loop to your receiver's antenna jack with the supplied cable
Turn on your receiver to the desired meter band, then adjust the loop's tuning knob until you hear the signal level peak
Start listening, keeping in mind that as you tune around the band you may need to adjust the loop's tuning knob for maximum gain
Loop antennas, in general, are fairly narrow-band and–unlike a Wellbrook or Pixel Loop–manual adjustments need to be made with the tuning knob to match the PK Loop as you scan across bands.
Still, I see why Mark favors the PK Loop for spectrum recordings: the bandwidth is wide enough that if I tune the loop to the middle of the 31 meter band, for example, it does a fine job covering the entire band.
On the air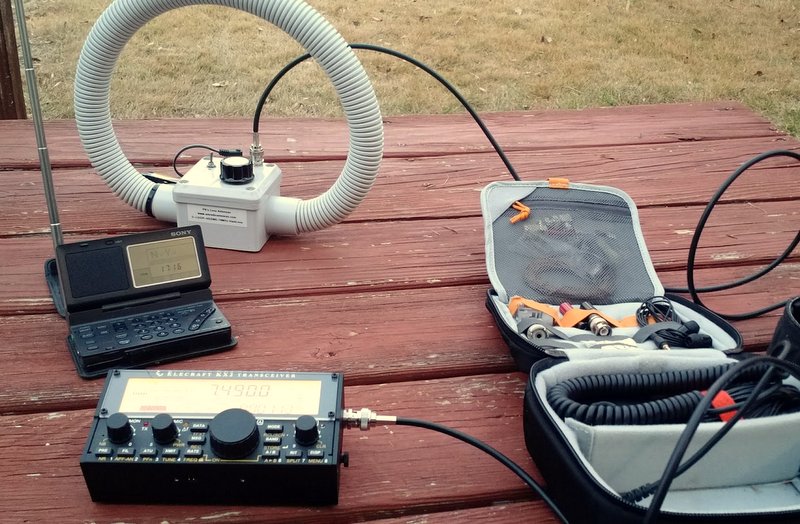 My free time has been very limited since receiving the PK Loop earlier this month, but over Thanksgiving holiday, I took it to my family's home that has relatively high RFI levels.
The following are a couple of videos I made with my Moto X smartphone. I'll be the first to admit that these are not the best videos–I had no tripod and the Moto's microphone leaves much to be desired–but I think you'll still get the idea of how well the PK Loop works.
With the Sony SW100
Click here to watch on YouTube.
With the Elecraft KX2
Click here to watch on YouTube.
So far, I'm very pleased with the PK Loop. It does seem to mitigate noise better than other portable antennas I've used in the past and certainly improves my SW100's reception. It makes SWLing with the Elecraft KX2 or KX3 easy and convenient.
One word of caution: if you use the PK Loop with a transceiver like the KX2, please turn off the ATU, and set the power level to 0W before using. The PK Loop is receive-only and will not handle any RF power.
Note that with the SW100, I have only used the PK Loop's low gain setting. I'm a little nervous about overloading the SW100, so do not plan to use the high gain setting. The Elecraft KX2 seems happy to handle either gain setting: I imagine this will be the case with most general coverage transceivers and tabletop receivers.
More to come!
In a couple of weeks, I'll be staying in a hotel room (likely with inoperable windows and heavy RFI) so I will attempt to put the loop through its paces and compare it with my radio's built-in antenna.  Stay tuned!
UPDATE: Click here to read my follow-up review.
Post readers: have you used the PK Loop or other similar portable/travel antennas? Please comment!
Click here to view PK's Loop antennas on Paul Karlstrand's website.
Paul also sells his antennas and ships internationally on eBay–click here to view the selection.