The SWLing Post DXpedition at PARI is going very well.  We started yesterday around noon with beautiful fall weather; late last night, it started raining but that hasn't dampened our spirits today.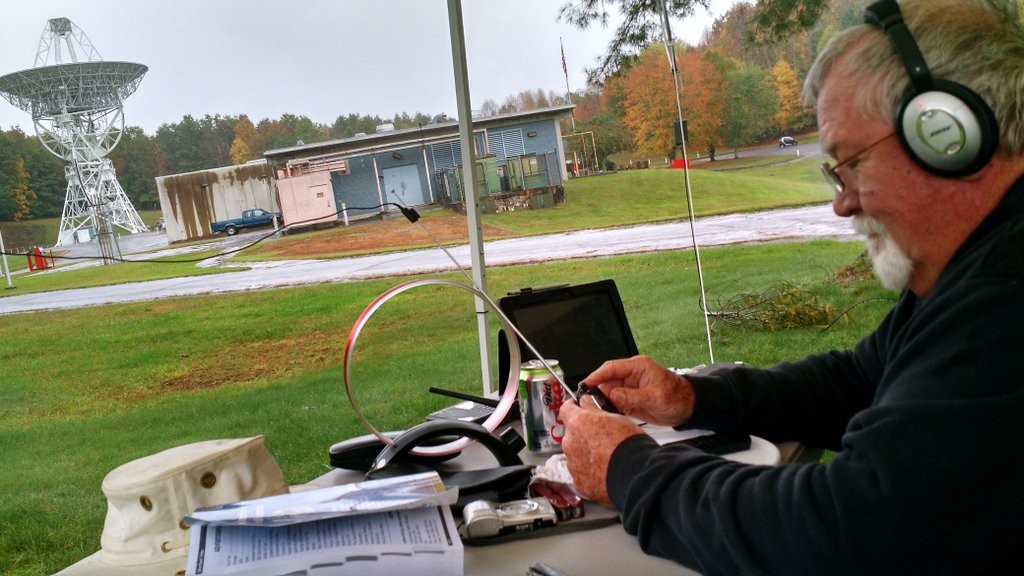 Despite the wet, chilly weather, Gary Donnelly (above) has been logging numerous shortwave stations during the day and mediumwave stations at night via his assortment of ultralight radios. Bill Boyd, another DXpeditioner, has been travelling the 200 acre PARI campus and listening via his Tecsun PL-880.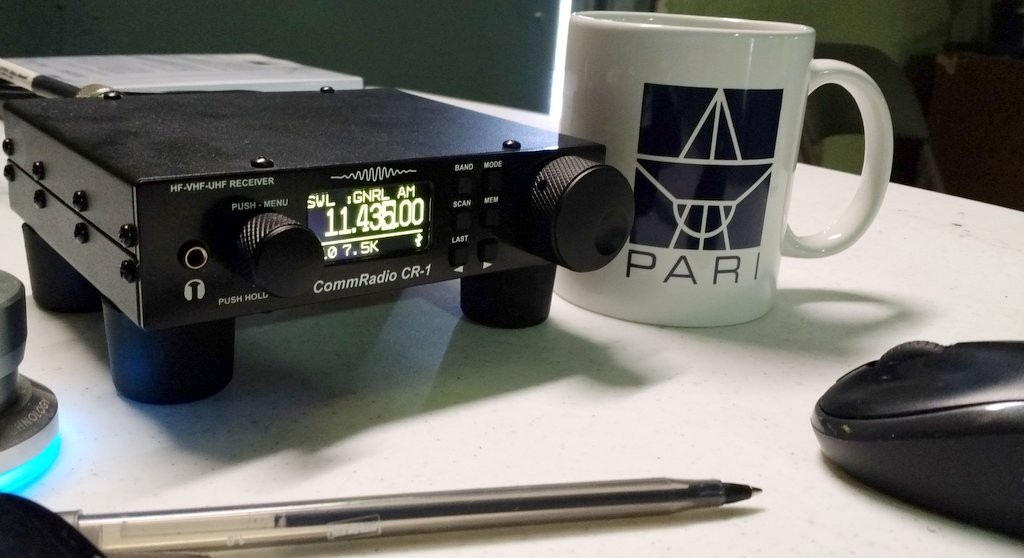 DXpeditioner, Mark Fahey, has traveled here from his home in Australia, thus he's particularly enjoyed hearing South American stations which are somewhat rare in his corner of the world. Today alone, Mark snagged two other firsts: the time station CHU Canada, and a perfect two hour recording of the Voice of Nigeria in DRM. Mark says that his listening expectations are turned upside down, because day/night band openings are nearly opposite of what he's used to. This is the great thing about SWLing during travels: exotic stations become much lower hanging fruit.
Mark and I have set up a table full of SDRs and have been actively recording spectrum while listening. We have a WinRadio Excalibur, Elad FDM-S2 and the SDRplay RSP.
We also have the CommRadio CR-1 hooked up: it has been a fantastic receiver for visitors to use and a brilliant auxiliary receiver while both SDRs have been recording spectrum simultaneously.
A few samples from the logs
Despite mediocre band conditions, we've managed to hear a lot of stations.
Here is our band scan at 1500 UTC on the 19 meter band:
15140 Radio Sultanate Oman Arabic
15255 Radio Free Europe Turkmen
15265 Adventist World Radio Hindi
15290 Adventist World Radio Punjabi (vy weak)
15300 Radio Romania International Arabic
15395 Athmeeya Yatra Radio Sindhi (vy weak)
15410 Radio Liberty (faint)
15420 BBC English
15435 Radio Riyadh Arabic
15460 Radio Free Europe Tajik
15490 Radio Exterior de Espana Spanish
15535 Radio Cairo Arabic
15550 Radio Dabanga Sudanese Arabic
15580 Voice of America English
15595 Vatican Radio Arabic
15610 EWTN (WEWN) English
15620 Radio Veritas (?) Filipino (?)
15670 Adventist World Radio English
15700 China Radio International English
15770 WRMI English
1600 UTC on the 25 meter band:
11435 HM01 Cuban Numbers Station Spanish
11550 EWTN (WEWN) Spanish
11600 Bible Voice BCN Persian (faint)
11620 All India Radio Russian (faint)
11715 Vatican Radio Russian (faint)
11775 Caribbean Beacon English
11825 WRMI (Overcomer) English
11950 Radio Habana Cuba Spanish
12050 EWTN (WEWN) Spanish (vy weak)
12055 Voice of America Somali
12160 WWCR English
2000 UTC on the 25 meter band:
11600 Denge Kurdistan Kurdish
11670 All India Radio Hindi
11700 All India Radio GOS
11735 Zanzibar Broadcasting Corporation Swahili
11760 Radio Habana Cuba French
11775 Caribbean Beacon English
11810 BBC English
11825 WRMI (Overcomer) English
1900 Voice of America French
11930 Radio Marti Spanish (being jammed by Cuba)
11955 Adventist World Radio Dyula
11995 Radio France International French
12050 EWTN (WEWN) Spanish
12060 Radio Algerienne Chaine 1 Arabic
12095 BBC English
12105 WTWW Portuguese