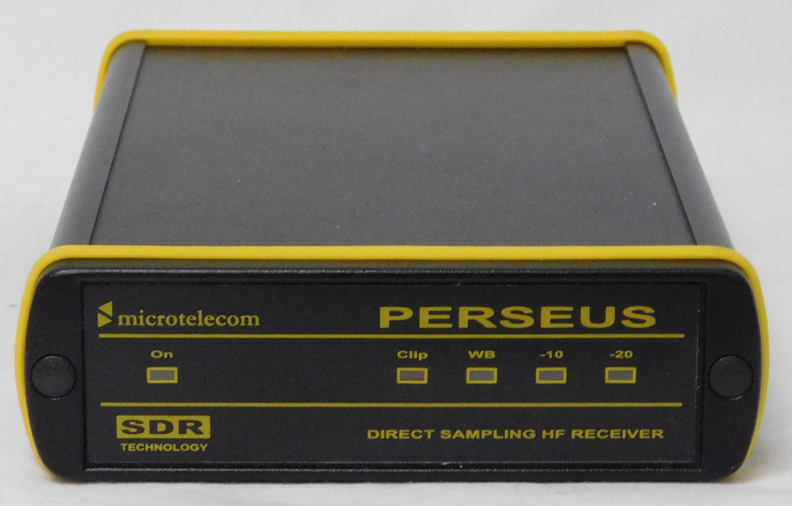 I regularly check out the used equipment list at Universal Radio. While prices are not rock-bottom, the seller (Universal) is solid. Universal backs all of their used equipment with a 60 day limited warranty and their product descriptions are accurate.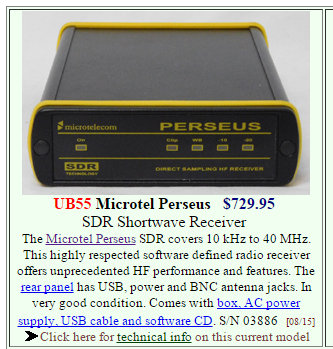 This Microtelecom Perseus (see ad above) appeared in Universal's used index a few weeks ago.  I assumed it would be snatched up pretty quickly at $729.99 US. I've been tempted to purchase it, but since I have no less than five SDRs in my shack at the moment, it would certainly be in excess to my needs.
Why buy a Perseus?  Even though it's been on the market for many years, the Perseus has an excellent receiver that is comparable to or better than many of the latest SDR offerings. While I've never been a huge fan of the Perseus application/software, it is unique in that it allows you to both share your receiver and control other Perseus receivers online. The included server software is relatively easy to implement as well; no doubt, this is why there are so many Perseus receivers online.
I've even heard rumors that Microtelecom may be introducing a new Perseus application before long (I certainly hope this is true).
If you've been looking for a used Perseus in good condition, I feel like the $729 price is fair from Universal Radio (new units sell for $999.95).
Occasionally, you can find the Perseus used on eBay as well (click here to search).
At the prompting of Mark Fahey, I'm planning to borrow a friend's Perseus soon and try some of the online functionality. If I make the receiver available through the Perseus online network, I'll post an update here on the SWLing Post.