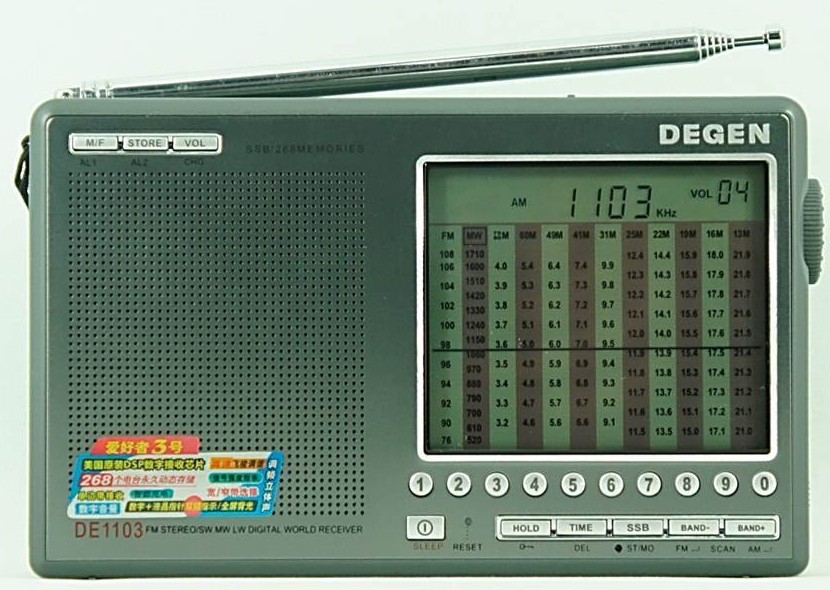 Many thanks to SWLing Post reader, Eric Weatherall, who writes:
I've been interested by news of the updated DSP version of the Degen DE1103.

I just saw an eBay auction for a used DE1103 which listed "DSP" in the title. But I looked at a photo of the product and it showed the labeling of the original product. If you look at the bottom left of the unit, the older radios have two lines of product description printed in black, and the newer radios have one line.

Based on photos I found online, here is the old product's description (which applies to both the Degen and Kaito versions)

"PLL FM STEREO/SW MW LW DUAL CONVERSION SYNTHESIZED WORLD RECEIVER"

And here is the new product's description.

"FM STEREO/SW MW LW DIGITAL WORLD RECEIVER"

I thought this would be useful for anyone wishing to buy the new DSP version of this radio where a photo of the actual unit is shown.
Eric has a good point–many times on eBay, sellers simply copy descriptions from previous or existing listings. You my find a used DE1103 listed as a unit with DSP. It's best to confirm the version with the seller before purchasing. To my knowledge, only the 2015 version of the Degen DE1103 has DSP.