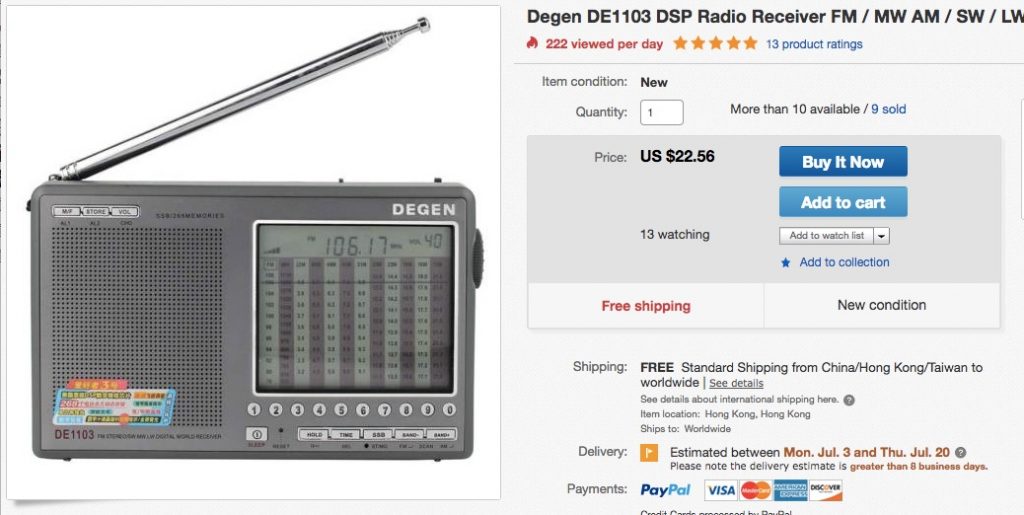 UPDATE–Caveat emptor:
I can no longer link to this deal. Several readers have noted the seller has no history nor feedback.
Additionally, Joe notes that "The same seller is offering the Tecsun PL-660 for $39.99 and the Tecsun PL-360 for $17.47, among other extraordinarily low-priced items."
Thanks guys–I'm sorry, but that's just too good to be true. I've removed the eBay links below.
To be clear: eBay provides a money back guarantee for buyers in instances like this, but it would be an extra hassle, for sure. I just feel these prices are too good to be true.
Here's the original post:
Many thanks to SWLing Post contributor, Dave Zantow (N9EWO), who notes:
"I see the sour DSP version of the DE1103 are down to rock bottom prices up on eBay."
Click here to view on eBay.
Any potential buyers should note: while this DE1103 looks identical to the excellent DE1103/KA1103 receiver produced through 2014, the DE1103 DSP model leaves much to be desired. Check out my review from 2015.
Still, for $22.56 US shipped, it would make for a great FM radio if nothing else.