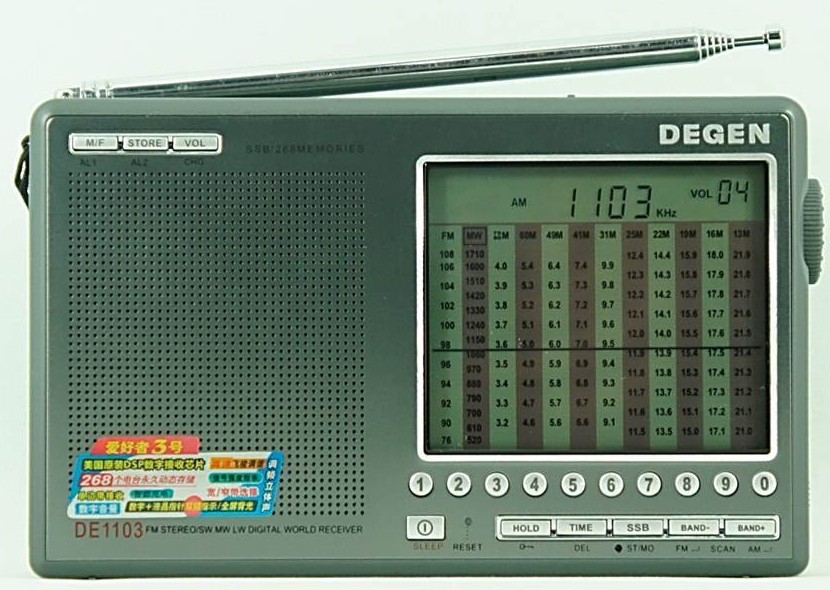 After publishing our previous post about a potentially redesigned Degen DE1103 with DSP, SWLing Post reader, Tudor, comments:
Yes, the DE1103 looks like it's been redesigned. You can see it dissected here:
http://bbs.tecsun.com.cn/0002.asp?open=724665
And, if I'm not mistaken, the SiLabs DSP chip can be seen in this picture:
https://dl.dropboxusercontent.com/u/5417175/2015102316185240911.jpg
Wow–thanks so much for confirming this, Tudor! This is obviously a redesigned Degen DE1103. I also noticed "NEW-DE1103-MAIN-1.2" silk-screened on the board:
The Hong Kong-based eBay vendor Bigbargainonline is selling the new Degen DE1103 for $79.00 US shipped. I've purchased from them several times before and was pleased with the experience.
There are other vendors selling the new Degen DE1103 as well (click here to search eBay) but make sure you're purchasing the 2015 version of the Degen DE1103 since you can still find the cosmetically-identical legacy DE1103 new in box.
Tudor, thanks again for sharing a link to the discussion on tecsun.com.cn–while I can't read Chinese (and the Google translation leaves something to be desired!) the photos certainly tell the story.