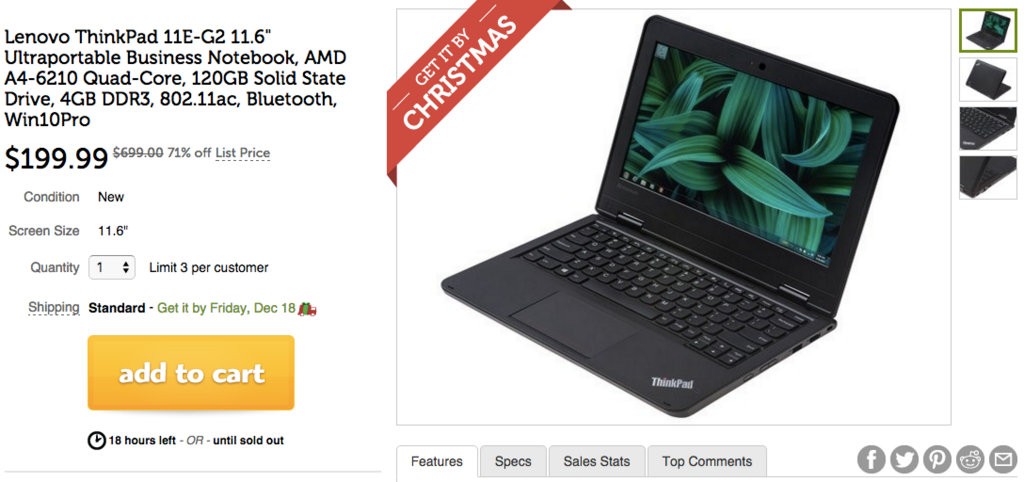 After several failed attempts to use a Dell 7″ Windows tablet with my SDRs and D-Star DVAP, I decided to purchase either a Surface Pro (like my pal Mark Fahey used at the SWLing Post DXpedition) or a small Windows notebook computer.
This morning, I noticed a good deal on Woot.com: a Lenovo Rugged ThinkPad 11E-G2 11.6″ for $199 US. Woot actually had an identical deal about two weeks ago and I passed on it–since then, I've read mostly positive reviews about this notebook.
I'm a fan of Intel processors, but I'm pretty sure this AMD quad core processor combined with the speed of an internal solid state drive should handle most of my SDR spectrum recording needs. The Thinkpad also has a USB 2 and USB 3 port for external storage.
This small notebook is also MIL-SPEC Tested and comes with a full one year Levono warranty.
So I bit the bullet about 15 minutes ago.
I have purchased several items through Woot (hard drives, tools, telephones, etc.) and have only had good experiences.
If you're interested in this deal, you must act quickly. It will only last until Woot sells out of inventory or the end of the day today (whichever comes first).