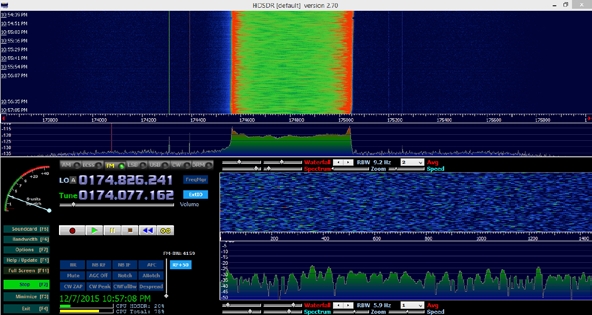 Frequent contributor Mario Filippi N2HUN has written a brilliant piece for the latest edition of The Spectrum Monitor entitled RTL-SDR: Your Eye To The Wireless World, February 2016. Here is a brief synopsis:
RTL-SDR Dongle: Your Eye to the Wireless World

By Mario Filippi N2HUN

The RTL-SDR dongle has garnered much popularity over the last several years as an inexpensive and effective broadband receiver for the radio enthusiast. Now Mario shows us how the RTL-SDR can be pressed into serving in other ways: as a rudimentary piece of test equipment to explore those countless wireless devices that power our world and make life convenient. You can use it when restoring vintage radios, doing frequency analysis, antenna analysis and a host of troubleshooting activities you may never have thought of.
I highly recommend buying at least the current issue ($3.00 / PDF Download – what a steal!) or better yet, subscribing for a whole year. Every issue gives far more value than the cost ($2.00/issue at the current subscription rate).
Mario's article explores things I never would have thought of, and he explains how he uses these inexpensive dongles in place of much more expensive equipment. It is truly amazing what these little wonders can do, and Mario just keeps pushing back the envelope of what is possible.
Thanks Mario for a truly inspiring article – yet again you have given us even more rabbit trails to explore!
Robert Gulley, AK3Q, is the author of this post and a regular contributor to the SWLing Post. Robert also blogs at All Things Radio.