(Source: PRI)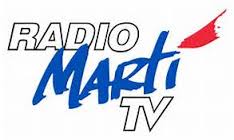 On first impression, Radio and TV Martí looks and feels pretty much like any other newsroom. Emilio Vazquez shows me around, and we stop and watch two radio broadcasters behind a thick pane of glass.
"We have a morning show known as 'El Revoltillo,' which is like an on-air swap market type of show, where people call in and offer different products and services for sale on island," says Vazquez.
But here's what's different about this call-in show: It's illegal for its listeners to call in, or even to listen. That is, if they even can — the Cuban government tries to jam broadcast signals coming from Florida. Vazquez said they're always trying to stay one step ahead.
"We have various methods of transmission. We have medium-wave transmission on AM frequency, we have our short-wave transmissions as well."
Those change frequencies throughout the course of the day.
Radio and TV Martí has been delivering news and information to Cuba since 1985, an intense period of the Cold War. The Cuban American National Foundation, a powerful lobbying group of Cuban exiles in Miami, helped persuade the Reagan Administration to create the stations, which fall under the Broadcasting Board of Governors, a US government agency.
[…]Still, critics of the Martís question if Cubans are getting the best information from the government news agency. They call the programming one-dimensional, conservative and a mouthpiece of American policy. Gamarra says he's staunchly disagreed with many editorials broadcast by the Martís over the years.
"But I think the criticism of them, that because they're conservative, they're not good journalists, doesn't follow. They still have some value," says Gamarra. "I think [the Martís] has an expiration date though."
As part of the US government, Radio and TV Martí works out of large compound in Miami fortified by barbed wire, guards, and airport-type screening. As part of the US government, Radio and TV Martí works out of large compound in Miami fortified by barbed wire, guards, and airport-type screening. Credit: Jason Margolis
When that expiration date should be is the big question. With a thaw in US-Cuba relations, some say the time is now. Democratic Congresswoman Betty McCollum of Minnesota introduced a bill to end the Martís. It's called the: "Stop Wasting Taxpayer Money on Cuba Broadcasting Act." The Martís cost US taxpayers $27 million a year.
President Barck Obama wants to turn the Martís into an independent non-profit, but still funded by the government. It would be called a "grantee."
Many conservatives say that would weaken the government's commitment, and that the Martís still provide an invaluable service exposing human rights abuses in Cuba.
Malule González says her operation is more important than ever, even with President Obama on the island today.
"Don't be confused by people shaking hands, that doesn't mean that the Cuban people have any freedom," says González.