Every radio enthusiast knows that the Sony ICF-2010/2001D was a desirable, high performing portable receiver throughout its long production history. Manufactured from 1985 through 2003, few receivers were as consistently high on DXers' "must have" list as the ICF-2010.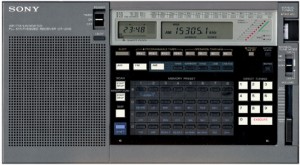 These Sony portables still command high prices on the used market, but what would you pay for a brand new, still in the sealed factory carton ICF-2010? Well, someone just won the high bid on this new, unopened 2010 for the princely sum of $982.00 USD plus shipping:
http://www.ebay.com/itm/SONY-ICF-2010-RECEIVER-BRAND-NEW-STILL-IN-FACTORY-SEALED-BOX-/111948598883
What's your opinion? Outrageous, foolhardy purchase or a savvy investment for the future? Please comment below with your thoughts.
Guy Atkins is a Sr. Graphic Designer for T-Mobile and lives near Seattle, Washington.  He's a regular contributor to the SWLing Post.