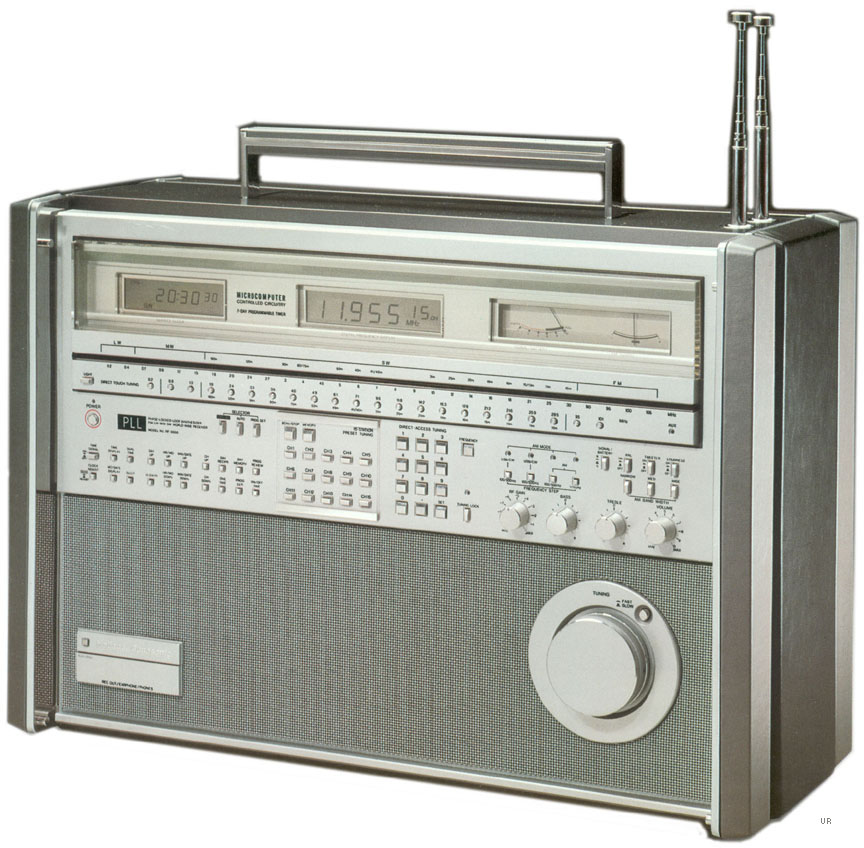 In response to our post about a Panasonic RF-9000 being offered on eBay for $20,000(!), SWLing Post reader, Luke, comments:
I actually just bought a RF-9000 from a Spanish Ebay seller. It might show up in the 'completed auctions', not sure. I made an offer of 2,000 Euros and he accepted. Of course I am like most of you who might have seen one in a magazine or book for over 20 years, but never dreamed of actually owning one.
My unit had a few imperfections like a couple of dings and the grille was not 100% with some slight discoloration but I cleaned it up nicely and got some Testors paint to fill in the dings. It came with the cover but with no documentation. Everything works perfectly and there are no dirty or inoperable switches or buttons. Even the lights all work which is a relief.
I can only really compare it to the Sony ICF-2010 and the Satellit 700, both of which I have owned at one time. I still have the Sony. The Panasonic is on a much different level as far as ease of use. And the tuning is super fast with absolutely no audio lag between channels if that is the right description. It is really smooth sailing all the way across the dial and you can go straight from FM into the LW band which is pretty cool.
Another nice feature is the band selection buttons actually have the corresponding frequencies also so there is no guesswork. The odd thing about the unit is that all of those cool buttons that you see pertain mainly to the clock and timer functions.
The shortwave side is fairly stripped down with just a 3-way bandwidth selector, a switch for a noise blanker, a RF gain knob, and a 4 position switch for USB, LSB, etc. That is pretty much it for tuning and knob twiddling and I would had preferred to have a few more knobs for antenna trim and other features to eek out faint signals. I guess I was expecting more I don't know?
I personally find it to be the best radio I have ever used as far as audio and ease of use. I did some side by side tests against the ICF-2010 for sensitivity and it is about a wash. But for 1/10 the price the Sony wins all day long and you cant beat the sync detector! I find myself amazed that I would ever own a RF-9000 and consider it a great investment. I think this seller is dreaming if he thinks he can get that price for it though.
Thanks for sharing your review of the RF-9000! You certainly have a rare and classy receiver that actually performs–a keeper for sure. If I recall correctly, even the tuning knob feels perfectly weighted on the '9000.
Based on what these sell for, I don't think you overpaid for your '9000–indeed, you got it at a bit of a discount.
Click here to search eBay for the Panasonic RF-9000.