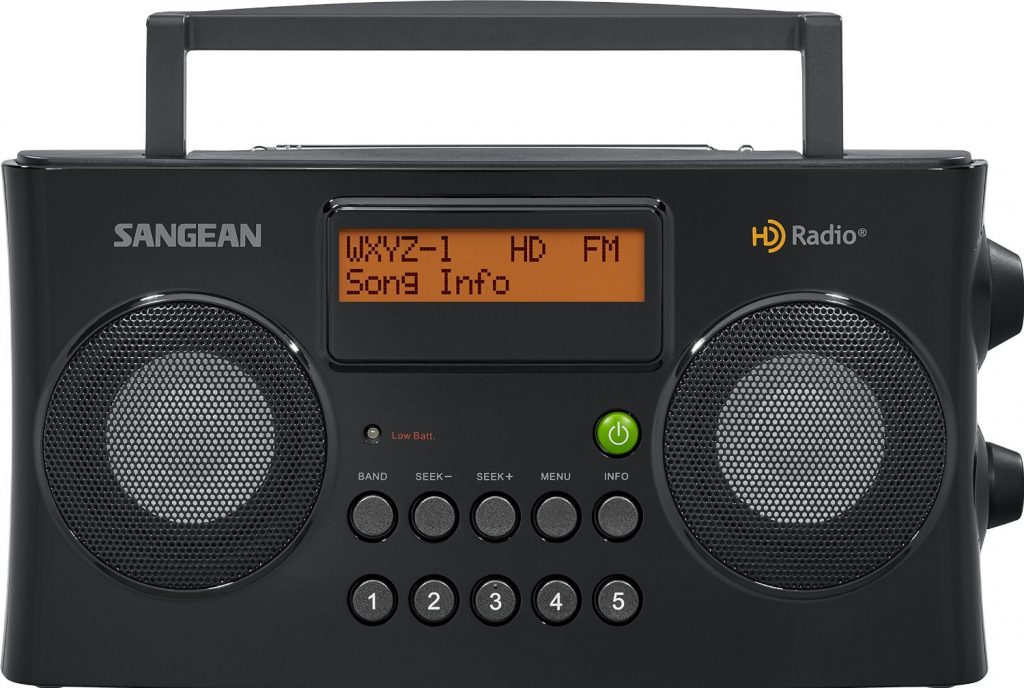 Many thanks to SWLing Post contributor, Dan Hawkins, who comments in reply to our post about the Sangean HDR-18:
Darn. Just when you thought you read a review of the latest Sangean radio another one comes out. I have yet to find a review of the Sangean HDR-16.

[The] HDR-16 is a portable AM-FM HD radio with stereo speakers. Runs on household AC power or four C cells. At 10? long this is not exactly pocket sized but small enough for beach or nightstand duty. I wonder how fast it eats up the C batteries?

I don't think HDR-16 will hit the shelves until mid-September.
Dan then followed up with pre-order prices:
That Adorama price is correct! I just noticed that Universal Radio also has a pre-order price of $99.99.
$100 US is not a terrible price for a quality portable AM/FM stereo analog/digital radio. Indeed, that may be the best price I've seen for that particular feature set. I bet four C cells will power it for quite a long time, too.
At second glance, the HDR-16 has an impressive feature list (via Sangean):
HD Radio digital and analog AM / FM-Stereo reception
10 Memory Presets (5 FM, 5 AM)
PAD (Program Associated Data) Service
Support for Emergency Alerts Function
Automatic Multicast Re-Configuration
Automatic Simulcast Re-Configuration
Auto Ensemble Seek
Real Time Clock and Date with Alarm and Sleep Function
2 Alarm Timer by Radio, Buzzer
HWS (Humane Wake System) Buzzer and Radio
Snooze Function
Tone & Bass Control
Information Display for Channel Frequency, Call Sign, Radio Text, Audio Mode, Service
Mode, Signal Quality and Clock Time
Easy to Read LCD Display with Backlight
Battery Low LED Indication
Auxiliary Input for Additional Audio Sources
Record Output for Connecting to Hi-Fi System or Recording from Audio Program
I/O Jacks: DC In, Line-Out (Rec-Out), Aux-In, Headphone and HD / FM Rod Antenna
The feature set sounds like something that would appeal to my buddy Jeff McMahon. He's been looking for a bedside radio for quite a while. This one has a "Human Wake System"–perhaps meaning the alarm gradually increases the volume? Of course, I question if the HDR-16 will perform well on the AM broadcast band–I suppose it depends on how well the receiver is shielded from CPU noises, etc.
I might be tempted to grab one of these and test it. I like the price tag much better than that of the HDR-18, though I'm not sure its audio fidelity will be comparable. While I doubt I can receive an HD broadcast from my home, it might be fun trying.
Have any SWLing Post readers pre-ordered the HDR-16? Care to do a review?