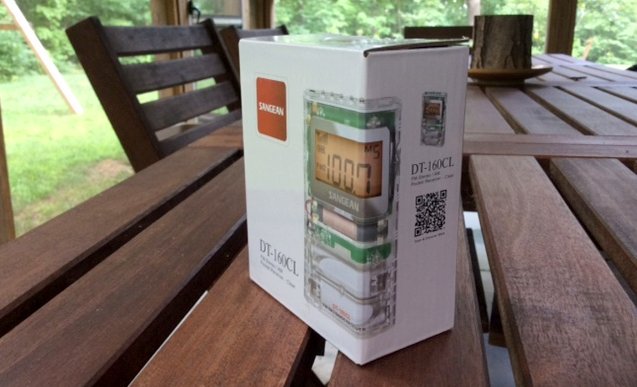 Yesterday, I received my Sangean DT-160CL–the correctional version of the DT-160–from Amazon.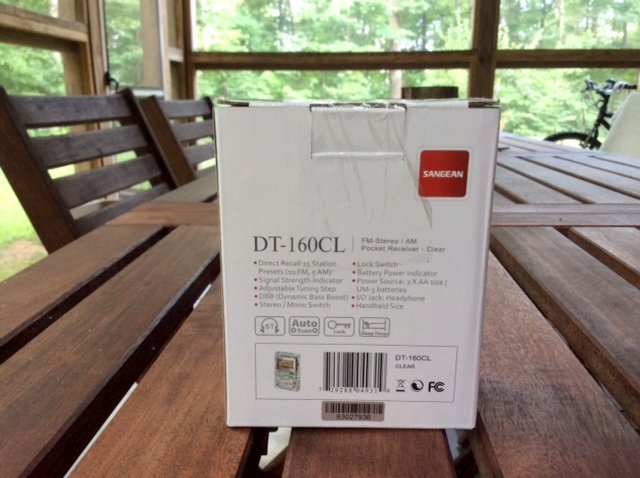 Even though the Amazon product page showed 5 units in stock on July 29, and though I get free two day shipping via Amazon Prime, my  DT-160CL took four business days to arrive. Out of curiosity more than anything else, I asked Amazon why the delivery would take four business days instead of two my Prime membership promises.
Amazon replied that stock levels weren't correctly displayed on the product page at time of ordering since the DT-160CL was selling so quickly.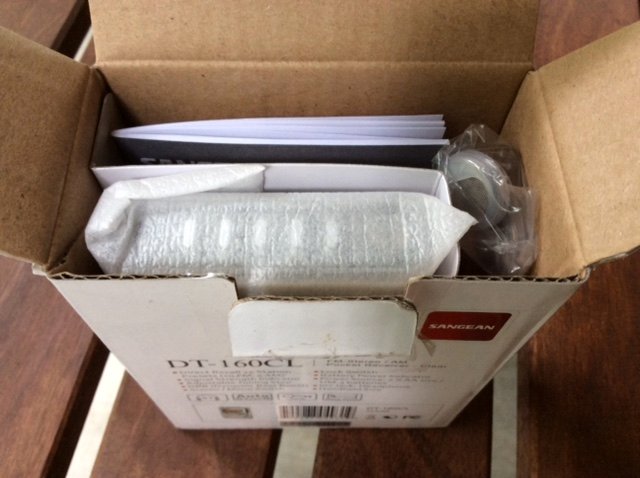 Amazon apologized for the confusion and–though I wasn't seeking one at all–they issued a $10 credit!  Wow–thanks, Amazon!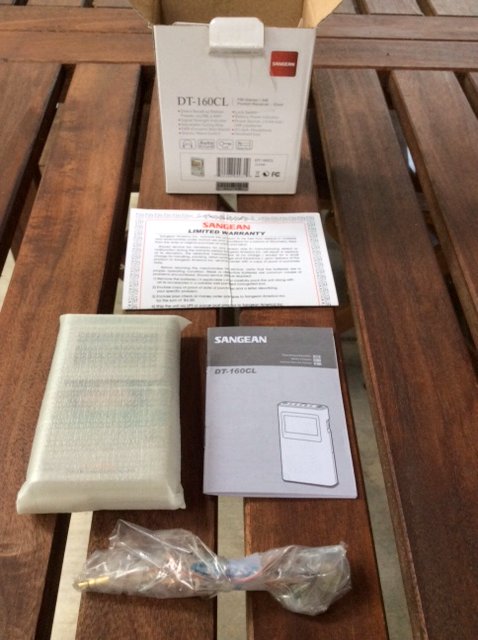 The DT-160CL is supplied with a set of clear earbuds, an owner's manual and a warranty card.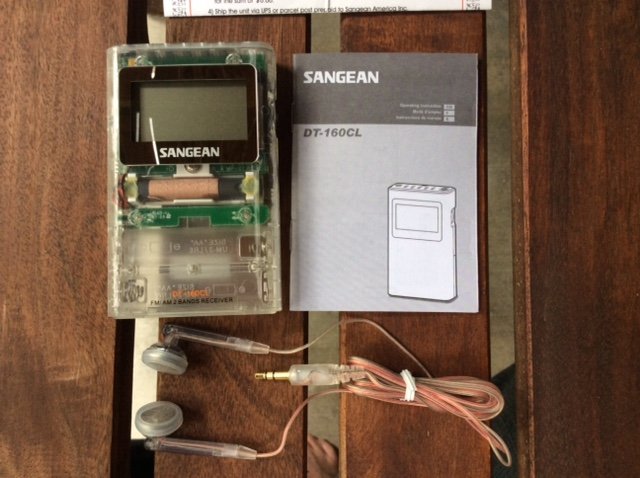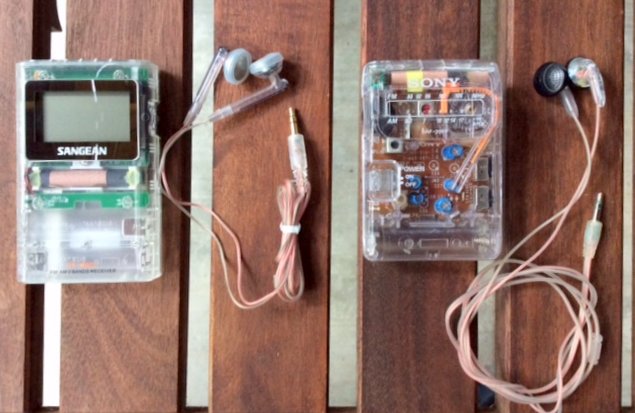 The Sangean DT-160CL is very close in size to the venerable Sony SRF-39FP–the SRF-39FP has slightly more depth and a little less height.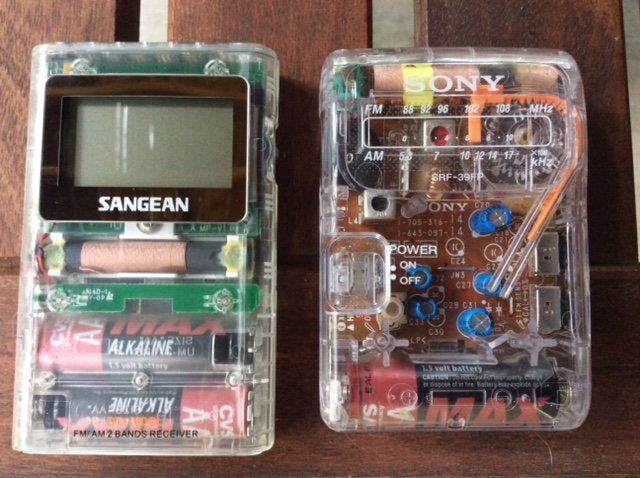 The DT-160CL's clear case, while sturdy, feels marginally more supple than that of the Sony SRF-39FP.  Though I haven't been able to confirm, the DT-160CL chassis feels like a polypropylene product while the SRD-39FP feels like polycarbonate. From the photos above, one can see that the DT-160CL's case is a touch more opaque/cloudy than that of the SRF-39FP.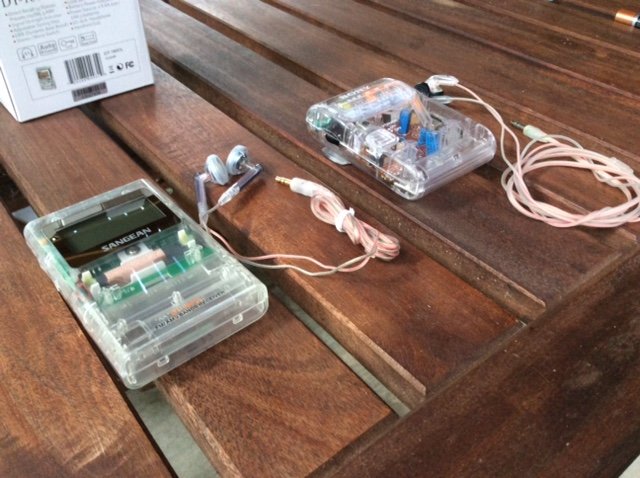 Endurance test
Other than overall receiver performance, I'm very interested in battery performance since Sangean touts a 100 hour run time on two AA batteries (for the DT-160 series).
Having used the Sony SRF-39FP for a few years, I can attest to an incredibly long battery life as well. No doubt, those purchasing the DT-160CL for use in a correctional facility place a lot of value on battery performance.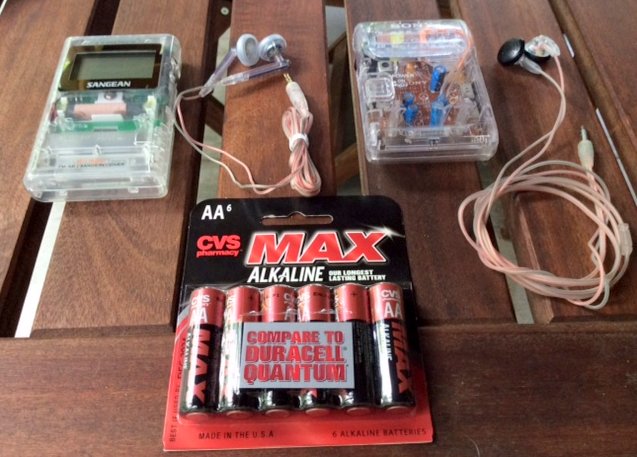 I stopped by our local CVS pharmacy to purchase fresh alkaline batteries for both radios. CVS had a sale on their own (generic) version of the Duracell Quantum alkaline batteries.  I purchased a set and popped them in both radios.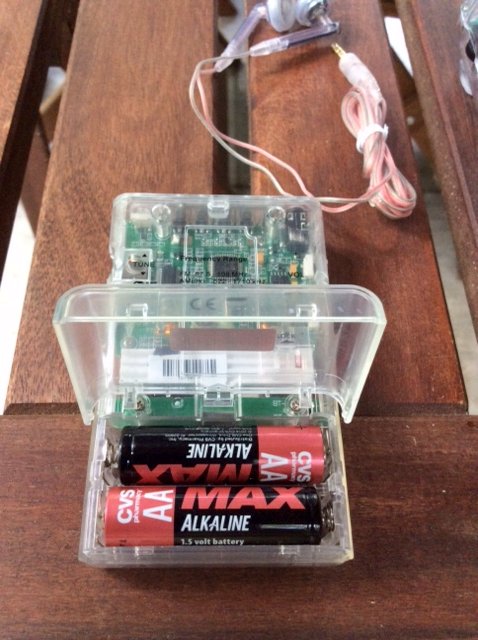 The DT-160CL has a hinged battery cover and holds two AA cells.
The SRF-39FP only needs one AA battery.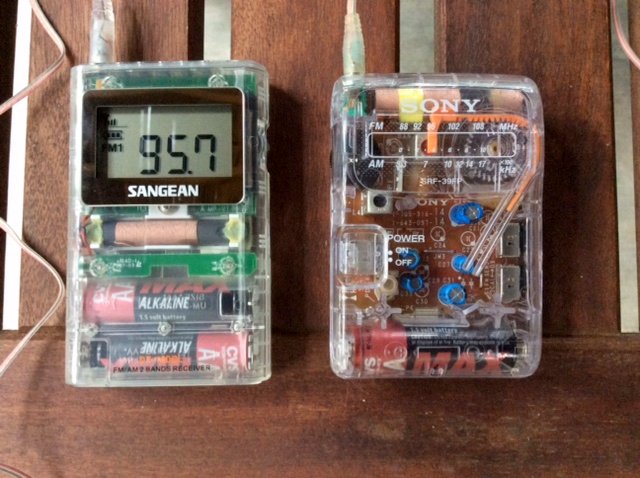 After plugging in the supplied clear ear buds, I turned both radios on and adjusted the volume to a comfortable, moderate listening level.
I matched the audio levels for both units and tuned to my favorite classic rock FM station: WXRC 95.7 MHz.
WXRC is a fantastic benchmark FM station as it's about 130 miles away (as the crow flies), but has an exceptional propagation footprint. My best FM receivers, when ideally-placed in my home, and telescoping antenna fully-extended, can receive WXRC in stereo lock with no interference.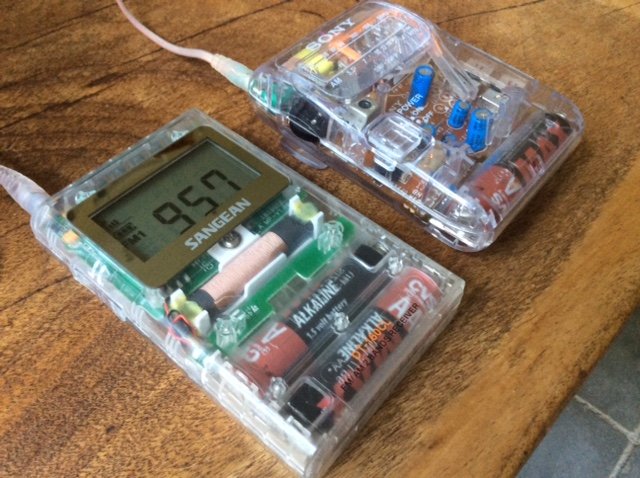 I'm happy to report that both the DT-160CL and the SRF-39FP can receive WXRC quite easily when I'm holding the unit in my hand and standing in a part of my house where the signal is strongest.
In truth, I didn't have time to evaluate receiver performance last night–I was more eager to begin the endurance test which, by the way, officially started yesterday (August 3, 2016) at 22:30 UTC.
I can't wait to discover which radio will win!
Follow this review thread by bookmarking the following tag: Sangean DT-160CL v Sony SRF-39FP