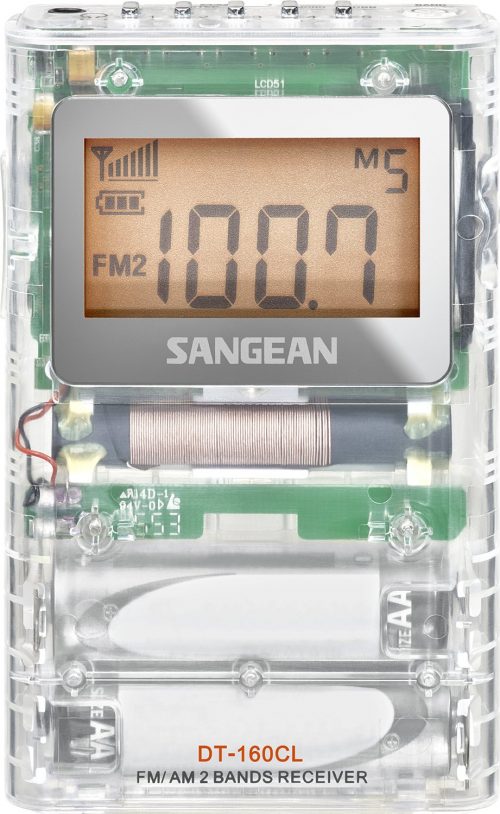 After publishing a post referencing the new Sangean DT-160 AM/FM radio, a number of readers noticed that Sangean has also produced a clear-cased version of the DT-160: model number DT-160CL.
This version, no doubt, was designed for sale in prison commissaries and is probably seen as a replacement for the venerable Sony SRF-39FP (which has been discontinued). The SRF-39FP is widely regarded as a superb mediumwave (AM) DXing ultralight.
In reference to the Sangean DT-160CL, SWLing Post contributor, Dan Hawkins recently commented:
Which begs the question: is this prison-quality radio really that good? I ask the question only because a good AM-FM prison radio must perform exceptionally well behind formidable prison walls. After all, nearly one percent of the US population is currently behind bars (down slightly from 2008) which is a substantial pocket radio market. Prison radios are typical sold in prison commissaries and prisons are big business nowadays. How does this radio compare to the famous Sony SRF-39FP? Inquiring minds want to know. Sangean is legendary for build quality. Does it beat the Sony?
After reading Dan's comment, I couldn't help but order the DT-160CL from Amazon.
I, too, am very curious how it will compare with the SRF-39FP in terms of battery longevity, audio fidelity, and overall performance.
I suspect the SRF-39FP will remain dominant on the AM broadcast band and possibly have better battery life (keep in mind, the SRF-39FP only uses one AA battery–the DT-160CL requires two).
As soon as I receive the DT-160CL (Amazon notes delivery will be Wednesday, August 3), I'll pop fresh batteries in the DT-160CL and the Sony SRF-39FP, set them to the same volume level and frequency, then allow them to run continuously until the batteries are depleted. Of course, I'll use the opportunity to compare performance on both AM and FM.
I'll post comparison updates with the tag: Sangean DT-160CL v Sony SRF-39FP.