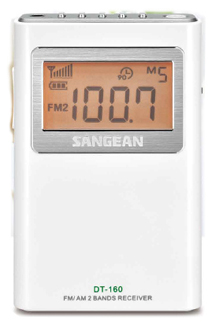 Many thanks to SWLing Post contributor, Ron, who shares his impressions of the new Sangean DT-160:
The DT-160 just came in and here are a few impressions:

1.) The heft and feel of this set is superb…it has that solid feel the earlier DT-200X doesn't. It is markedly smaller,too and the buttons have a firm solid feel the earlier models lack (finally!).

2.) Jay's review is spot-on as usual…but the AM section is not what you find in a Sony SRF-59 or SRF-37W digital. Expect to get locals and semi-locals fine but it's not going to be a DX machine on AM as the Sony's are.

This is doubtless due to the need for a smaller ferrite bar; a Q-Stick or loop will fix that.

3.) On the other hand as Jay said it leaves the Sonys in the dust on FM, which is superb.

4.) Audio is very good as is ease of operation.

5.) The closest comparison is probably the CC Pocket; they doubtless use the same/similar Silicon Labs IC.

But unlike the CC no birdies were heard on AM. [Update: Ron has since discovered a few birdies on AM, like the CC Pocket.]

Is it worthwhile?

Yes, if only for the promised 100 hour battery life. No other similar receiver will run nearly as long.

[Thomas,] you may wish to order two; one for Dad,and one for you.
I will definitely buy the DT-160 for my father. I wonder if it's packaged in a way that I could take it out, play with it, then re-package it as a gift? 🙂 Would that be wrong? Of course not! 🙂
I noticed that Universal Radio now also stocks the DT-160 and retails for $49.95 plus shipping.
Amazon's price (today–they do fluctuate) is $39.99 with free shipping.