Many thanks to SWLing Post contributor, Troy Riedel, who writes:
I don't have a "shack", but I wanted to take the time to share with you my "listening post". But first, let me start from the beginning.  

I'd call myself an amateur astronomer first – and a Shortwave Listener (SWL'er) second (I have never been a Ham Operator).  

I started my astronomy hobby as a young kid who was enthralled by the Apollo Missions.  I was also fascinated by weather & I learned how to make short-term 12-36 hour forecasts by making cloud observations, following the barometric pressure trend & noting changes in wind direction.  I am still an amateur astronomer (a very expensive endeavor).  I was able to pursue my childhood interest in weather and I became an Aviation Weather Forecaster in the military (I also instructed synoptic meteorology in the military at the schoolhouse).  I promoted myself out of meteorological jobs in my Service but I was able to transition to a deployable job that allowed me to visit 50 countries.  I retired with slightly over 30-years served.

When I was a kid, a buddy had a shortwave radio but we could never hear anything (we had no clue).  I had an Electro-Brand EB2100 5-band radio that had AM/FM, Police, Fire, Aviation & NOAA (if I recall).  We heard transmissions on that EB2100!  I didn't truly discover shortwave until the early 1990s.  My first shortwave radio was a Panda 2006 (I challenge readers to look-up that model in the 1994 Passport to World Band Radio).  I liked shortwave so much, I sold the Panda to help finance my next radio.  I pre-ordered & subsequently received one of the first Gru?ndig Yacht Boy 400s released in the U.S. (I still have the radio & the receipt).

I think, for a SWL'er, I have a decent collection of shortwave radios & antennae:

Grundig Yacht Boy 400

Grundig  G6 Aviator Buzz Aldrin Ed.
Grundig G3 Globe Traveler
Tecsun PL-390
Sony ICF-7600GR
Tecsun PL-365
Grundig Satellit 750
Grundig G2000A Porsche
RadioShack 140-214 Digital Recorder

AMECO TPA Active Antenna

Crane Twin-Coil Ferrite Antenna
DoxyTronics 8020A Passive Antenna
Kaito KA35 Active Loop Proximate Antenna
NASA PA30 Wideband Passive Antenna
A Helical/Slinky Antenna
RadioShack 20-280 Active Antenna
Sony AN-LP1 Active Magnetic Loop Antenna
Tecsun AN-200 AM Passive Antenna
Terk Advantage AM-1000 Passive Antenna
TG34 Active Magnetic LoopAntenna
Yo-Yo Antennas & various Longwires
Extended AM Ferrite Rod for PL-365/360
Okay, so what is my "listening post"?  It's a sitting room attached to my master bedroom.  I have a roll-top desk.  A slinky antenna stretched across one side of the room above the window.  And an ST3 "Sputnik" Scanner Antenna hung in front of the window (for my RadioShack Pro-651).  I use an old-school iPad 1st Gen next to my radios because I found that it emits virtually no RF compared to my iMac, MacBook Air, and MacBook Pros.  Besides using the iPad Gen 1 as an Internet reference, it's also loaded with every one of my radio & antennae manuals, nearly every copy of Passport to World Band Radio, and many Spectrum Monitor issues.  If I cannot find a pdf version of a manual, I use my document scanner to create my own pdf's.
Having my listening post essentially in the master bedroom causes conflict because my wife must get up early & drive 60-miles to work thus I am kicked-out and banished downstairs fairly early each night … while carrying a radio or two with me if I wish to continue listening.  Nearly all of my shortwave listening occurs before 8:30 P.M.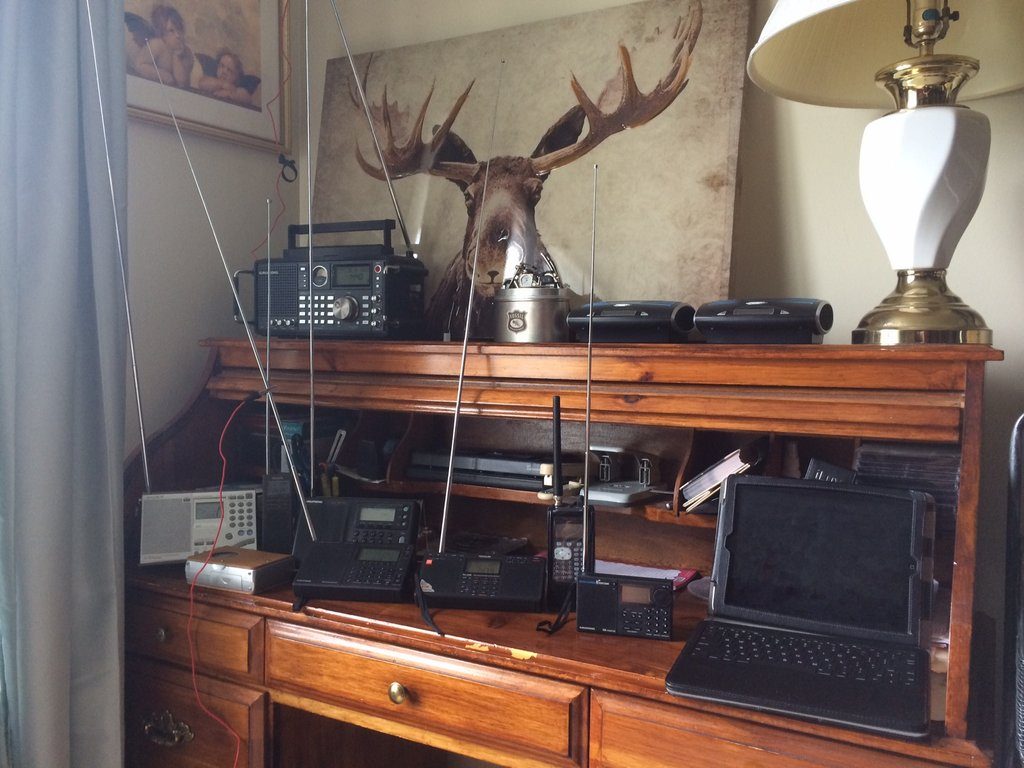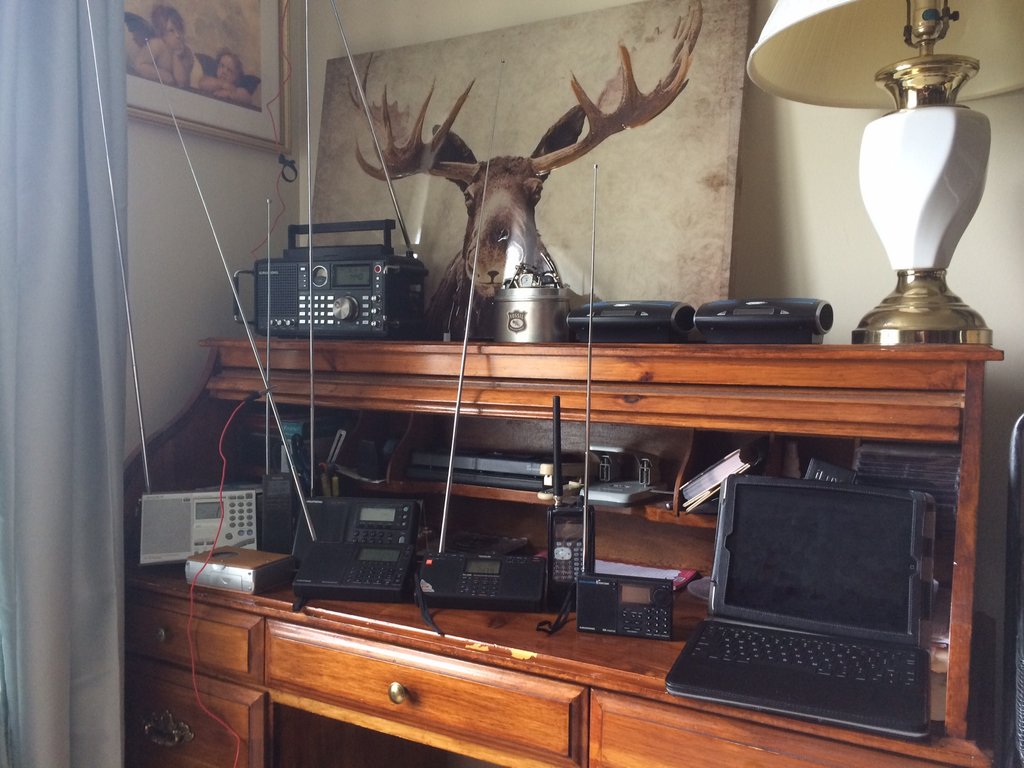 I have all of my radios and antennae neatly organized in padded bags & cases within an arms reach of my roll-top.  Since everything is organized in its own case, I can easily grab whatever combination I want if I were to travel (or go outside, or go downstairs when my wife kicks-me-out of my listening post).
What are my favorites?  I typically use the Grundig Satellit 750 the most – mainly because of its size & large intuitive buttons.  The direct BNC connections make it quick & easy to transition from one antenna to another.  My favorite SW radio feature is Tecsun's ETM (I wish every radio had it) thus I find myself using the PL-390 & PL-365 especially when out of my listening post.  My favorite antenna is the TG34.  I find that it greatly enhances the signal with a minimal increase in noise.  The Slinky is great in that I can add it to another antenna that I'm using to make a more effective combination (e.g., AMECO TPA with the Slinky & the NASA PA30 with the Slinky on the radio whip work well for me).
I think shortwave listening is a great hobby that compliments my amateur astronomy.  Why?  No matter the clouds, extreme temperatures, etc., I always have something interesting to do.  But I do miss the days when the wave bands were crowded with international broadcasters.  At least I know that Jupiter, Saturn & the thousands of deep sky objects within grasp of my many telescopes & binoculars will NOT be leaving the sky until long after I leave this planet!
You've set up an excellent listening post, Troy! As you well know, I'm a bit of a pack junkie, so I love the fact you have so many padded cases and protective gear for your equipment–no doubt, this is championed by your amateur astronomer half!
SWLing Post readers might recall that, last year, Troy actually put together a shortwave broadcast dedicated to amateur astronomy. We published a full recording of the show on the Shortwave Radio Audio Archive.
Thanks, again, for sharing a tour of your listening post, Troy!