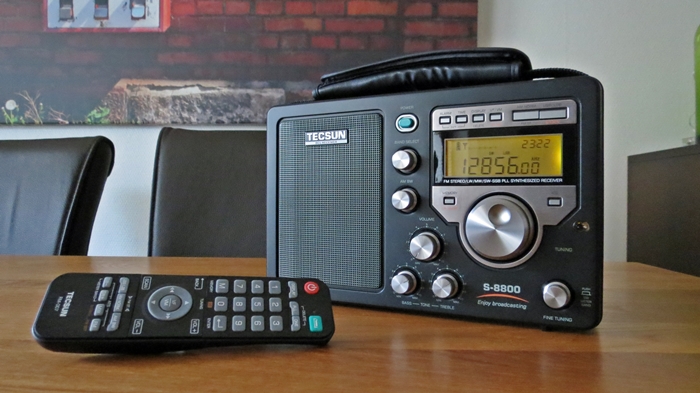 Many thanks to SWLing Post contributor, Bertrand Stehle (F6GYY), who writes:
Hi Thomas,

The new SSB portable receiver TECSUN S-8800 has been available from Germany, since the beginning of 2017.

Supplier:https://www.wellenjagd.com/ has the S-8800e, a Europeen version.

I have one unit here and also being an owner of the PL-880, [I would describe it as] a better PL-880 with more features.

DSP filters on SSB: 0.5 – 1.2 – 2.3 – 3.0 and 4.0 kHz

DSP Filters on AM: 2.3 – 3.0 – 4.0 and 6.0 kHz

Long telescoping Antenna L = 92 cm

BNC Antenna socket

AM External antenna (500 Ohm ) on panel….with an internal /external antenna switch.

Main and fine tuning [much] like the PL-880 , but all metallic buttons, bigger and of better quality.

VFO main tuning knob is large and has a good feeling.
Line out is stereo ( 2 channels ) L and R
Separate bass and treble control
2X LiH Batteries 18650 ( no external power supply possible, no 12V socket). Batteries can be charged while the rx st still in use.

On this S-8800e–my first impressions:

Very sensitive on longwave… ( PL-880 was not )
Very good copy of ssb stations
RX does not get so quickly overloaded as the PL-880 does…
Quite bigger than the PL-880 => 27 cm X 17 cm, about 7cm thick.
Wow–many thanks for sharing your first impressions, Bertrand!
I've been waiting quite a while for the S-8800 to be released. I will have one on order soon and will do some comparisons with the PL-880 and PL-660.
As you discover more about this receiver, please share your impressions with us!
Anyone else have the S-8800?  Please comment!