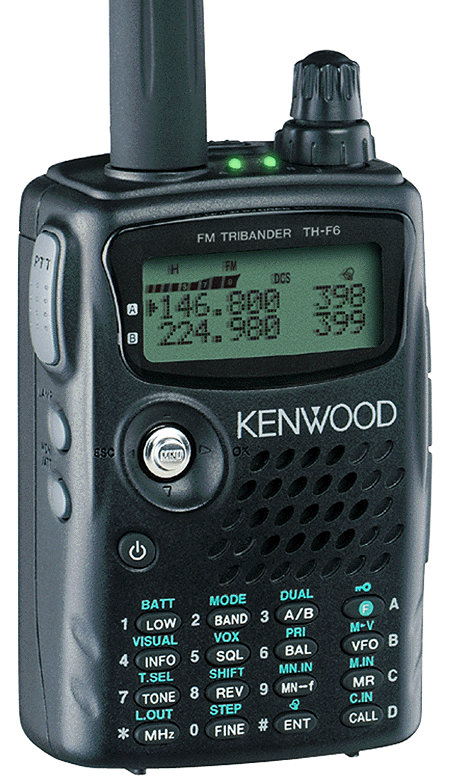 In reply to my recent post about the Yaesu VX-3R, SWLing Post reader Tha Dood comments:
[The Yaesu VX-3R] is a neat little HT, but the Kenwood TH-F6A is way more versatile.

How? Full 5W on 2m, 222MHz, and 440MHz, and will RX 150KHz to 1.3GHz in AM, FM, FM wide, NBFM, USB, LSB, and CW. All that in a size of a pack of cigs. Yes, it will overload easily, but something that wide banded and this small, I kind of expected that.

However, want to hear what your wireless FM innercom sounds like on 175KHz? You can do that. Want to hear what your 222.1MHz transverter sounds like on SSB? You can do that. Need to tune-in to local AM / FM radio when power goes out? You can do that. Want to listen to CB CH19 truckers gripe about traffic conditions? You can do that. Want to listen to aircraft traffic at an air show? You can do that. You want to monitor 6M 50.125MHz USB to hear when that band opens? You can do that.

No, it doesn't have D-Star, DMR, Fusion, or even SW's DRM, but analog-wise this HT is so versatile, what else is out there like it?
Thanks for sharing your thoughts about the TH-F6A!
A couple more things I like about the TH-F6A:
it meets MIL-STD 810 C/D/E standards for resistance to vibration, shock, humidity and light rain
It has a dedicated number keypad for direct frequency entry (something, sadly, the VX-3R lacks)
I'll put the TH-F6A on my "wish list" this year and perhaps give it a thorough review. (Perhaps Santa Claus is listening!?)
Here's a snapshot of TH-F6 pricing at time of posting: