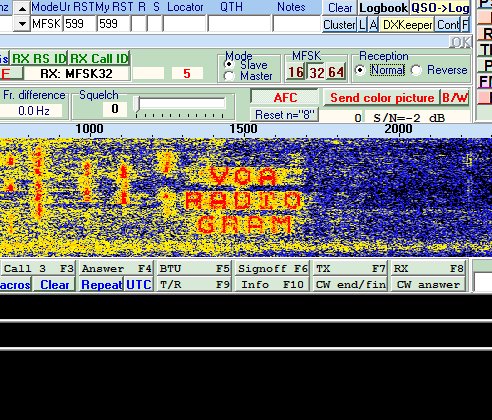 (Source: VOA Radiogram/Kim Elliott)
I will retire from the Voice of America on June 23, after 32 years as audience research analyst and broadcaster.

I was hoping to continue to produce VOA Radiogram as a contractor.  I approached various BBG and VOA offices. They all declined.

And, therefore, the last VOA Radiogram will be the weekend on June 17-18

Money is not the issue.  I am willing to work cheap.  My main interest is to be authorized to continue the show and maintain a VOA email address, so that I can keep in contact with the audience.

The irony is that, after retirement, I will finally have time to answer your emails – but I will no longer have access to the VOA email system to do that.

But, the show must go on.  In addition to the four weekly transmissions via the BBG North Carolina transmitting site, VOA Radiogram is also broadcast on WRMI in Florida twice on Sundays. I can hardly allow those half-hour slots to be filled by light recorded music. So, beginning the weekend of June 24-25, a program similar to VOA Radiogram, but with a new name and email address, will be broadcast by WRMI.

More about the demise of VOA Radiogram, and the emergence of its replacement, in the weeks to come.