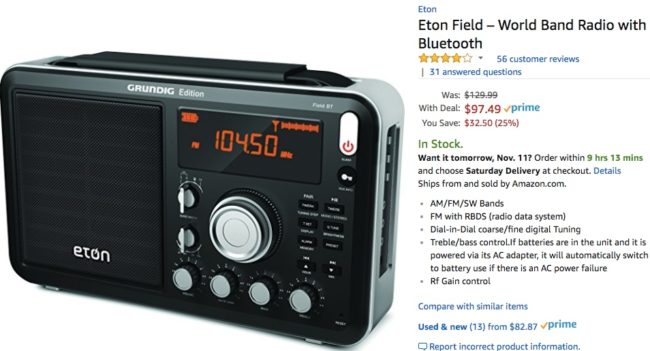 Many thanks to SWLing Post contributor, Troy Riedel, who writes:
Wow, Amazon (this morning) dropped the price on the Eton Field BT to $97.49. Given Amazon's "stock market-like" pricing, no telling how long this price will last.
Thanks, Troy!  I do believe this is the lowest price I've seen on the Field BT, which I consider to be a fine radio–certainly an affordable alternative to the pricier Tecsun S-8800 (if SSB reception is of no concern). The last time Troy shared an Amazon deal with me, it disappeared before I could even post it. Their pricing algorithm is tricky. If you've been waiting to bit the bullet, now is likely the best time. Click here to read Troy's comparison of the Field BT and the S-8800.
Click here to view the Field BT deal on Amazon.com (affiliate link!).