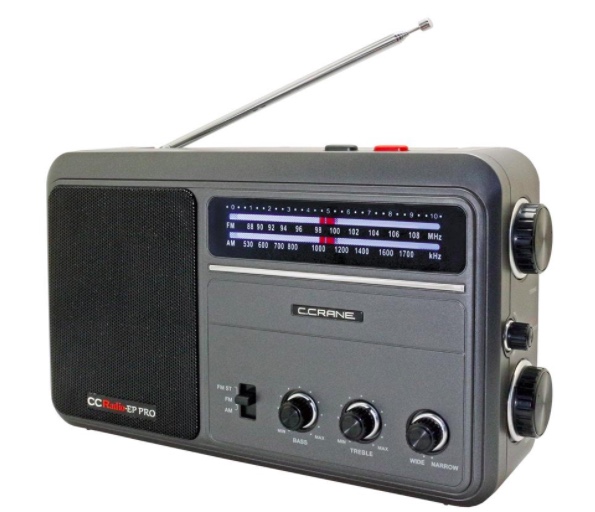 Many thanks to SWLing Post contributor, Troy Riedel, who notes that C. Crane has developed an enhanced version of the original CCRadio-EP AM/FM portable.
C. Crane includes the following description on their website:
The new CC Radio-EP PRO is an enhanced version of the original EP. It has the same simple controls and the same high performance with superior selectivity and sensitivity. The portable CCRadio-EP PRO could be considered a super radio; built for ease of use and outstanding long-range AM with our C. Crane patented Twin Coil Ferrite® AM Antenna. FM performance is excellent.

Great for listening to Talk Radio, NPR®, Music, and Sports. The EP PRO has a wide bass and treble adjustment range for defined music and accurate and lively voice reproduction.

A large, 5-inch speaker is combined with a hi-fidelity amplifier and a "Wide/Narrow" enhancement dial to give extra clarity to AM programs. The dial accuracy of the new EP PRO is superior to our original model. Weight: 3.1 lbs. (without batteries). Size: 11.4″ W x 7.3″ H x 2.75″ D. Runs on four optional "D" batteries (not included). AC adapter is included.
C.Crane lists a shipping date of March 30, 2018 or after.
Since I receive so many questions about affordable radios for mediumwave DXing, I'll certainly review the CCRadio-EP Pro when it's available. I look forward to evaluating out a radio with such simple controls!
Click here to check the CCRadio-EP Pro on C. Crane's website.