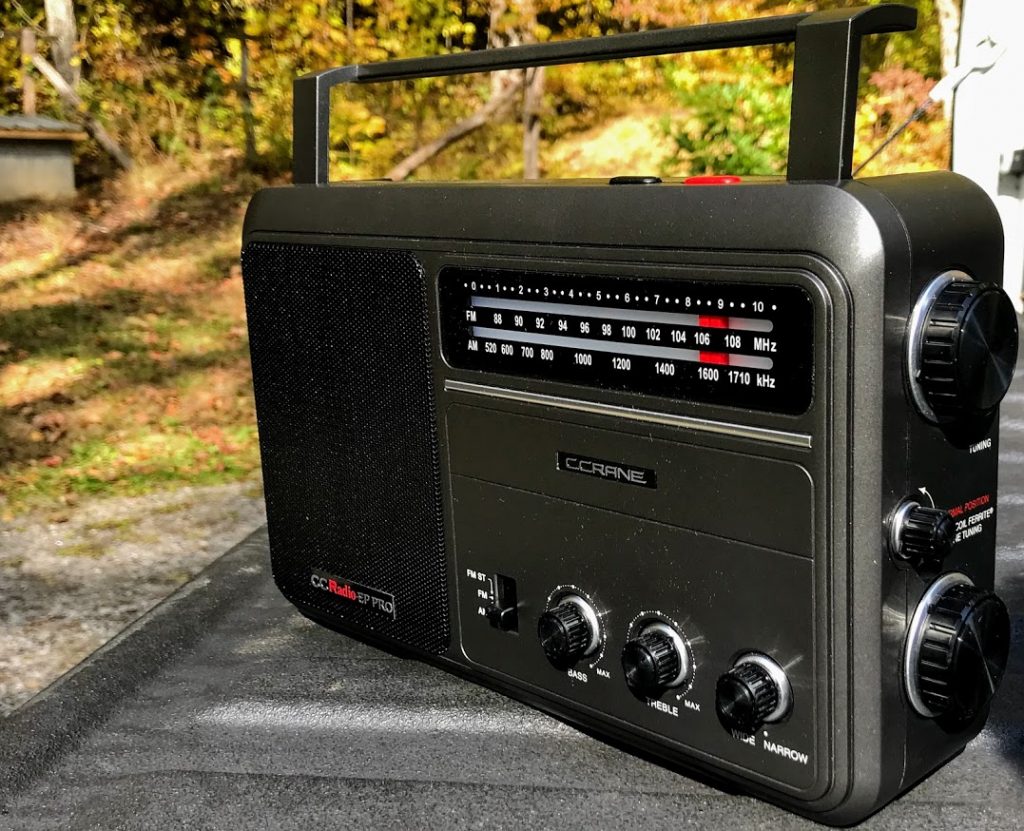 In April, I posted a review of C. Crane's latest iteration of the much-loved EP series: the C. Crane CCRadio-EP Pro.
Although the new Pro model had the makings of a great, simple DXer-grade receiver, the first production run was plagued with issues that, in the end, prevented me from recommending it to radio enthusiasts and DXers. Frankly speaking, I was quite disappointed.
I evaluated the original CCRadio-EP Pro over the course of several weeks, documenting my findings in detail and sharing them with C. Crane both during the evaluation period and in my full review.
But to C. Crane's credit––being a company of integrity––they responded to each point of criticism, promising to address the issues in the receiver's second production run.
Enter the second production run…
About six weeks ago, I took delivery of a second-production-run CCRadio-EP Pro.
The second-run units have actually been shipping for a few months now, but due to nearly two months of travel and a hectic schedule following, my evaluation took longer than I had hoped. And if you've been following the SWLing Post for long, you'll have noticed that I never rush a radio evaluation…and for good reason. Post readers are placing their trust in my review, so I must feel confident it's as accurate––and as transparent––as I can make it.
Speaking of transparency, by the way, please note that C. Crane provided the initial and second production evaluation units at no cost to me.
What follows is a review of the second-run CCRadio-EP Pro. I would encourage you to read my original review before proceeding, because I am (only) addressing all of the negatives I listed from the previous review.  However, for your convenience, I've included quotes from the original here.
In a nutshell?  C. Crane listened to my list of concerns, and I'm very pleased!
Muting between frequencies?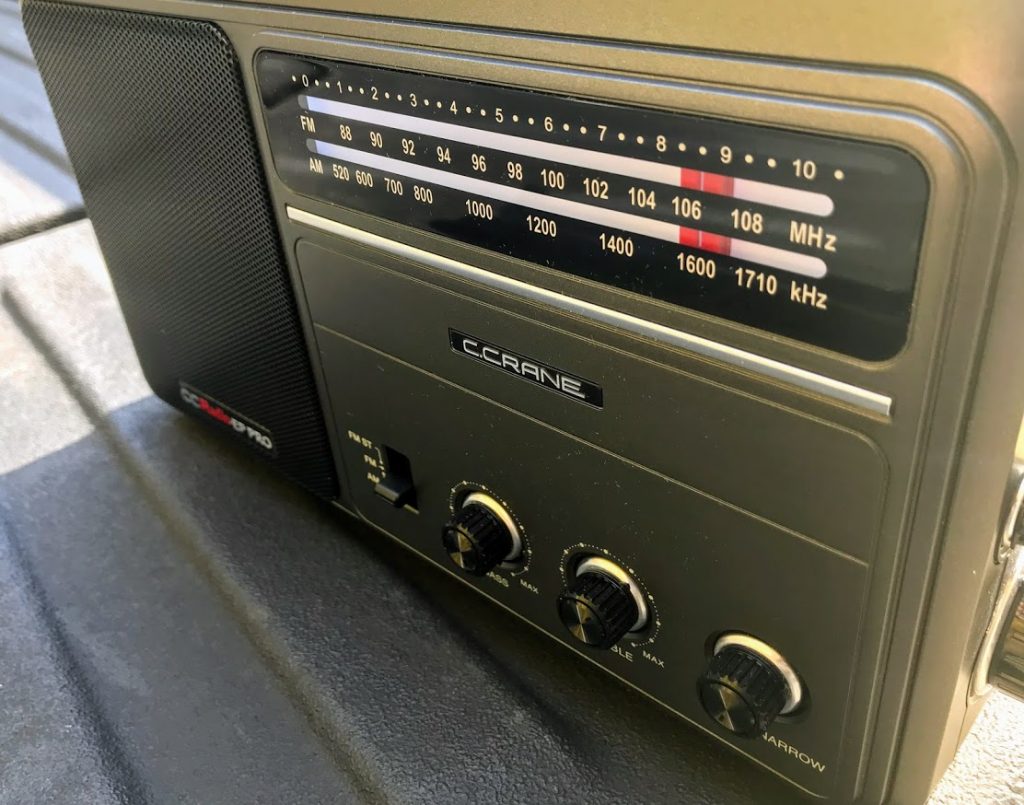 From my first production run review:
[M]echanically-tuned DSP radios, like the new CCRadio-EP Pro, may look like analog sets, but inside, they're entirely digital. And one drawback to all of the mechanically-tuned DSP radios I've tested so far is a tendency to mute between frequencies. With each 10 kHz frequency step, you'll hear a short audio mute. If you tune across the dial quickly, audio mutes until you land on a frequency.
I'm pleased to report that C. Crane has significantly decreased the amount of muting between frequencies. Indeed, even on the AM band (which was most affected in the first production run), muting no longer distracts me from the experience of band scanning.
Unlike an analog receiver, if you tune quickly across the band, the EP Pro essentially mutes audio completely.  This is common with analog-tuned DSP receivers. This is still the case with the second production run unit, but this does not concern me, as I rarely move quickly across the bands while hunting weak signals.
Imaging?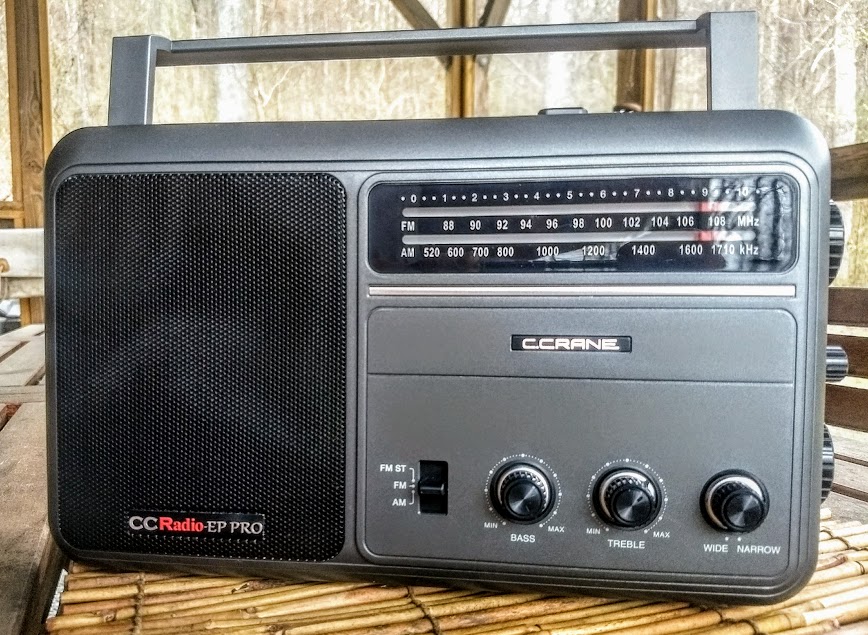 From my first production run review:
Crane actually includes a note about weak images which you might find below and/or above your target signal. Weak images are an unfortunate reality of the CCRadio-EP Pro; they're prevalent on both AM and FM.

On the initial production receiver, here's how you might experience the images by way of example: let's say you're tuning to a strong local AM station on 630 kHz, noting that the EP Pro has 10 kHz tuning increments. As you tune to 630 kHz, you'll hear the station on 620 kHz, though it won't be as strong as it is on 630 kHz. Then if you tune to 640 kHz, you'll likely hear a weaker image of the station there, as well. In my experience, images are present on both sides of the target station if the station is strong. If it's a weak station, you might only hear it, say, 10 kHz lower but not above (or vise versa).

As you might imagine, this poses a problem for the weak signal AM broadcast band DXer.
I'm pleased to report that C. Crane has eliminated the false peaks around signals. This was a major negative from the original review. Now, as you tune across the bands, it feels more fluid, and when you hear a station you can be confident you're actually on frequency as it seamlessly "locks" into place.
Well done, C. Crane!
Inaccurate dial?
From the first production run review:
I've also discovered that, on my unit, the top half of the AM dial is inaccurate. I estimate that the slide rule dial is off by about 40-50 kHz at the top end of the band. It's much more accurate below 1,200 kHz, however.
I'm pleased to report that the dial on this second production run unit is now as accurate as any analog radio. I tested frequency accuracy across the entire AM/FM bands, and can reliably find stations. Another major negative C. Crane fixed!
Audio "pop" with power on?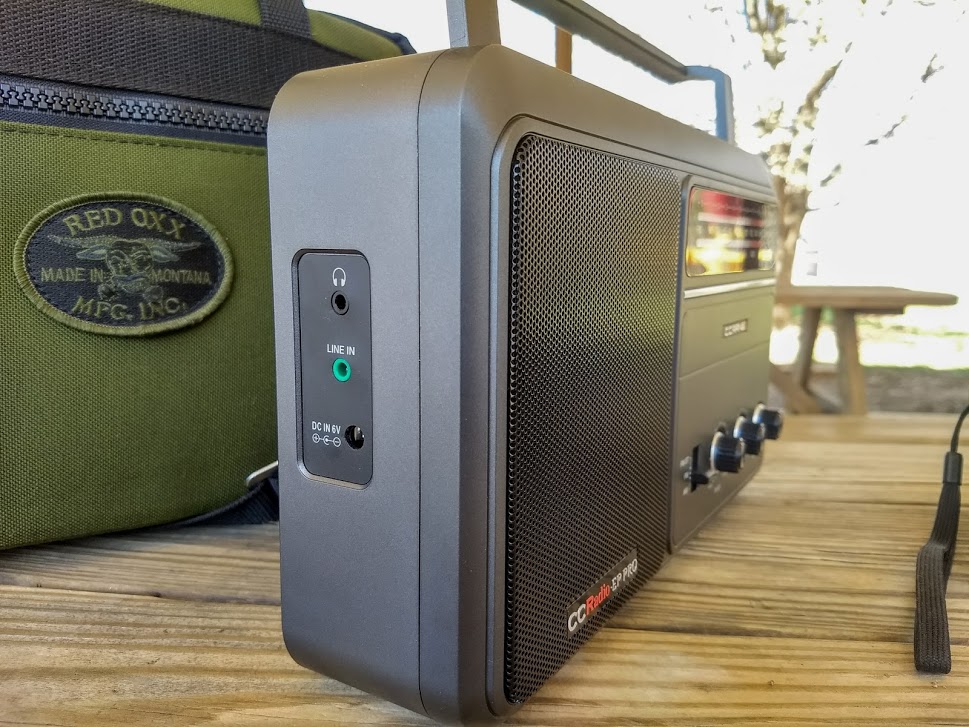 From the first production run review:
[A]ny time you turn on the CCRadio-EP Pro, you'll hear an audio "pop." This is happening when power is applied to the audio amplifier. The pop is not soft, but fairly audible, and is present even if you turn the volume down all the way. The audio pop is prevalent via both the internal speaker and when using headphones. Fortunately, it's much less pronounced via headphones.  While not a major negative, I find it a bit annoying, and don't doubt that other listeners will, too.
C. Crane has managed to minimize–not eliminate–the audio pop. It's much improved over the first production run unit. I think I would still make note of it in the "cons" section if this were my first review of the radio, but it's truly a very minor complaint at this point.
AM frequency steps limited to 10 kHz?
From the first production run review:
My initial production run EP Pro is limited to 10 kHz frequency steps. This radio is primarily marketed to North America where 10 kHz increments are standard. Of course, if you're trying to use the EP Pro to snag Transatlantic or Transpacific DX, you'll miss the ability to tune between those broad 10 kHz steps. But, again, due to the imaging mention above, I think the CCRadio-EP Pro is simply not suited for DXing.
I'm pleased to report that C. Crane has added a switch that allows the listener to toggle between 9 and 10 kHz AM steps! This was an essential upgrade for those of us planning to use the CCRadio-EP Pro outside North America, or for those of us attempting to chase signals from across the ocean. Very nice, C. Crane!
Conclusion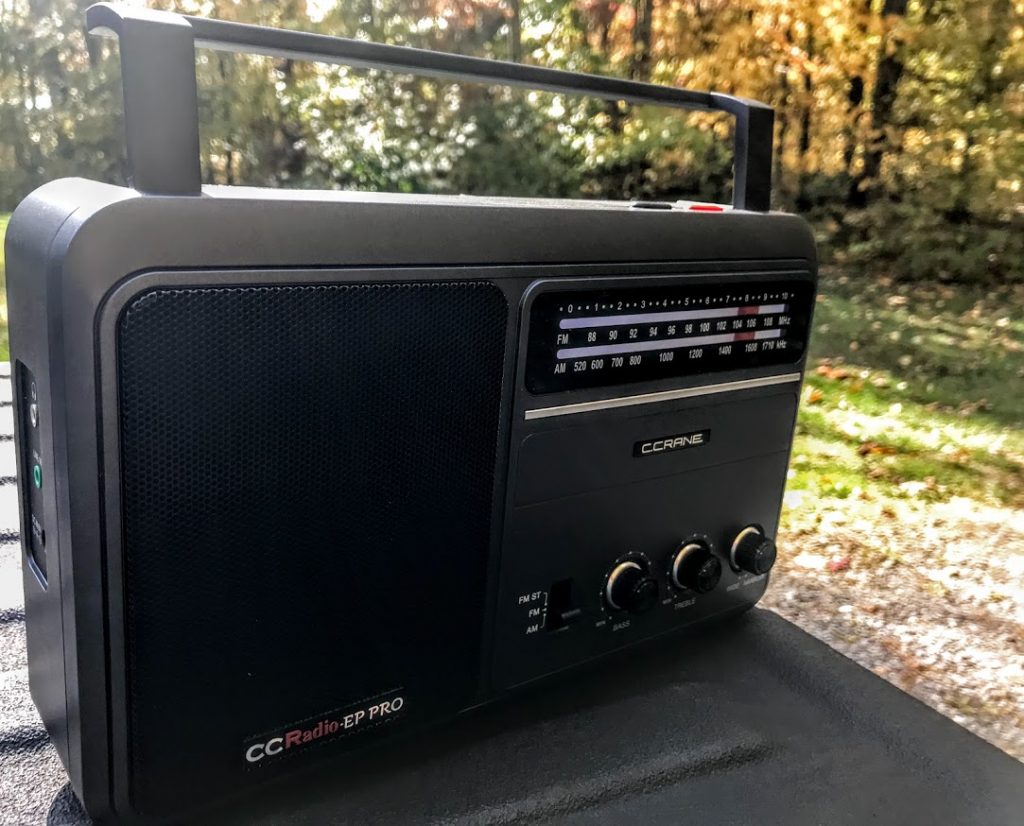 To their credit, C. Crane has addressed all of the major negatives I listed in my review of the first production run units.
And as a result, I can now recommend the CCRadio-EP Pro with confidence.
I should add that during the course of this evaluation, I spent some valuable time on the mediumwave/AM broadcast band and have been very impressed with the EP Pro's sensitivity and selectivity. The AGC can cope with weak signals quite well; I noted none of the soft muting which plagues a number of other DSP receivers. And the Twin Coil Ferrite tuning can substantially improve reception of weak signals––don't ignore that control on the right side of the radio! Very useful.
With renewed confidence in the EP Pro, when I have time this fall or winter, I plan to take it to the field and pit it against my beloved (and recently re-capped!) Panasonic RF-2200. I'm beginning to think it might be a real competitor. We will see.
I would encourage you to also check out Guy Atkins' recent evaluation of the EP Pro. I'm in agreement with his assessment, which leads me to believe quality control is also consistent in the production run. Good news all around. I'm very happy that C. Crane fixed early production run issues with both the CCRadio-EP Pro and the CC Skywave SSB. Well done!  I'm so glad C. Crane paid attention.
You can purchase the CCRadio-EP Pro from the following retailers:
How to identify a second (or later) production run unit
I know I'm going to receive emails and comments about how to tell if one has a first or second production EP Pro. The answer is very simple…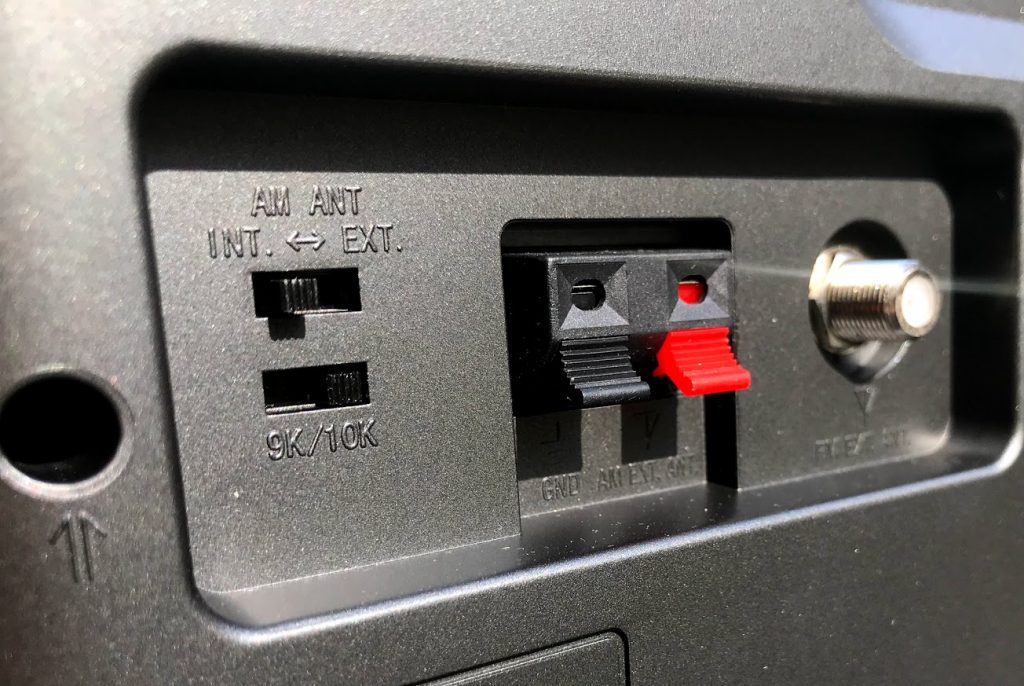 If your unit has a 9/10 kHz step switch on the back (see photo directly above) then you have a second production run unit or later.  
While the first production run EP Pro will please most average radio listeners, I couldn't recommend it for the level of radio enthusiast and DXer who spends time reading reviews on the SWLing Post.
If you plan to purchase the CCRadio-EP Pro this year, I would encourage you to check with the retailer to make sure you're getting a unit from the second production run or later.
---
Do you enjoy the SWLing Post?
Please consider supporting us via Patreon or our Coffee Fund!
Your support makes articles like this one possible. Thank you!