Many thanks to SWLing Post contributor, Mike S, who comments with his short review of the Sangean HDR-14. Mike writes:
Well, I did something I said i would not do, triggered by Amazon's tendency to introduce impossibly low prices on things for a couple of days, I sprang for the HDR-14. I have used it side by side with its direct competitor (the Nicetex "SPARC" SHD-TX2) for a few nights and a couple of days. Interesting little device.

As has been pointed out by those that read the specs, it is barely larger than the CC Skywave overall. It is made of the same soft, shiny black plastic as the larger Sangean portables (it is alternately a fingerprint magnet or a scuff magnet) but has a much less solid feel. The swivel-out foot on the bottom is a welcome addition and works well.

I have not yet played with other features (memories, etc) except to note that somebody has finally gotten it right in that memory locations store the chosen FM multicast channel instead of just the frequency.

Performance is a mixed bag. This is NOT an HDR-16 crammed into a smaller cabinet; not surprising, really, considering the amount of real estate available for circuitry. Analog FM and HD capture are right up there with the the larger sets and similar to the SPARC. I am unable to reproduce the spurious FM image problem noted by a lone Amazon reviewer. Audio is "just OK" out of the speaker with a harsh emphasis on treble – the SPARC portable is MUCH better with its passive radiator – but just fine for headphones or an external speaker.

However, for AM, that reviewer was spot on. The noise floor on AM is a tad too high and the native sensitivity a tad too low; resulting in "just OK" useable sensitivity on the band especially compared to the SPARC. I had no trouble with AM-HD on the only two stations in NYC metro (WCBS and WINS); however, it was unable to even detect the HD carrier from known stations in nearby cities that I was able to get >50% on the HDR-16 and HDR-18. The selectivity is better than the SPARC due to the DSP active for bandwidth adjustment; witness that I was able to clearly separate stations in Connecticut (600) and Philadelphia (610) from the splatter of local powerhouses at 570 and 620. Unfortunately too, analog AM reception is plagued with DSP artifacts reminiscent of earlier Tecsun sets which can even manifest in odd distortion in adjacent-channel splatter that bleeds into the tuned signal. The fact that the audio circuit/speaker accentuate the treble, make this even more annoying – the "ticks" from adjacent channel splatter are so harsh that you might think the speaker cone is damaged and vibrating.

I'm still waffling on whether to keep this one. It's a nice little set which is sure to become a collector's item, and its FM performance really is exemplary. But I kinda view the inclusion of the AM band as its raison d'être and in that regard it could certainly do better.
Thanks for your review, Mark!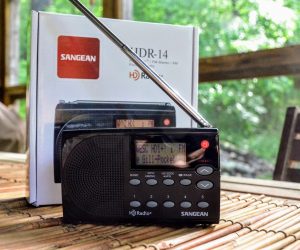 It's interesting that you couldn't reproduce FM overloading or imaging. I have noted images on the FM band and it hasn't been in a market as congested as that of NYC. It's only noticeable when listening to stations adjacent to strong signals, however. It's almost as if the FM filter is a little too wide.
I also agree about analog AM reception.
My HDR-14 review has been delayed due to a very hectic schedule, but I plan to complete it in the next couple of weeks! Thanks again, Mike!