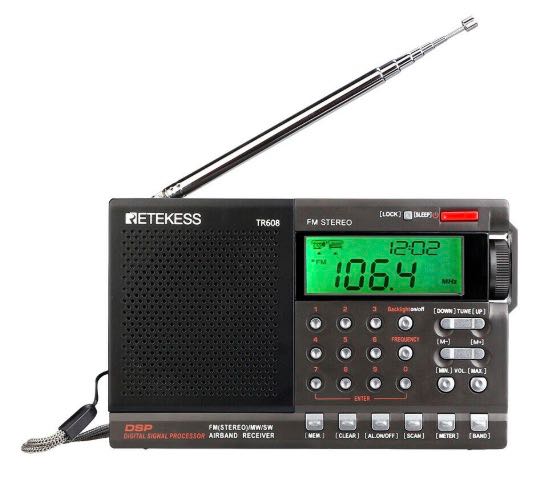 Many thanks to SWLing Post contributor, Mike S, who shares his assessment of the Retekess TR608. Mike writes:
For this model, the company marketing electronics under the Retekess brand seems to be using a different supplier compared to the previous digital-radio-plus-memory—card-player products. The result is a more traditionally styled multiband DSP radio which runs on (gasp) traditional AA batteries. Its feature set takes inspiration from the Radiwow R108 and original CCrane Skywave, but with mixed results (albeit at a fraction of the price). It delivers decent performance for its price class but more serious listeners would be advised to spend a little more on a more established model.
Pros
Usual set of features: sleep timer, alarm, scanning, auto memory fill.
Uses replaceable alkaline or NiMH "AA" cells.
Decent sensitivity across the board.
Full shortwave coverage.
Frequency display is large and contrasty.
Dial light is effective and can be disabled. Display is readable without it, even in dim light.
No annoying keypad "beep", so no mad rush to discover how it can be disabled.
Speaker can play reasonably loud without distortion.
FM reception is solid with good frequency response and stereo reception through headphones; this also activates a display indicator.
MW/SW reception is NOT plagued by digital hash bleeding through from the processor as with most other models in this price range!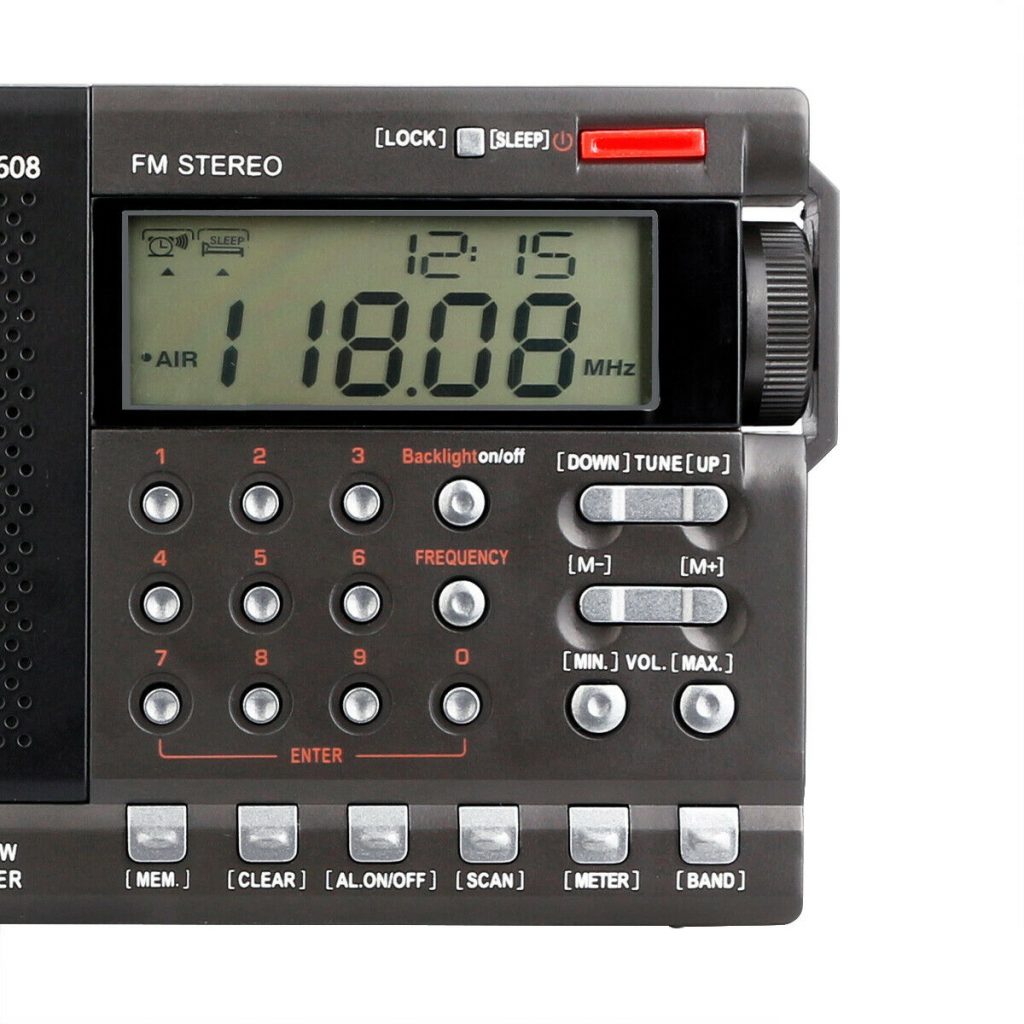 Cons
Significantly larger than expected.
Unfortunately the added cabinet space is not utilized for a more wide-range speaker; audio is tinny.
Clumsy mounting of one spring in the battery compartment on my sample makes it almost impossible to insert the third AA battery without risking damage.
Many keypad buttons are so tiny and almost flush with the cabinet, that they are difficult to press.
Lens over LCD display is molded and unpolished with moiré distortion at some viewing angles.
Air band reception marred by birdies, bleed-through from other bands, and lack of squelch.
Volume control defaults back to level "10" under some circumstances (the manual warns about this).
Confusing 2-level LOCK function requires close attention to almost microscopic indicator on LCD.
No battery level indicator.
Although the manual advises that batteries can be charged using the 4.5V coaxial socket, no charging indicator is obvious.
Rotary knob, used for both tuning and volume adjustments, has no detents and so can easily spin off target.
Assigned function (no indication) depends on whether the tuning or volume buttons on the keypad were the last to be used.
No fine tuning outside of pre-programmed increments.
MW selectivity is a bit too wide for congested night reception.
MW reception occasionally exhibits weird artifacts; ghost images, sputtering audio on marginal signals, and "processed" sounding voice audio. Don't know if these are DSP or AGC related, or a mixture of both. I have observed the same thing with the Eton Mini and other inexpensive portables using marginal DSP implementations.
SHOWSTOPPER ALERT: MW band channel assignments marred by 9kHz-centric firmware bug. Even after changing to 10kHz channel spacing (undocumented), the CPU still "thinks" in 9kHz assignments for direct input. Entering FREQ-1-0-1-0-FREQ should get you to 1010 kHz; but it actually lands on 1018 kHz because that is the nearest channel in the 9kHz band plan. You are now stuck in frequency step hell, as the up-down frequency keys still operate in 10KHz mode but do not know they are now off bandplan. UP/DOWN yield 1028/1008, not 1020/1000. The only way to recover is to enter a MW frequency that is the same in both bandplans, or to power off and double-reset the step rate resulting in all memories being lost.
Thank you so much for the review, Mike.  It sounds like this little receiver isn't ready for prime time yet. The issues with frequency steps on the mediumwave band is certainly a show-stopper for anyone in North America. Indeed, it sounds like mediumwave reception, in general, is mediocre at best. At least the receiver isn't plagued with internal noises.
With pricing around $29.99-$39.99 it's certainly a bargain radio. But I'm sure you're thinking what I'm thinking: you pay for what you get.
The Retekess TR608 can be purchased on eBay or Amazon.com (affiliate link).