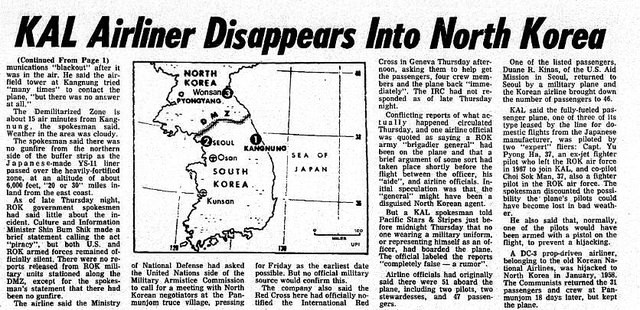 Many thanks to SWLing Post contributor, Mark Fahey, who writes:
[A] great aircraft hijacking story with a shortwave twist….

Read the full article from NK News on the link below–the shortwave twists are here in two interesting paragraphs…

"Two fight attendants from the YS-11 eventually emerged as announcers on the "Voice of the National Salvation," a North Korean propaganda radio station targeting South Korean audiences."

"The station claimed to be a voice of the alleged South Korean underground Juche resistance, and thus it badly needed broadcasters who were capable of speaking polished, Seoul-style Korean."

Take to the skies: North Korea's role in the mysterious hijacking of KAL YS-11 | NK News – North Korea News

https://www.nknews.org/2019/03/take-to-the-skies-north-koreas-role-in-the-mysterious-hijacking-of-kal-ys-11/
Thank you, Mark. I was not aware of this story. It was too bad for those flight attendants that they had a skill the North Korea propaganda machine needed.