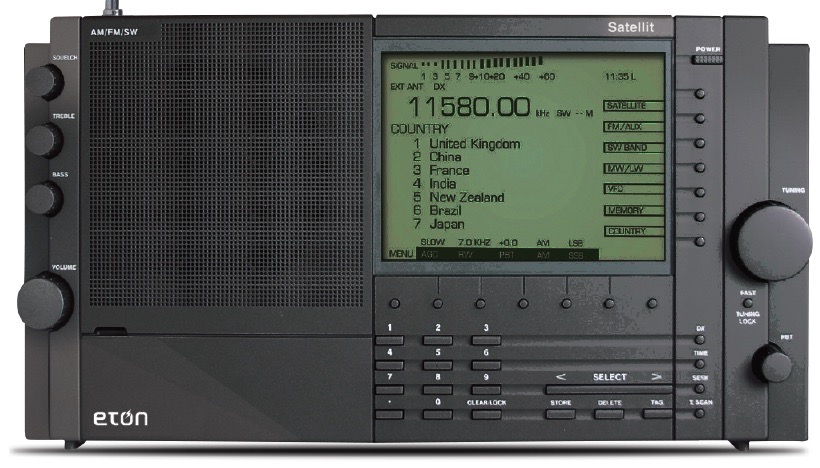 Universal Radio has posted a product page for the new Eton Elite Satellit.
Pre-Order
As they have done in the past, Universal is offering a "pre-order" discounted price of $349.95 that will not be charged to the buyer until the unit actually ships.
Availability
Universal expects the Elite Satellit to ship sometime in the 4th Quarter of 2019.
I gather the Elite Satellit is still very much in the design and development stage, so I would even take the expected availability date with a grain of salt. Much may depend on how well the initial prototypes perform in evaluations. With that said, I'm sure Eton will do all they can to have the Elite Satellit ready for the 2019 holiday season.
Not a hoax–!
I've gotten a number of emails and comments from readers asking if the Elite Satellit is a hoax. I can assure you it is not. 🙂
I get why so many are skeptical, though. It's not often that a legacy receiver–one that's been off the market for nearly a decade–is re-introduced with an identical chassis, and with the promise of some internal upgrades. In fact, I can't think of a time this has happened in the past.
Features and Specifications
All we know about the Elite Satellit is what is mentioned in Universal's product description:
The Eton Elite Satellit is simply the finest full-sized portable in the world. The Elite Satellit is an elegant confluence of performance, features and capabilities. The look, feel and finish of this radio is superb. The solid, quality feel is second to none. The digitally synthesized, dual conversion shortwave tuner covers all long wave, mediums wave (AM) and shortwave frequencies. HD Radio improves audio fidelity and adds additional programming without a subscription fee. Adjacent frequency interference can be minimized or eliminated with a choice of three bandwidths [7.0, 4.0, 2.5 kHz]. The sideband selectable Synchronous AM Detector further minimizes adjacent frequency interference and reduces fading distortion of AM signals. IF Passband Tuning is yet another advanced feature that functions in AM and SSB modes to reject interference. AGC is selectable at fast or slow. High dynamic range permits the detection of weak signals in the presence of strong signals. All this coupled with great sensitivity will bring in stations from every part of the globe. Organizing your stations is facilitated by 500 user programmable presets with alpha labeling, plus 1200 user definable country memories, for a total of 1700 presets. You can tune this radio many ways such as: direct shortwave band entry, direct frequency entry, up-down tuning and scanning. Plus you can tune the bands with the good old fashioned tuning knob (that has new fashioned variable-rate tuning). There is also a dual-event programmable timer. Whether you are listening to AM, shortwave, FM or FM-HD, you will experience superior audio quality via a bridged type audio amplifier, large built in speaker and continuous bass and treble tone controls. RDS is included. Stereo line-level output is provided for recording or routing the audio into another device such as a home stereo. The absolutely stunning LCD has 4 levels of backlighting and instantly shows you the complete status of your radio.

Many receiver parameters such as AM step, FM coverage, beep, kHz/MHz entry etc., can be set to your personal taste via the preference menu. The Elite Satellit has a built in telescopic antenna for AM, shortwave and FM reception. Additionally there is a switchable antenna jack (PAL male) for an external antenna. Universal will offer antenna jack adapters.

This radio comes with a protective carry bag and AC adapter or may be operated from four D cells (not included). The Eton Elite Satellit is for world explorers who want to travel first class.
I agree with Post contributor Guy Atkins: the Elite Satellit appears to be based on the Eton E1 analog circuitry. Guy points to three clues in this recent comment:
Exact same three I.F. bandwidths as on the E1 (7.0, 4.0, 2.5 kHz). If this is a DSP radio, why only these three bandwidths?
Selectable sideband synchronous AM detector, as found in the E1. I'm not aware of any SiLabs chips that can provide *selectable* sidebands on sync AM.
I.F. passband shift control. Again, this is not a feature in any consumer DSP radio I know of.
Of course, all of the specifications Universal has published are "preliminary and subject to change."
As I mentioned in a previous post, you can count on us to review the Elite Satellit as soon as it's available.
Click here to pre-order the Eton Elite Satellit at Universal Radio.
To follow Eton Elite Satellit updates, bookmark this tag.
---
Do you enjoy the SWLing Post?
Please consider supporting us via Patreon or our Coffee Fund!
Your support makes articles like this one possible. Thank you!