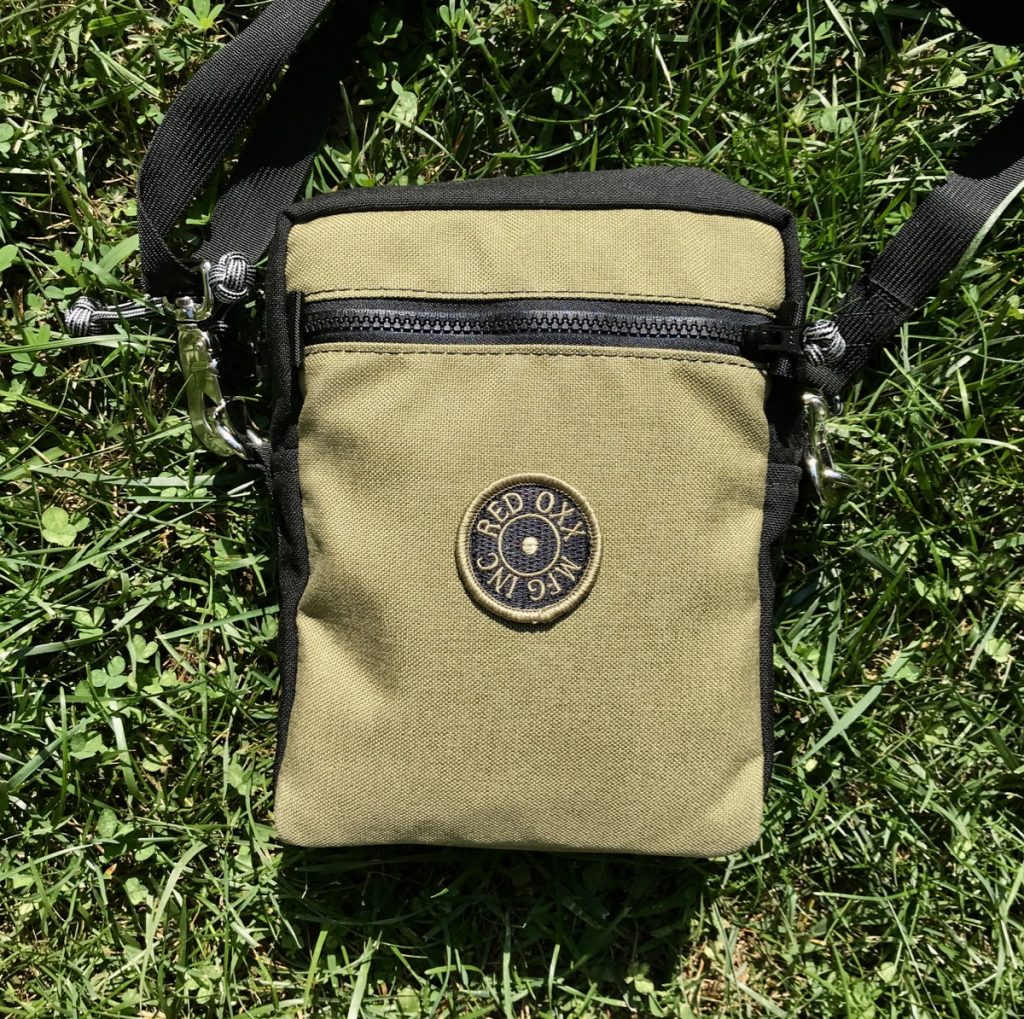 Long-time SWLing Post readers know that I geek out about a number of things: radio, of course, but also travel and packs. No doubt my love of backpacks and carry bags stems from my love of travel…and the need to have a radio or two along. In the past, I've reviewed a number of backpacks, travel pouches and cases. What follows is a new pack review.
Introducing the Red Oxx Hound
Last month, Montana-based company Red Oxx sent me their latest small carry bag for evaluation and review. This small crossbody bag, affectionately known as The Hound, is made to stay by your side and carry your important gear––just as you'd expect of man's (or woman's) best friend.
Red Oxx is not a new name here on the SWLing Post. In the past, I've reviewed the Red Oxx Lil' Roy and helped Red Oxx  evaluate and review their first-generation Micro Manager pack. I also travel frequently with my Red Oxx Mini Boss, one of my favorite one-bag travel packs. I have several other Red Oxx brand accessories and travel cubes. All of which hold up very well, indeed.
In the spirit of full disclosure, this pre-production pack was sent to me at no cost for comment, evaluation, and eventual review, assuming no design changes are made before production.
So what is the Hound? I would describe it as a small padded EDC pack with a carry strap, designed to be a stand-alone, to function as a travel pouch––and/or to moonlight as a packing cube, since it easily fits inside another travel pack.
In terms of size, the Hound is somewhere between the Red Oxx Lil' Roy and Micro Manager. It's roughly 9" tall, 7" wide, and 3" deep, by my measurements. It's not quite big enough to hold my Microsoft Surface Go tablet, but it holds my eReader and my wife's iPad Mini with room to spare.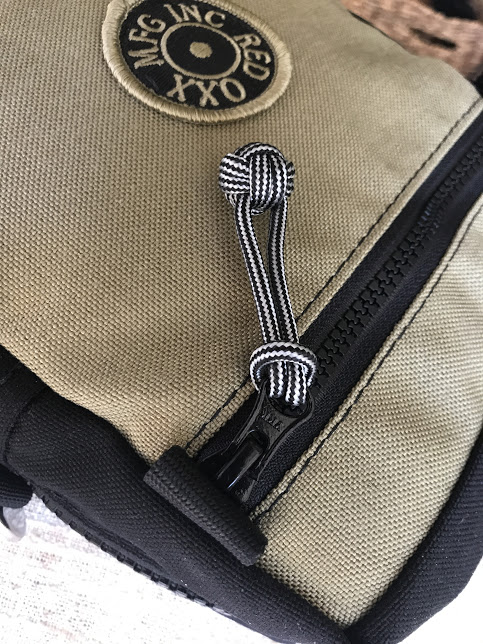 On the front exterior panel, you'll find a zippered pocket. While this pocket isn't pleated, the pack is forgiving and flexible, so it'll easily hold a thick paperback book as long as the main compartment isn't packed out densely.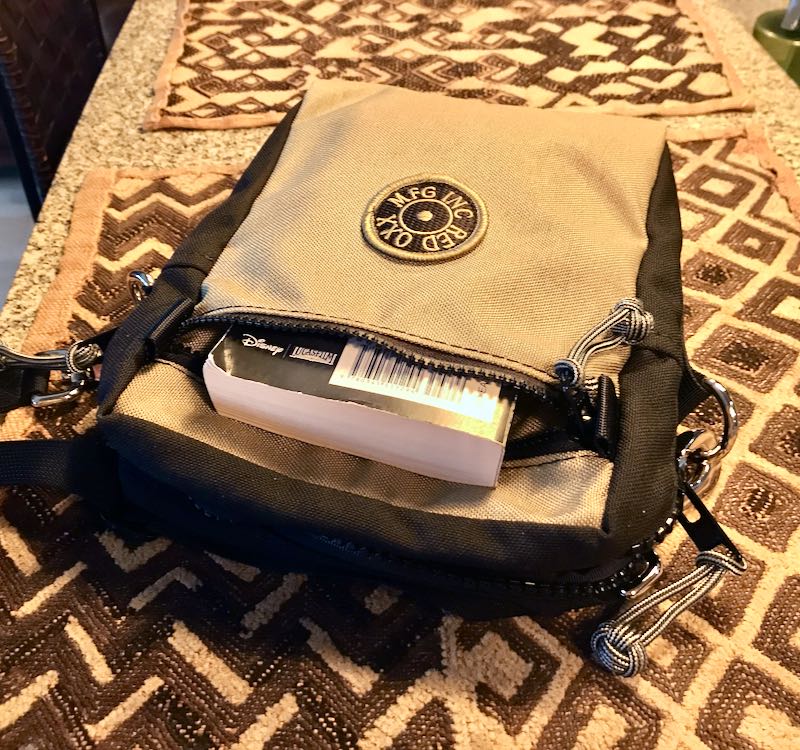 On the inside of the Hound, you'll find one main compartment with one open pocket opposite the side panel of the external pocket.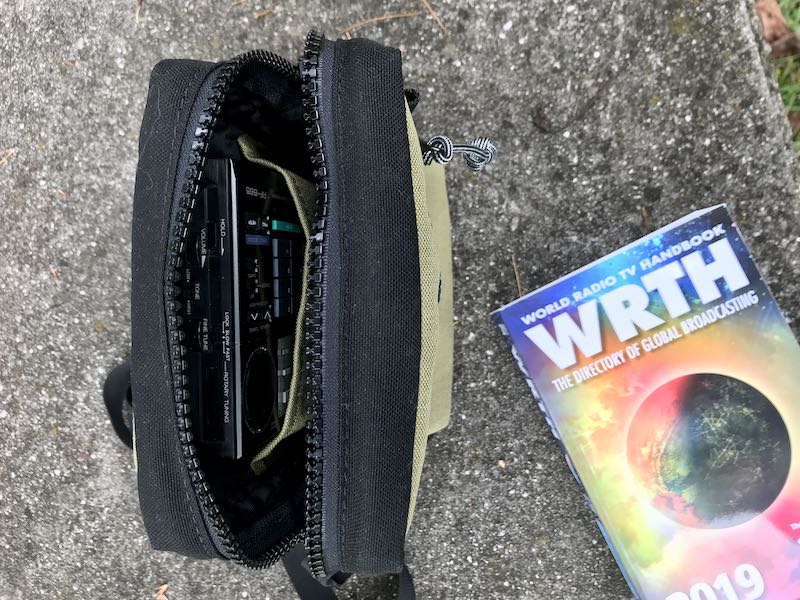 The floor and two 7"x 9" side panels are padded and do a great job protecting contents. I like the new super-thin Hyper-Cel padding Red Oxx uses for the Hound because it gives the bag's contents padded protection without making it too rigid, thick, or unforgiving, if you want to cram a little something extra in.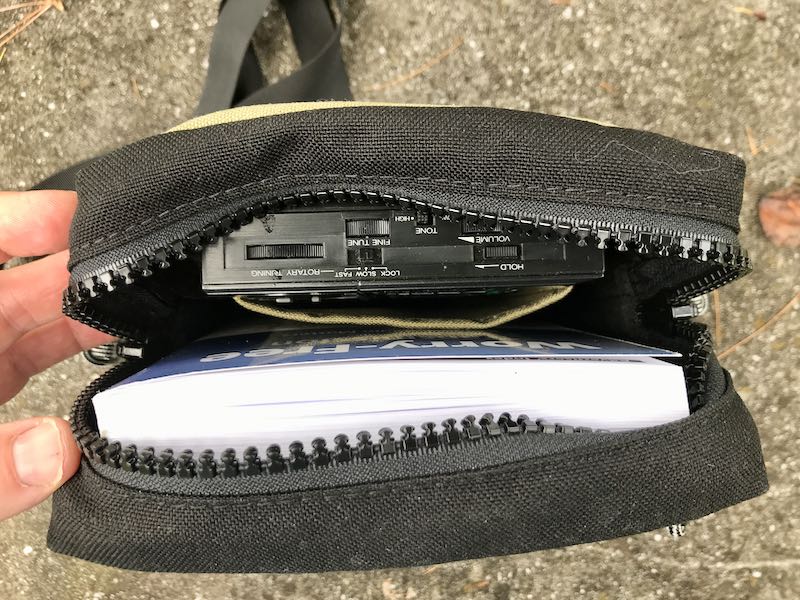 I posted a small teaser a few weeks ago when I took one of my favorite radios (the Panasonic RF-B65) and a copy of the WRTH to a local park for some relaxed radio listening. Both the Panasonic and WRTH fit inside with just a little room to spare for small accessories like earbuds, spare batteries, a wire antenna, and a snack. The radio fits perfectly in the interior open pocket and is essentially protected on all sides, save the top, which is no problem if you're carrying it with the strap.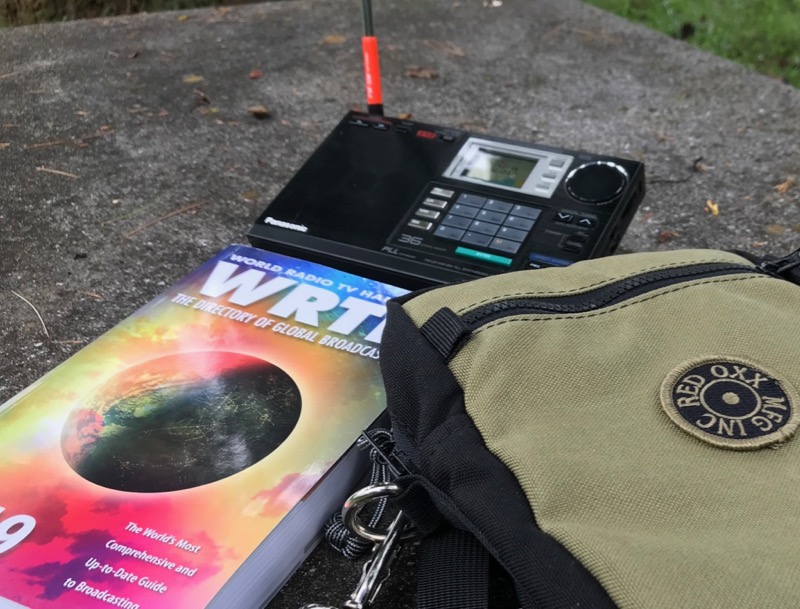 Like all Red Oxx packs, the Hound's exterior sports 1000-weight Cordura nylon material that's available in twelve solid color combos (plus 4 extra "Red Eye" colors for a limited time) . This is a proven, incredibly durable material that will surely outlast this bag hauler's handling.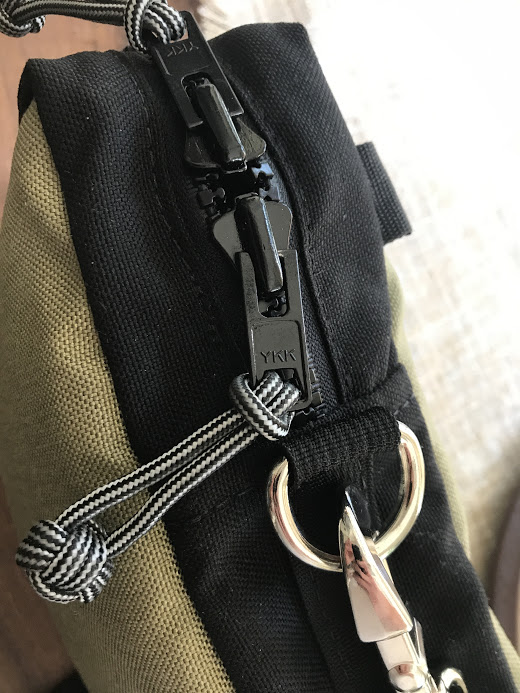 The Hound also features the Red Oxx standard #10 YKK Vislon zipper on the main compartment, and a #5 zipper on the front pocket. These beefy zipper pulls also have attached "monkey fist" knots made from nylon cording that permit easy zipper operation.  The Hound is designed for and ships with a shoulder strap made of durable webbing. Two D-rings on opposite sides of the main zipper insure balance on the shoulder.
Taking the Hound for a walk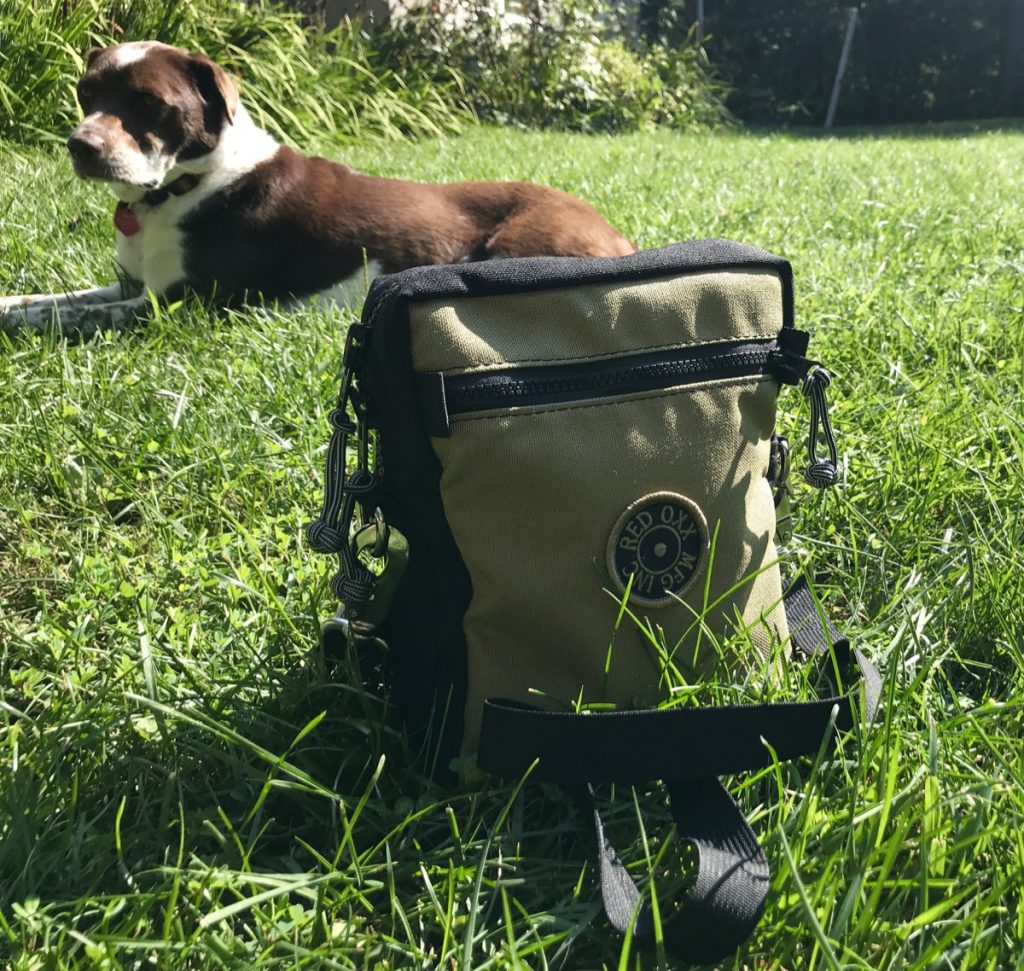 The Hound makes for a great bag to protect your portable tech, but also accommodates other items in your everyday carry (EDC).
In fact, if you're a bit of an EDC minimalist (ahem…not quite me) you likely don't want a full backpack or shoulder bag to carry your gear. Something the size of the Hound would make for an ideal lightweight carry companion.
Red Oxx went through a couple iterations of this bag before adopting its current dimensions; the result is an incredibly useful and accommodating pack.
One function I find the Hound ideally suited for is as an in-flight kit bag. Being a one-bag traveler when I fly, I only carry one main travel pack that can fit under the seat in front of me. Having this flexibility means that I don't have to worry about being first during a boarding call to grab that limited overhead bin space, because I know I'll always have space for my bag.
Thing is, when my bag is stowed under the seat in front of me or especially in an overhead bin, the last thing I want to do is reach for it during a flight to grab a book, protein bar, water bottle, and the like. That's why I always pre-pack a removable bag for the flight. When I get on the aircraft, first thing I do is open my backpack, pull out my in-flight bag, stow the pack, and keep the in-flight bag at my seat.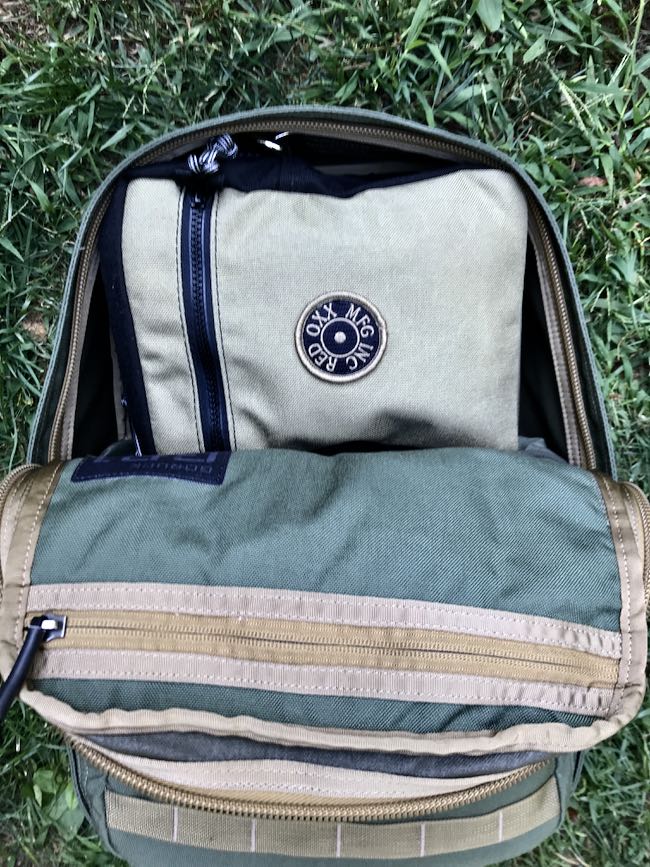 On a recent cross-country trip I packed out my GoRuck GR1 backpack and left room at the top to stow the Hound. The Hound made for an ideal in-flight pack. It carried my reading glasses, a book, a Kleen Kanteen water bottle, granola bars, pencil, pen, paper, earphones, adapters, my iPhone, a small battery pack, and an assortment of cables.  And there was room to spare.
Another benefit of carrying a bag-within-a-bag? Say you buy your kiddos or spouse some gifts, or someone gives you a cool item that you plan to carry back home––let's say, a shortwave radio. By having a separate pack, you can always carry the Hound outside your pack freeing up capacity for the new item(s) in your pack. Since the Hound is designed to be carried over the shoulder, your hands are still free.
You could even use the strap to tie the Hound to your main bag. Since the Hound is so small, you won't get charged extra, even by unforgiving low-cost carriers.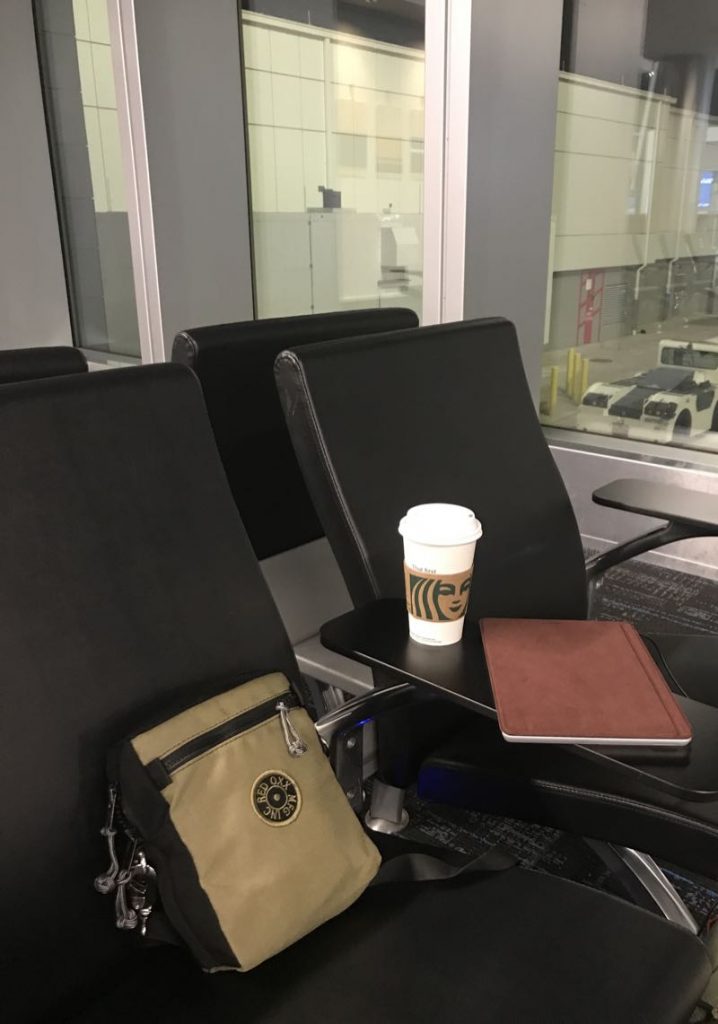 If you're into radio gear, then the Hound should easily accommodate most full-featured portable radios (like the Grundig G3, G5, Satellite, Sony ICF-SW7600GR, Tecsun PL-660, etc.) It's also large enough to hold any HT (handy talkie) on the market, although you might remove long antennas unless you close the zippers around it. No worries, no antenna will poke through this bullet-proof fabric.
And of course, women readers:  the Hound would also make a great casual crossbody purse that would be as comfortable on a hike as touring a European city.  In fact, after I received the Hound, my wife nearly walked off with it. I could tell, she was already mentally sorting out how all her gear would fit inside. Likely the only thing keeping her from declaring this one hers is the fact that this bag is khaki––if it were her favorite shade of Red Oxx red, I'd likely have already been forced to surrender it!
Is the Hound for you?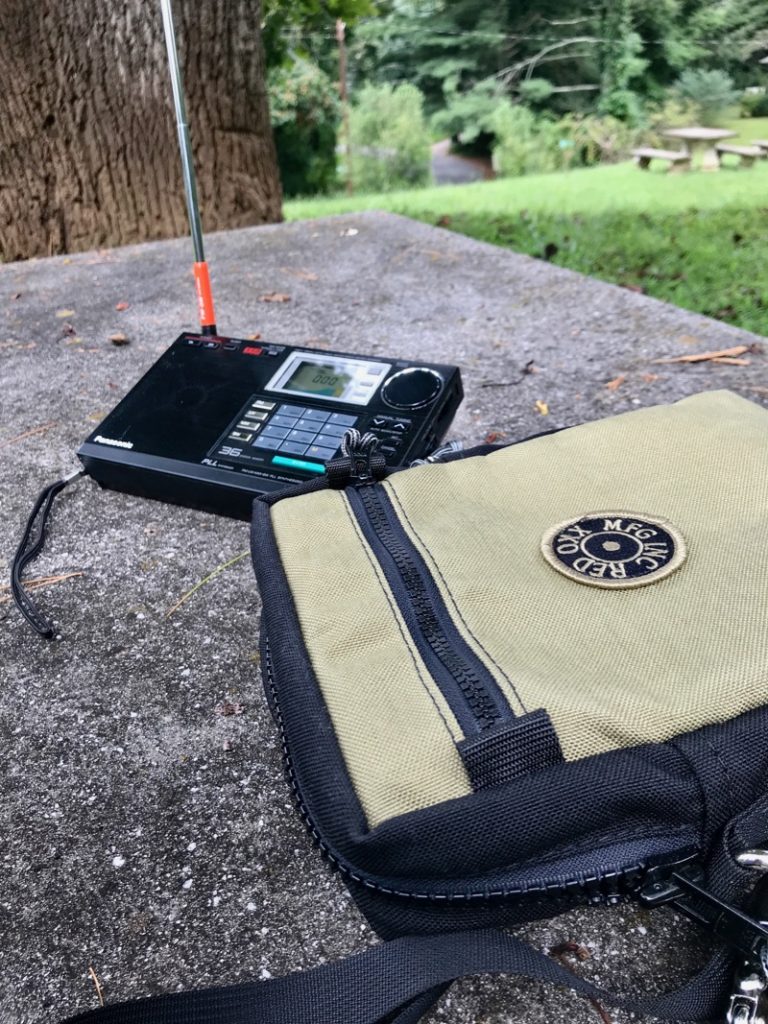 If this simple, super-sturdy bag is the size and configuration you've been looking for to haul your radios and other EDC (or, let's face it, dog owners:  biscuits and baggies) around with you, then I can recommend it without reservation.
While I truly enjoy doing product evaluations, beta testing and reviews, my time is very limited. I'm picky about what I choose to invest my time in. When Red Oxx contacts me about gear evaluations, I make time. Why?  Because their products have never disappointed me.
Red Oxx build and materials quality is second to none. All their gear is designed and manufactured in Billings, Montana––yep, in the good ol' US of A–– and will last a lifetime.  Or potentially longer.
Plus: in the unlikely event your Red Oxx gear is damaged due to rough treatment (or even neglect), Red Oxx will fix it. For free…and for life!  Their "No Matter What" warranty requires no receipt and no explanations. No doubt, this is one of the reasons why used Red Oxx gear appears on sites like eBay with prices near what you'd pay for it, brand new. These bags not only hold your gear, but they also hold their value:  a bit of a rarity in today's disposable world.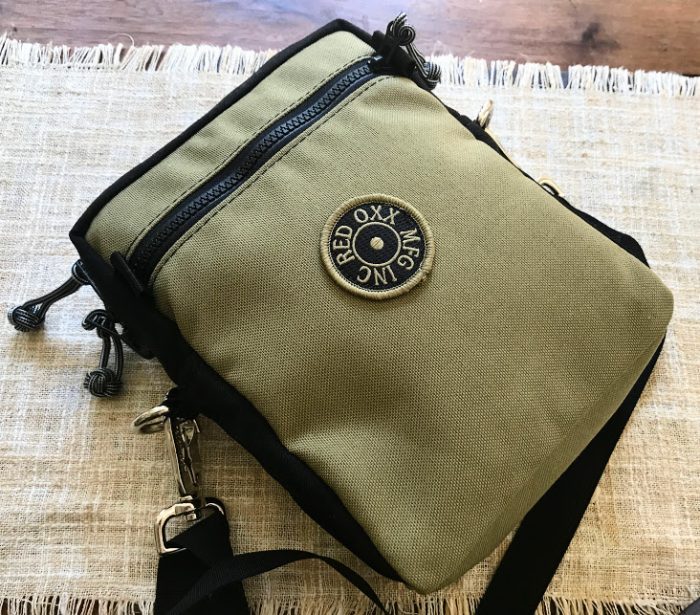 This top-notch workmanship comes at what most of us would consider a premium, when compared with mass-produced gear you'll find on Amazon or a big-box store. But for me, I still find incredible investment value in Red Oxx gear. On top of that, I feel like I'm supporting a company that takes pride in their their simple-but smart innovations, their good work, and their hard-working employees who do it.
The Hound was announced by Red Oxx yesterday, and they'll be taking pre-orders until September 23, 2019. The price is $95 US, including shipping.