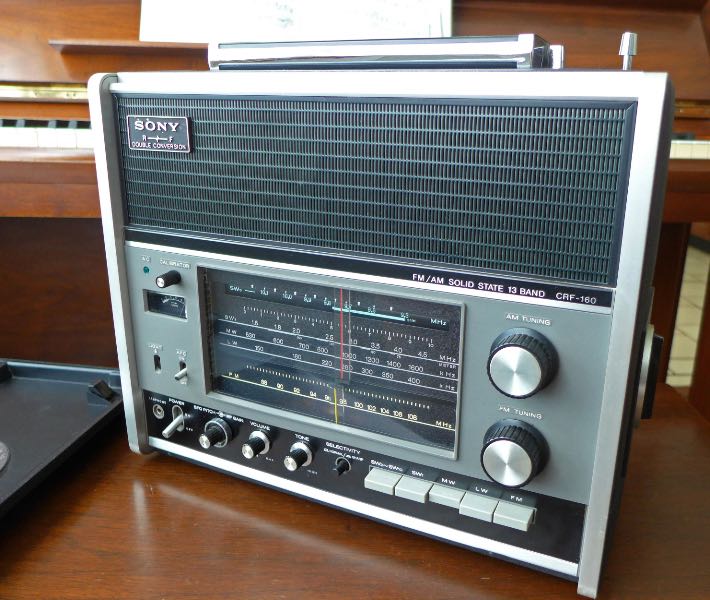 Many thanks to SWLing Post contributor, Jon Helberg, who writes:
Greetings!

During our COVID-19 shutdown I located my old Sony CRF-160 which has been closet bound for some years now, however it has always worked as new.

[…]Other than the broken toggle switch for the light, all knobs and dials work, are present and accounted for. Upon powering up after many years in storage it lights up just fine and appears to be operational, however once powered up the volume control and every knob I turned brought loads of static to the speakers indicating corrosion of contacts, etc., so I just shut it down without testing any further.

The power cord has become a bit sticky as some plastics and rubber do over time, but of course that easily can be cleaned up. The entire radio case and front cover is intact (nothing broken, warped or bent), with the standard wear marks on the outside but otherwise fine. I do not have the box, manual, or any other accessories. The telescoping antenna looks as if it may have been slightly bent at one time (not kinked), and it extends and retracts just fine.

I have owned this radio since new but raised a family who used it as well (kids broke the light switch), so I do know it worked the last time I used it before storage, but I haven't used it since other than just turning it on as I have mentioned above.
Photos
I don't do much with radio any longer other than listening to AM, therefore this radio had no value to me other than sentimental (purchased it after an Army tour with ASA as a radio intercept operator), therefore looking for your thoughts on whether it's worth getting repaired, or just focus on selling on eBay, or somewhere else?

I would have no idea as to its value, who could repair it, or the cost involved.
Tough decision, Jon, so thanks in advance for allowing me to share your inquiry here with the SWLing Post community.
I'm hoping readers can comment with thoughts on the actual value of the radio, the availability of spare parts (toggle switch), and their thoughts on whether you should keep or sell it.
I'm a nostalgic guy, so my inclination would be to keep it unless you really wanted to liquidate it for funds, or you simply have no attachment to it at all.  As custodians of vintage radios, I also feel we should try to keep them in working order.
In terms of repairs, I know my good friend Vlado (at HamRadio.repair) could re-cap it and make it like new. If you could locate a parts radio or simply a similar toggle switch, Vlado could sort that out too I'm sure.
Post readers: What are your thoughts? Should Jon keep the Sony or sell it? Are parts easy to find. Please comment and include any relevant links!