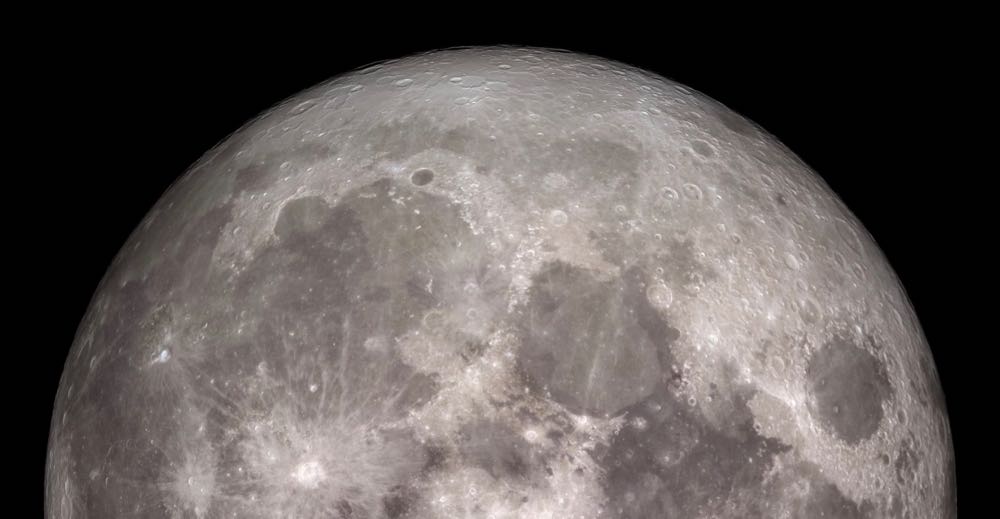 When my buddy, Pete dives into a project that would have otherwise been placed on the backburner, had it not been for sheltering at home during the Covd-19 pandemic, he calls it an episode of "Lockdown Lunacy."
Lockdown Lunancy
I don't think there could be a better name for the bug that has bitten me.
Since my earliest days of reading ham radio magazines–well before I was licensed–I found the concept of EME (Earth-Moon-Earth) communications absolutely fascinating. I mean, communicating with someone across vast distances by bouncing signals off the freaking moon?!?
What's not to love?
After becoming a ham, the reality set in about how much equipment and financial resources it would take to set up an EME station in 1997. I would need big X/Y/Z steerable antennas, big amplifiers, and very pricey transceivers. Even if I built half the system, I couldn't imagine piecing it together for less than $3,000 US.
Plus, HF/shortwave signal work was what really pushed me into the world of ham radio.  Once I set up my first dipole and started making DX contacts with my Icom IC-735, I never really looked back…that is, until, I met Bill.
In 2016, my family spent yet another summer on the east coast of Prince Edward Island, Canada, in an off-grid cottage.
I brought along my Elecraft KX3, of course, with a LiFePo external battery and PV panel for charging One day, I hopped on the 17 meter band to work a little DX with a large dipole I'd set up in the trees behind the house. After turning on the rig, I heard a PEI amateur radio operator working another strong station in Europe. As he sent his 73s to the other station, I quickly interrupted and asked where he was located. Turns out, he was only 5 km way as the crow flies! After a quick chat, he invited me over for coffee the next morning and to talk radio.
That next morning I discovered two things about Bill (VY2WM / VY2EME):
Firstly, he's a coffee snob…just like me. Best coffee I'd ever had on the island.
Secondly, the man had been bitten by the EME bug. Indeed, the mission to build a station to do moon bounce communications is really what energized him to play radio.  We spoke at length about EME and it was then I realized that QRP EME was an actual "thing."
Bill informed me that, with the advent of weak-signal digital modes like JT-65, QRP EME contacts were possible for almost anyone and the investment in equipment, much more modest than in the past. I was truly impressed with how, over the course of a few years, Bill slowly and methodically built his station and started making contacts. Bill gave a lot of credit to his EME Elmer, Serge (VE1KG)–just check out Serge's big gun station on his QSL card below: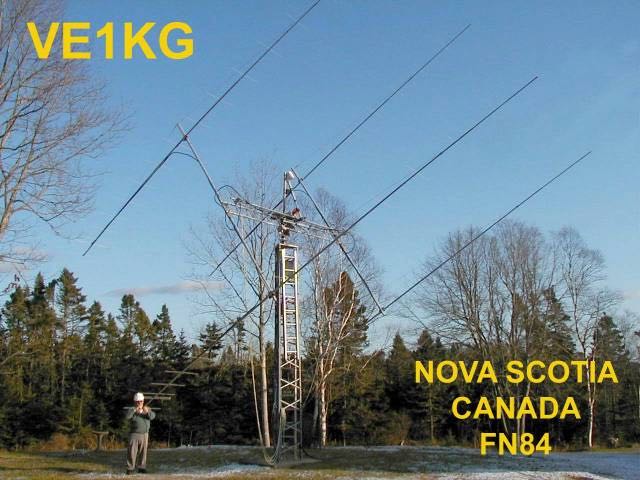 Though Bill didn't know it at the time, our little talk re-ignited my interest in EME.
Bill and I have kept in touch over the years and only last week, after talking EME a bit more via email, I realized it was time I start my own little QRP EME station.
One thing that pushed me to commit to EME is the fact that both of my daughters are studying for their Technician licenses at present. Both are into all things astronomy and space, so I thought it might be rather fun to give them a chance to play radio off the moon with their Tech licenses!
Like Bill, I plan to take time assembling my QRP EME station. I would like to have all of the components together by December and perhaps start building things like a long yagi and some sort of antenna support by next spring.
I'm facing a big learning curve here. Other than what I learned on my ham radio license prep, I know little to nothing about signals north of 30 MHz!
But that's the thing about radio in general: I love learning new skills and exploring the world just a little outside my comfort zone!
I'm already putting out feelers for a good transceiver (thinking a used Yaesu FT-897 or FT-100D).
How committed am I? A QRP EME station has been officially added to my Social DX bucket list. That's pretty darn serious!
Post readers: Any EME enthusiasts in our community?  If so, please comment with any suggestions you may have as I dive deeper into the world of moon bounce!