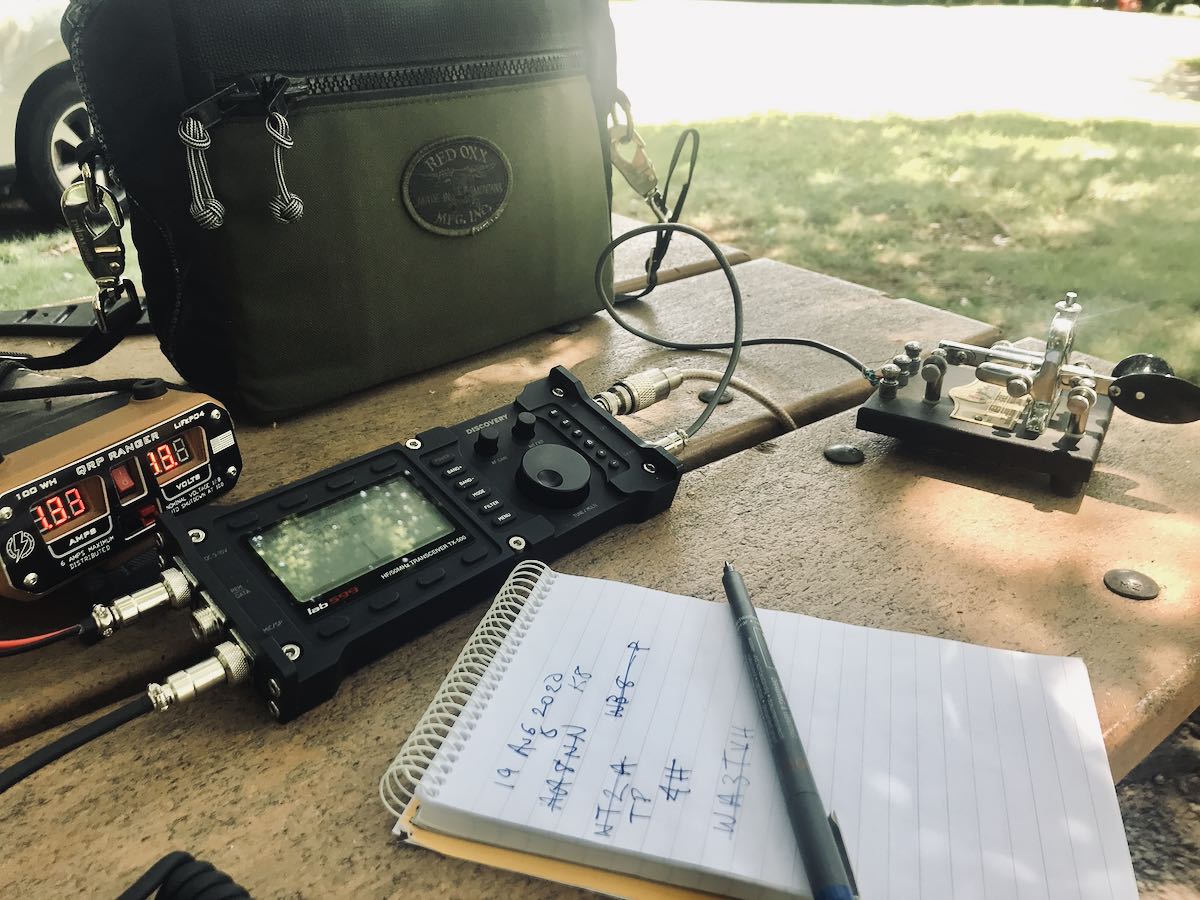 Yesterday, I took delivery of a lab599 TX-500 Discovery QRP transceiver. Many thanks to Josh at Ham Radio Crash Course for shipping it here and Ham Radio Outlet for trusting me with this fine machine for the next couple of weeks.
I've been looking forward to this day for months–indeed, nearly a year.
A few initial impressions…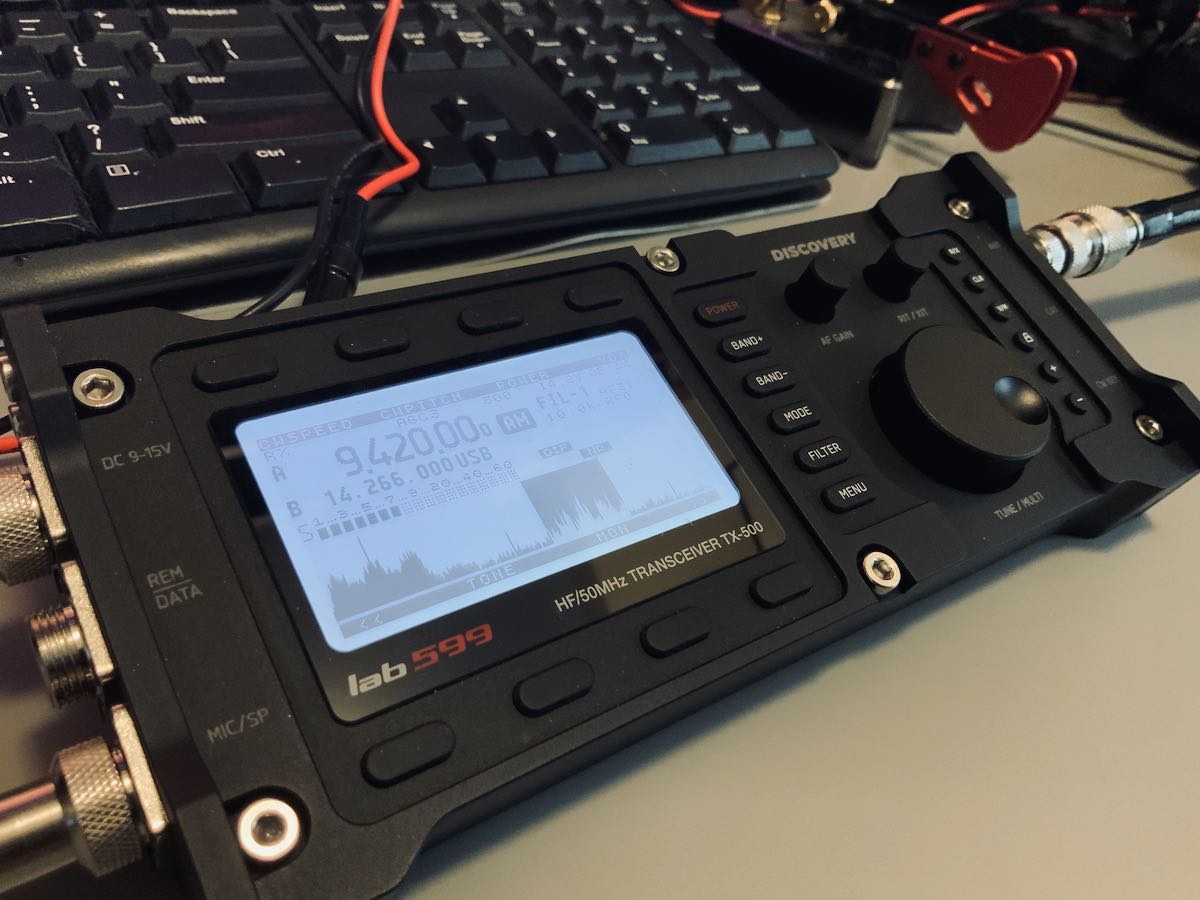 I won't lie: the TX-500 is a gorgeous little transceiver and it's solid.
The form factor is even a little smaller and lighter weight than I had imagined. I thought the multi-pin connectors on the side panels were the same size as, say, an XLR connector. Turns out, they're much smaller and quite easy to use.
To put the TX-500 on the air, you'll need to connect a minimum of three things: the power cable (terminated with Anderson Power Poles on the battery side), an antenna (BNC), and the speaker microphone. The TX-500 has no built-in speaker.
That's all you'll need if operating SSB. If operating CW, of course you'll need to connect your key, but you'll still need the speaker/mic connected for audio. That does make for quite a few things connected to the radio all at once.
In the spirit of full disclosure, I am not a fan of speaker microphone combos, but I'll readily admit that the one with the TX-500 is about as good as they come. It feels durable and produces serious volume. The audio fidelity is obviously built around voice and CW, so it's not ideal for HF broadcast listening, although it does have an external mono speaker port on the side of the mic.
If I owned this TX-500, I would order another speaker/mic 6 pin connector and build a headphone cable for broadcast listening and CW use. An easy fix.
For SSB though? The provided speaker/mic works. Indeed, it works quite well in the field because it's so easy to hear.
There's so much more to this radio, but I'll save that for future posts and my full review. Let's talk code…
Attaching a key
This morning, the first thing I did was fire up my soldering iron and make a CW paddle cable. (I hope HRO doesn't mind–I didn't exactly think to ask. Come to think of it, let's just keep this between us, ok?).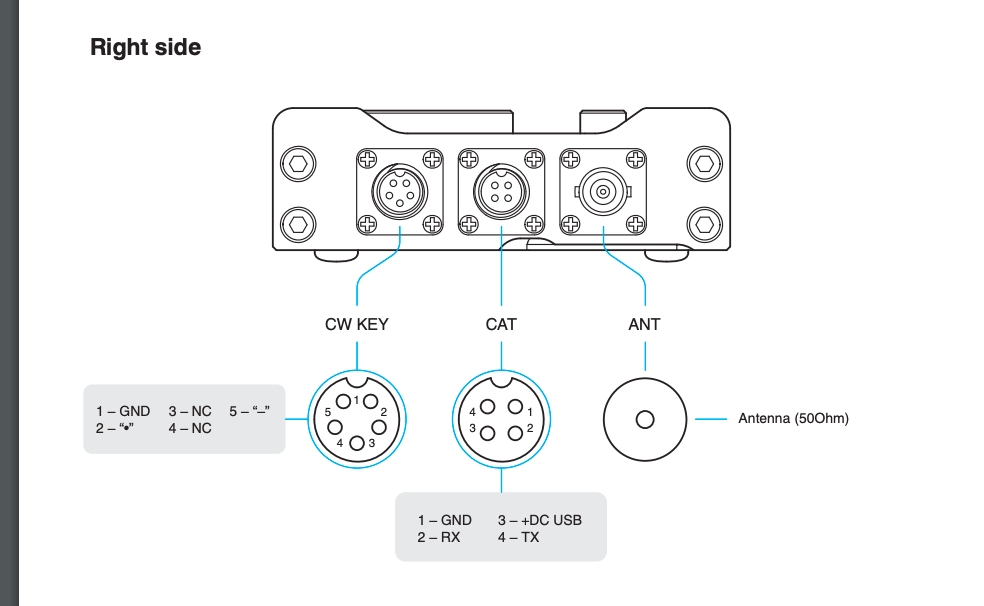 I soldered three wires to the supplied 5 pin connector (pins 1, 2, and 5).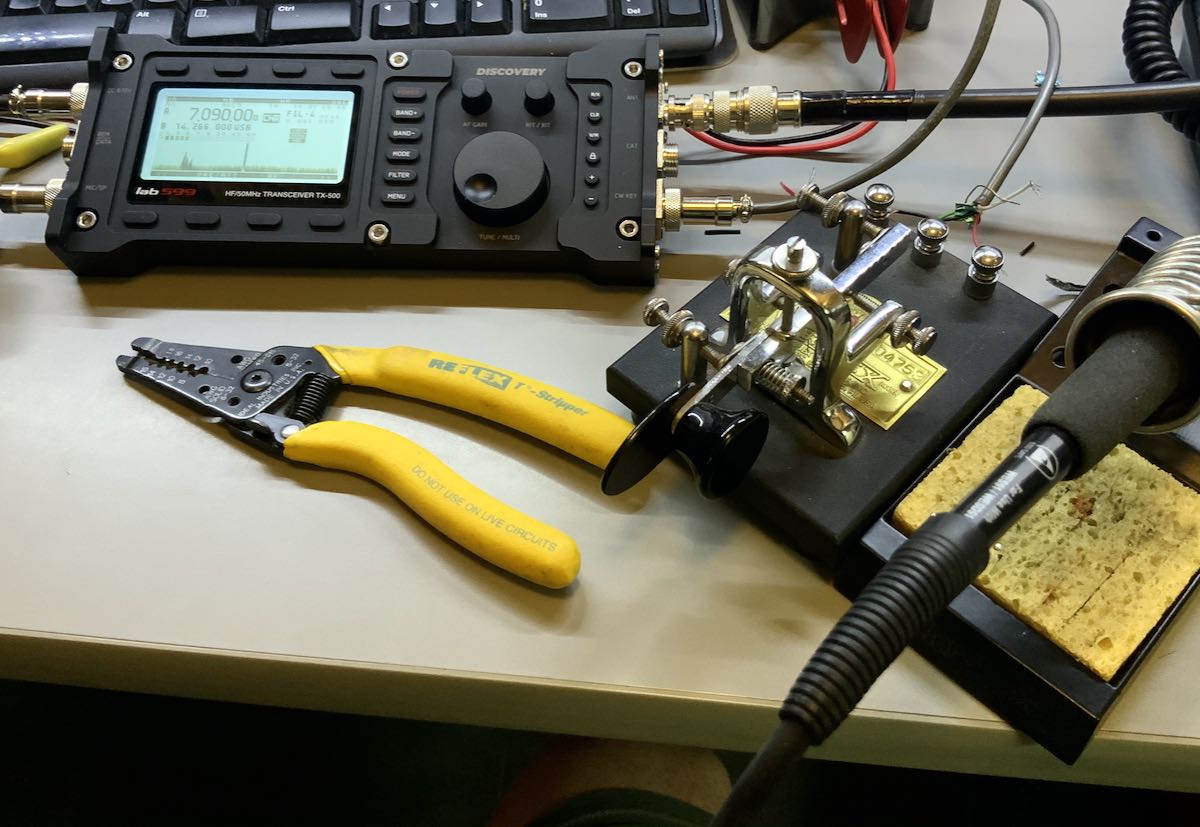 To keep things simple, I hooked the TX-500 up to my Vibroplex single lever paddle which sports three terminals, making it easy to connect to the CW cable pigtail. Plus, heck, any excuse to play with the Vibroplex, right!?
CW
I was so eager to see how the TX-500 would perform on CW, that immediately after hooking up the key the first time, I checked POTA spots and worked two stations (WR8F in Ohio and NG5E in Texas) in rapid succession. Here's a video of the exchange with NG5E:
Note that I used my iPad to make this video and, for some reason, the mic accentuated the clicking/clacking of my Vibroplex key. It's not normally that pronounced. 🙂
CW memory keying
One of my complaints about the TX-500 when I read the final feature list a couple weeks ago was that it lacked CW memory keying. To me, this was a major negative because many POTA and SOTA activators rely on CW keyer memories to help with their logging workflow in the field. I certainly do.
lab599 must have been listening because I found out last week that they implemented CW memory keying in the most recent beta firmware update. Woo hoo!
I was sent the firmware file and this morning had no issues installing it in the TX-500 with the firmware application/tool.
After I sorted out how to record and play back the CW memories using the top row of function buttons, I was ready to hit the field!
I packed the TX-500, and headed to the Blue Ridge Parkway for a POTA activation!
CW POTA activation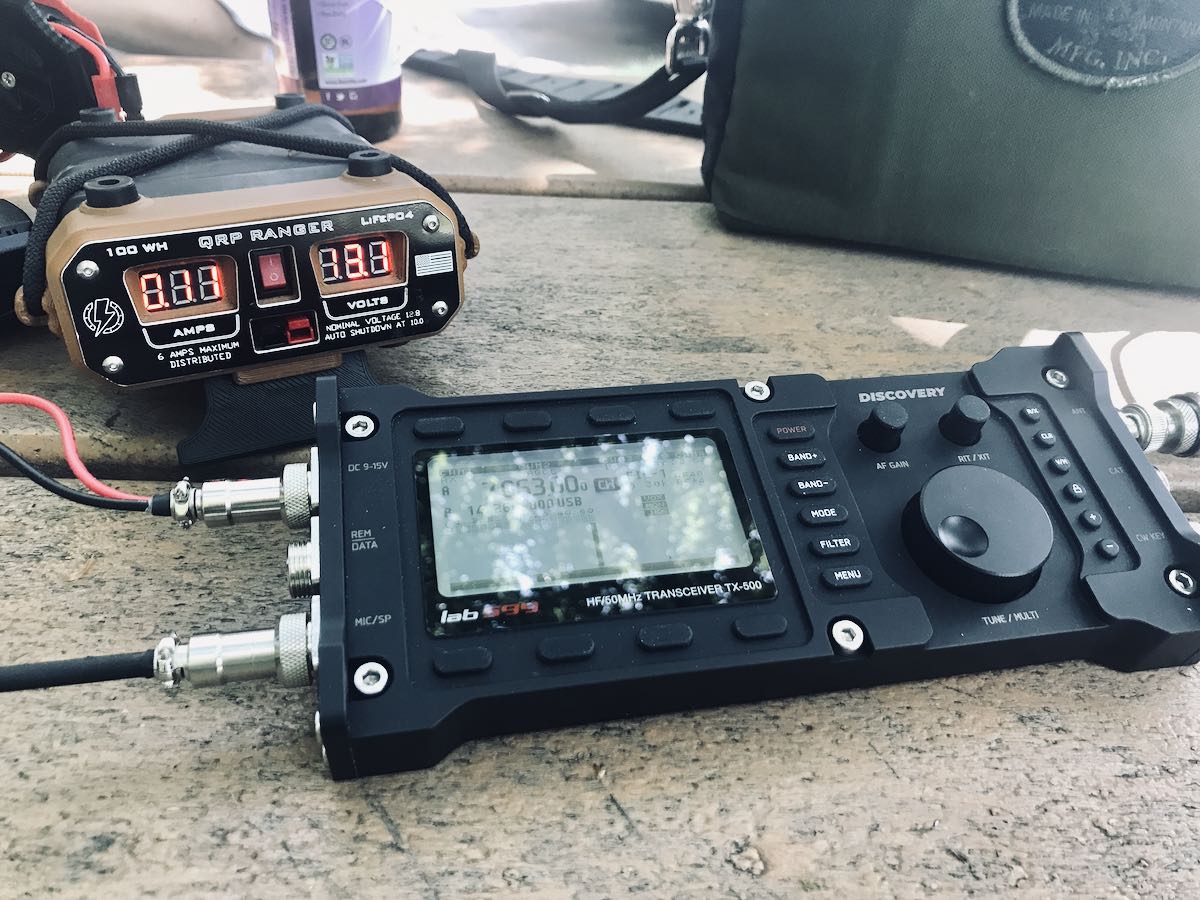 I only had a brief period of time to fit in an activation today, so I kept it simple by going to the Folk Art Center which has a number of picnic tables. A park ranger once asked that I not hang an antenna in a tree at this particular site, so I used my Wolf River Coils TIA portable vertical antenna.
Truth is, I feel like I always get more mileage out of a wire antenna than a vertical when running QRP, but I worked with what I had.
I started calling CQ on 7063 kHz and within 10 minutes worked five stations.
The CW memory keyer worked well. There is currently a two second delay before the TX-500 begins transmitting, but I'm guessing that can be fixed in a future firmware update.
Here's a short video of the TX-500 memory keyer in action:
The TX-500 uses a relay to switch between transmit and receive, so you can hear clicking in the background. I had the recovery time set to the shortest interval which resulted in the maximum amount of clicking. Good news is the TX-500 body is so solid, the clicking is quite soft and muted–about the softest clicking I've ever heard in a transceiver. You could, of course, minimize relay clicks by setting the T/R delay to a higher number.
I'm very impressed with the TX-500's low noise floor and filtering. Signals just seem to pop out of this thing.
I played radio for a while longer but was eventually chased off by a thunderstorm.
I must admit: for the first time, I wasn't terribly worried if it started raining and the radio got a bit wet. The TX-500 is weather-resistant so can certainly cope with a sprinkle.
More to come!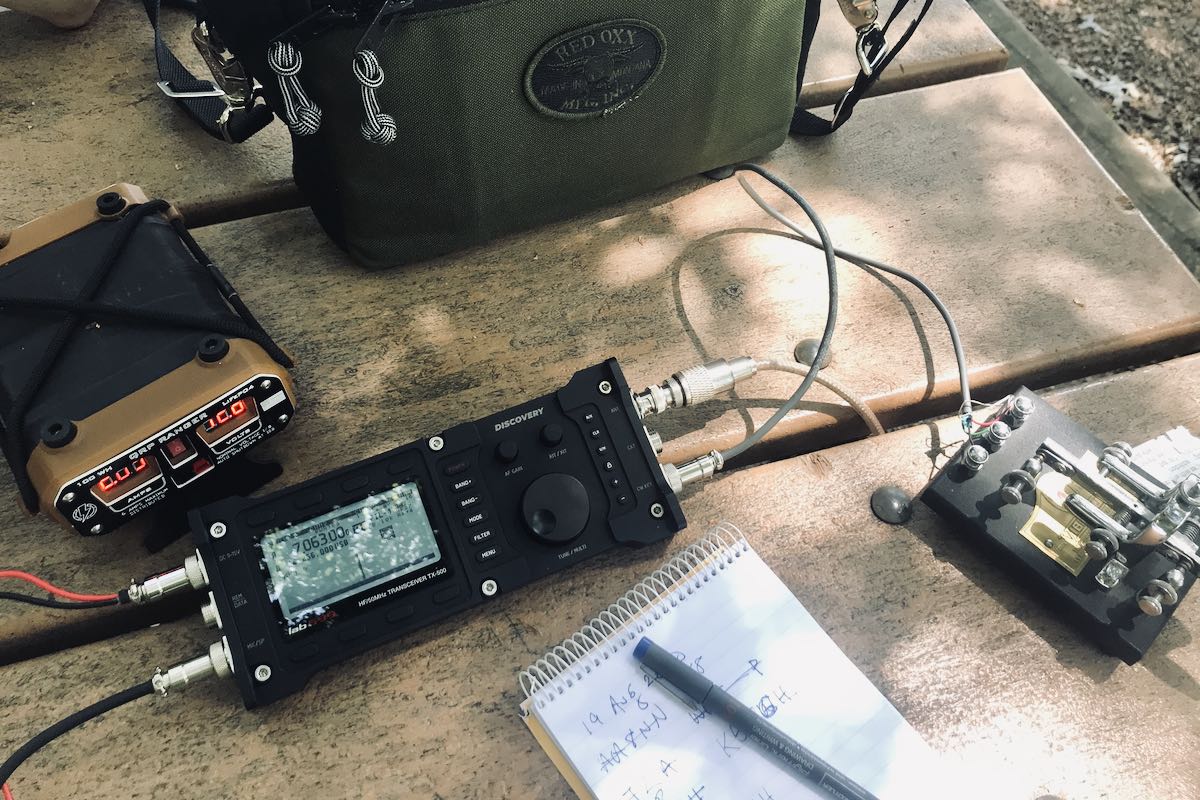 I've set a personal goal to take the TX-500 to the field seven days in a row. I'm not entirely sure that's realistic as I see the amount of thunderstorm activity in the forecast. Still, one must have goals, right? Plus, any excuse to hit the field and play radio!
Please comment if you have questions about the TX-500. I'll do my best to answer as many as I can!
---
Do you enjoy the SWLing Post?
Please consider supporting us via Patreon or our Coffee Fund!
Your support makes articles like this one possible. Thank you!