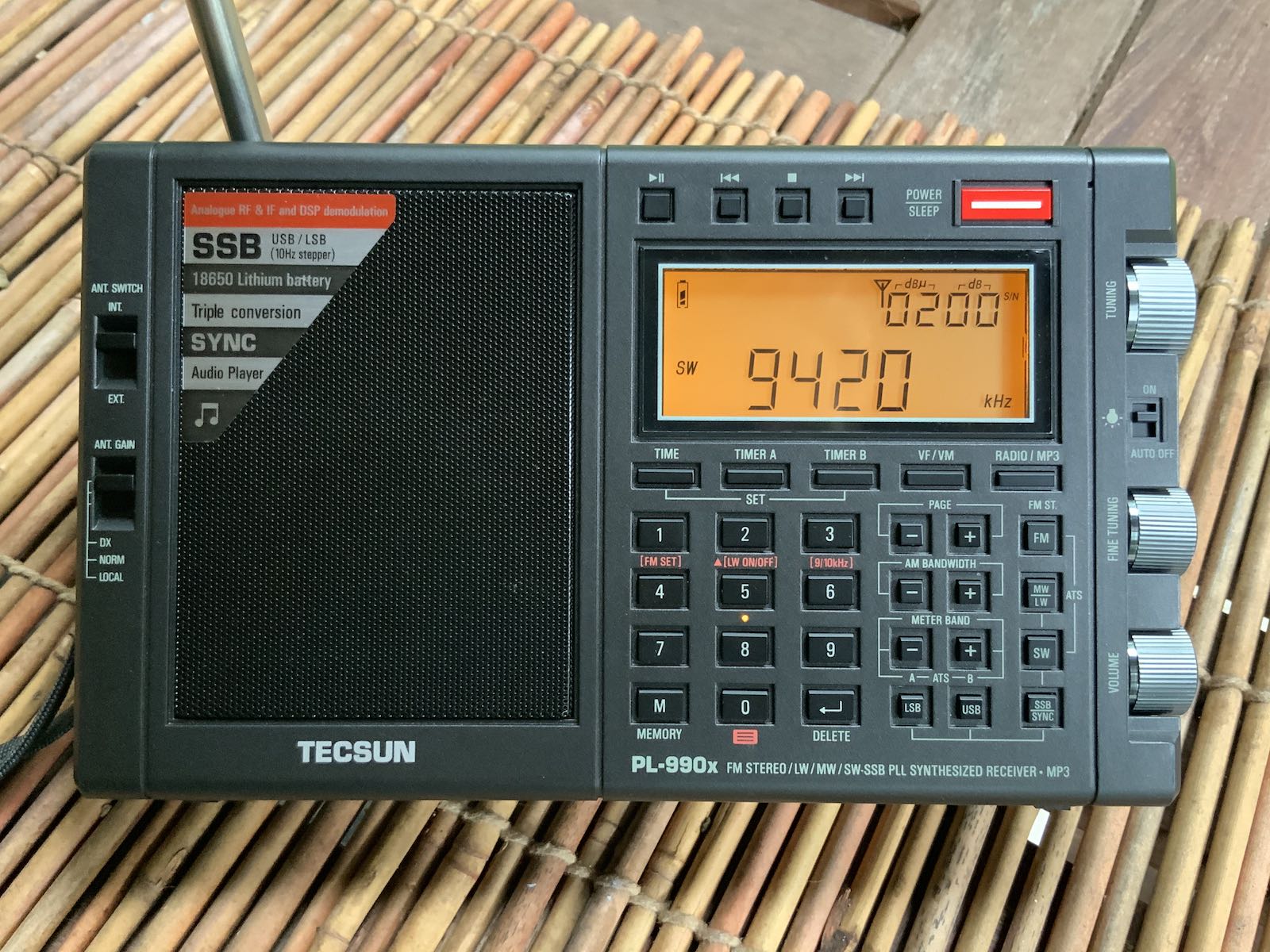 SWLing Post contributor, Dan Robinson, and I have been evaluating a pre-production model of the Tecsun PL-990x portable shortwave radio–the same model which will be soon sold by Anon-Co.
Dan has just completed his initial assessment and included a long-format video. Many thanks to Dan for sharing the following:
---
Tecsun PL-990x:  An Initial Assessment
by Dan Robinson
Recently, Thomas Witherspoon posted the first photos of the Tecsun PL-990x – we both received units from Anon-co in Hong Kong for testing.
I was able to spend some time outside my house here in Maryland, running the 990x and comparing it to the older receiver by Tecsun, the PL-880.
Tecsun undertook a thorough re-design of the PL-880, which among other things was known for its superb sound through a large speaker.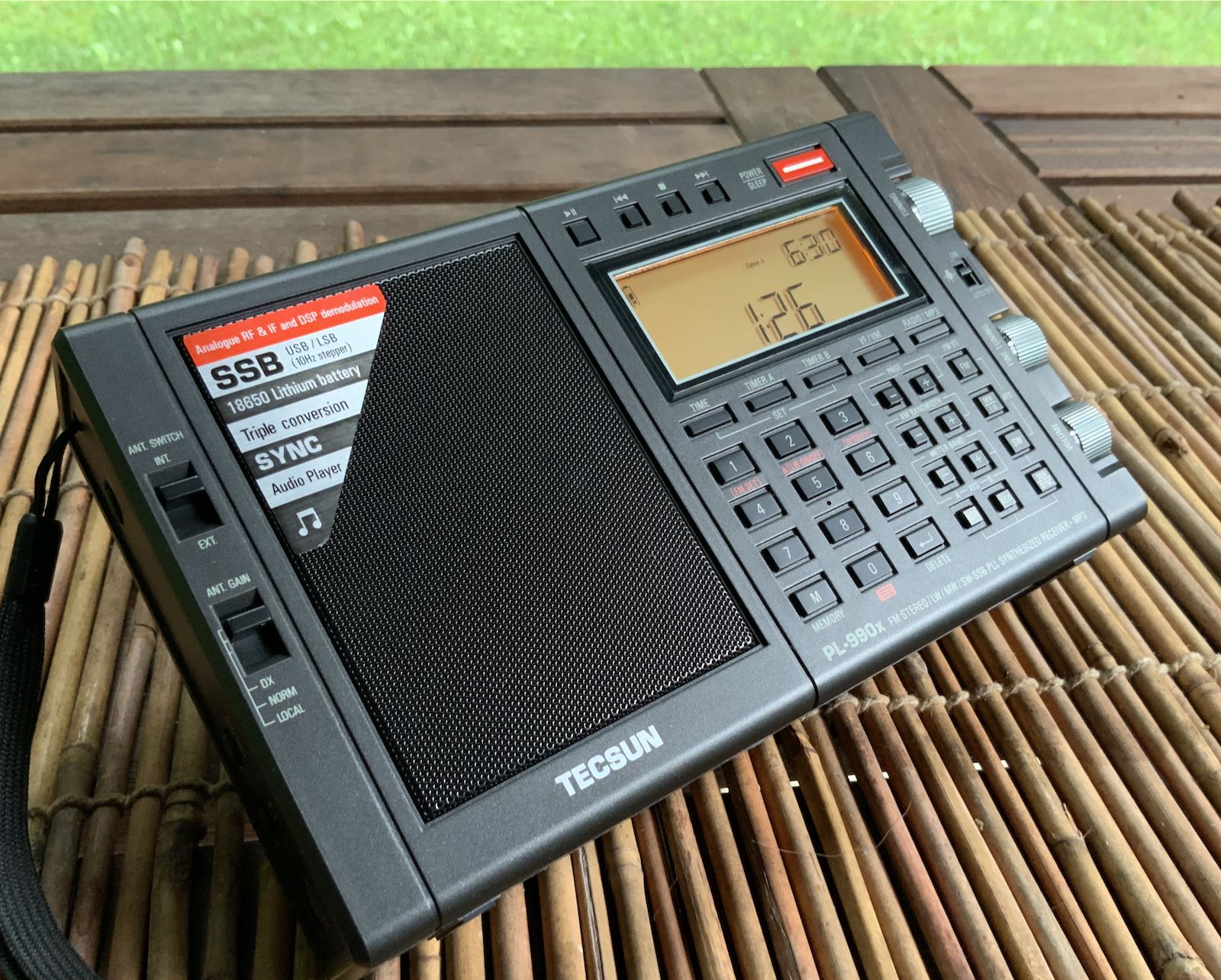 The 880 was available both on its own, or in a hard-case kit that also included (or includes assuming these are still purchasable) a separate Tecsun-branded solid state recording device, spare knobs and other accessories including Li-ion batteries.
So, the long-awaited PL-990, which we have been seeing in YouTube videos being tested by various individuals who purchased pre-production versions from Asian sites such as AliExpress, is finally here – or will be in coming weeks and months.
Those who view my videos know that I like to do fairly long hands-on tests of receivers, and this is no exception, at about 50 minutes.  My test did not include medium wave or FM, focusing only on shortwave performance and using only the telescopic whip antenna.
Throughout the video, I do put the 990x up against the older PL-880, which had the well-known issue of poorly-implemented synchronous detection (SYNC was not an official feature in the older receiver).
IMPORTANT NOTE:   On the 990x, hitting the "4" key while the radio is powered on activates DNR (Dynamic Noise Reduction) which then activates auto-bandwidth switching, a feature I found quite annoying in the PL-880 and would no doubt find just as annoying in the 990x.  I can't imagine why anyone would want bandwidths auto-switching on their own.
I always tell people who come to me for advice about radios that you don't always have to have the latest receiver to enjoy what's left of shortwave.
I am a big fan of classic older portables such as the SONY ICF SW55s, 7600GRs, SW100s, SW-07s, SW-1000Ts, SW-77s, etc along with other classics such as the Panasonic RF-B65.  I own one or more of most of these – they're a joy to use assuming they are in good condition.
One more thing – I did not compare the 990x to the Tecsun S-8800.  I think they are really different radios – the 8800 has that gorgeous remote control and fantastic audio . . . I really don't put it in the same category as the 880/990s or even the 600 series Tecsuns.
I will leave extensive tests of the 990x on medium wave and FM to others – there are already quite a few YouTube demonstrations online showing this.  In the tuning I did on MW and FM, the radio did seem quite sensitive.  I noted that whereas the 9 kHz bandwidth is not visible on shortwave, it is on MW.
Here is my list of high points and low points for the 990x.  Since this receiver, and the still-to-be-released H-501, may in fact be the last we will ever see from Tecsun, it's up to the individual to make a judgment as to whether to buy.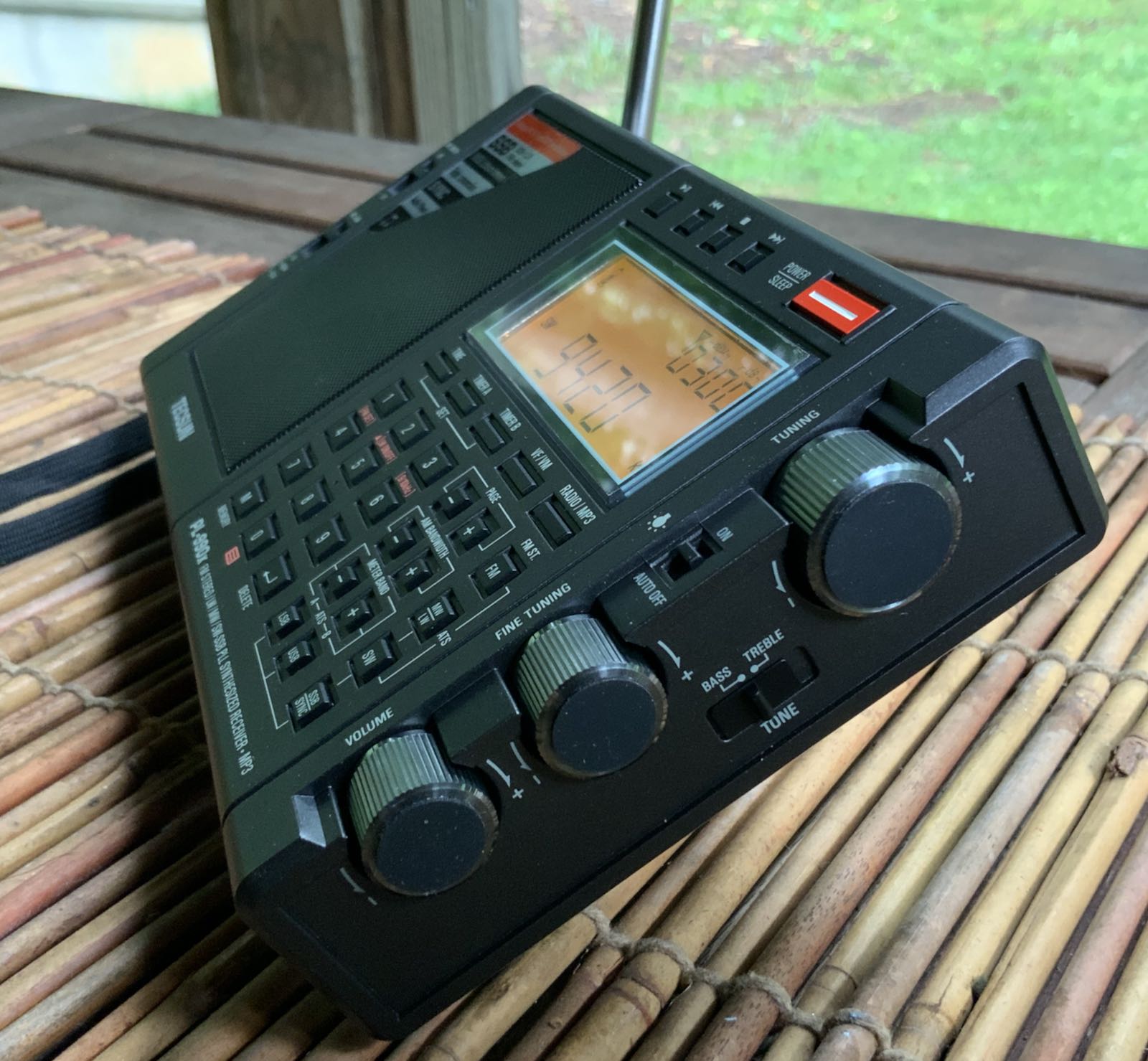 PL-990x High Points
A thorough physical re-design of the old PL-880
Tecsun has mostly fixed the problem with synchronous mode which is now a regular as opposed to a hidden feature.
Selectivity options are still excellent.
Calibration function retained (but see below)
Audio is fairly full and powerful.
Sensitivity seems good
Tecsun has added mp3 play capability and a microSD slot
Tecsun has added bluetooth capability (NOTE:  This is activated by pressing the RADIO/MP3 key in powered off state, and then toggling Bluetooth on or off with the PLAY/PAUSE button).
Tuning and other knobs remain of high quality as on the PL-880
Bandwidths given their own separate buttons
Line out retained and hidden feature can adjust line out level
Claimed "Triple Conversion" in AM mode
Timer functions
ATS (automatic station tuning) retained
Nice faux-leather case retained
PL-990x negatives:
Re-design appears to have come at expense of speaker real estate.
Synchronous mode improved, but there still seems to be some distortion which is more noticeable on some frequencies and in some reception situations than others.
PL-880's wide AM bandwidth of 9 kHz is no more at least on SW, but it does appear when using MW.
Sensitivity seems good BUT in some situations, PL-880 sounded better and seemed to bring in stations better
MicroSD capability does not provide recording from broadcasts (likely due to copyright issues)
Method for re-calibrating radio is puzzling – more information needed on this
Birdies are present
Top element of telescopic antenna is VERY thin, vulnerable to bending and breaking
Number keys seem to be not as good as they could be – the white paint on the keys is certain to fade over time.  On my test unit part of the "W" on the MW/LW key was already beginning to disappear.
Selectivity comparison of the PL-990x and PL-880
PL-990x
Selectivity Options on SW:
2.3, 3.5, 5.0, 6.0
Selectivity Options LSB/USB:
0.5, 1.2, 2.3, 3.0, 4.0
Selectivity Options LW/MW:
2.3, 3.5, 5.0, 9.0
PL-880
Selectivity Options SW/LW/MW:
2.3, 3.5, 5, 9
Selectivity Options LW/MW:
0.5, 1.2, 2.3, 3.0, 4.0
---
Many thanks, Dan, for sharing your initial review with us. As always, your expertise as an experienced DXer is incredibly valuable. 
I've tested every function on the PL-990 save some of the hidden features (yes, there will be hidden features). Dan and I are both trying to sort out the calibration sequence so that when these units hit the market, there'll be a documented procedure in place. 
We've been comparing notes along the way and are in agreement on all of the major points with this radio. Still more testing to do, but updated with be posted here with the tag: Tecsun PL-990x
---
Do you enjoy the SWLing Post?
Please consider supporting us via Patreon or our Coffee Fund!
Your support makes articles like this one possible. Thank you!