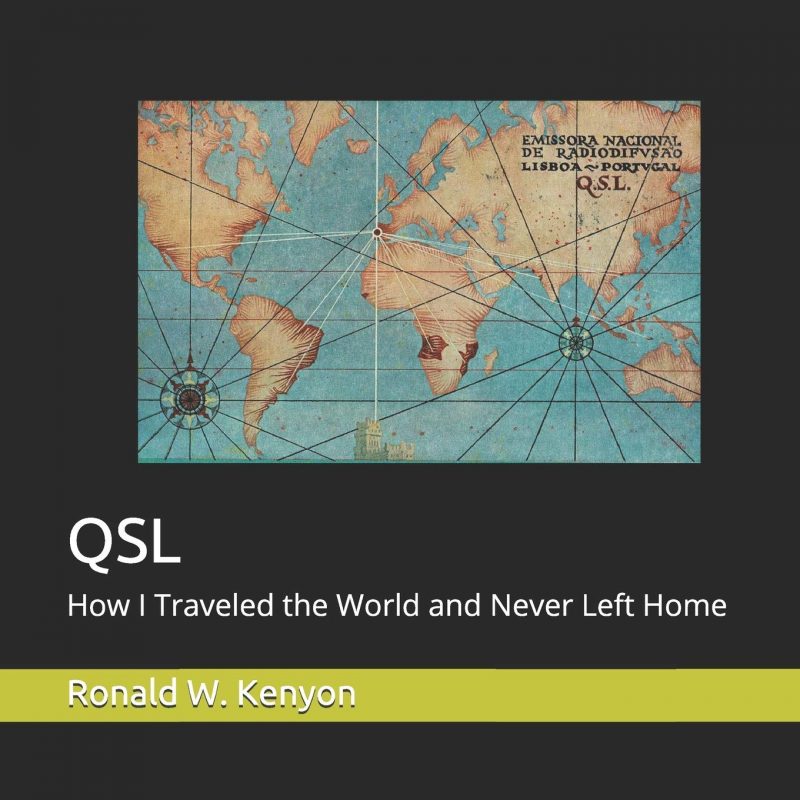 A few weeks ago, I was contacted by author Ronald W. Kenyon who has written non-fiction books covering a variety of subjects, but primarily collections of essays and albums of photography.
He was very proud to announce that his latest book, QSL: How I Traveled the World and Never Left Home, focuses on his pursuit of DX during his youth.
Kenyon is a radio archivist at heart.  He has carefully preserved QSL cards that he received between 1956 and 1961–a time period many of us consider the zenith of international broadcasting and DXing.
Kenyon's book presents color reproductions of over 100 vintage QSL cards—most displaying both front and back—issued by 89 shortwave stations in 75 countries. For the uninitiated, he includes an introduction that acquaints with shortwave radio listening, submitting listener reports, and obtaining QSL cards. Radio enthusiasts will be familiar with these topics, but this addition is an important one since we often forget that we've a niche pursuit and for many of his readers, this will be their first introduction.
Kenyon sent me a pre-sales sample of his book. It's what I'd call a "coffee table" paperback. The format is 8.5 x 8.5 inches which gives each QSL image proper page space to be presented. The color reproduction and print in this publication is excellent.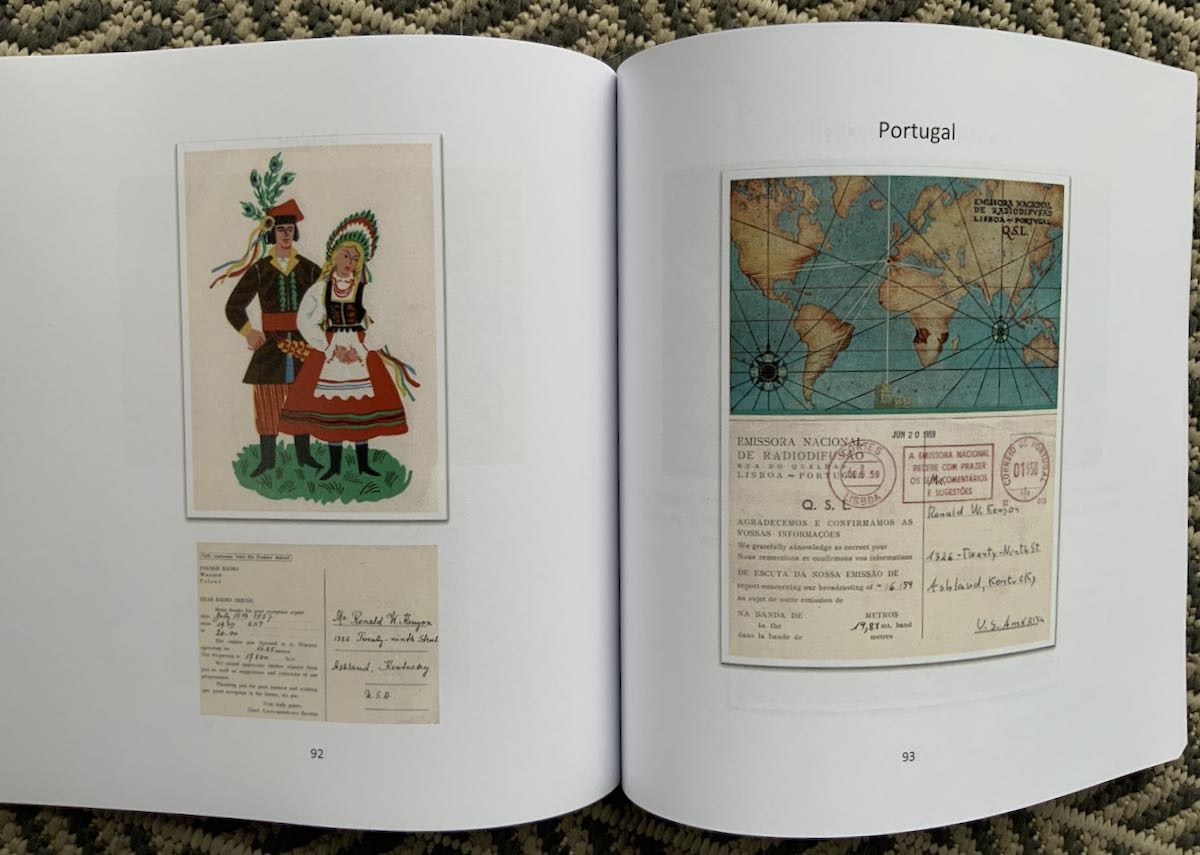 I've thoroughly enjoyed taking in Kenyon's book at a very leisurely pace. It's divided into three main sections:
Section One of his book is a gallery of 107 vintage QSL cards from radio stations in 78 countries.
Section Two features SWL and ham radio cards.
Section Three features seasonal greeting cards sent to listeners by radio broadcasters from nine countries.
There's even an appendix featuring, "A Letter from Antarctica," which recounts how Kenyon was linked to a British meteorologist at a base in Antarctica via a radio station in Montevideo, Uruguay of all places. A fabulous example of how radio–especially in the late 50s and early 60s–was a fabulous medium for connecting listeners across vast distances.
I'm a nostalgic fellow–especially during the Thanksgiving and Holiday season. I'll admit: this wonderful, simple bit of radio nostalgia is just what the doctor ordered as we celebrate the season. We all can relate to and enjoy Kenyon's gallery of radio nostalgia and history. Indeed, my hope is that his book will encourage others to document their radio journey as well.
Being a limited print, full-color, 150 page book, the price will be $35 US. However, the author has offered 10% off his book if ordered before December 31, 2020. That will lower the price to $31.50 US via Amazon.com or £23.95 via Amazon.co.uk.
If you enjoy browsing QSL cards like I do, you'll love QSL: How I Traveled the World and Never Left Home. Certainly, a fabulous gift idea for the radio enthusiast in your world.
Amazon purchase links
(Please note that some of these are affiliate links that also support the SWLing Post)
Note that this book will appear on other regional Amazon sites over time. Simply search Amazon for "QSL: How I Traveled the World and Never Left Home" or the author, Ronald W. Kenyon.