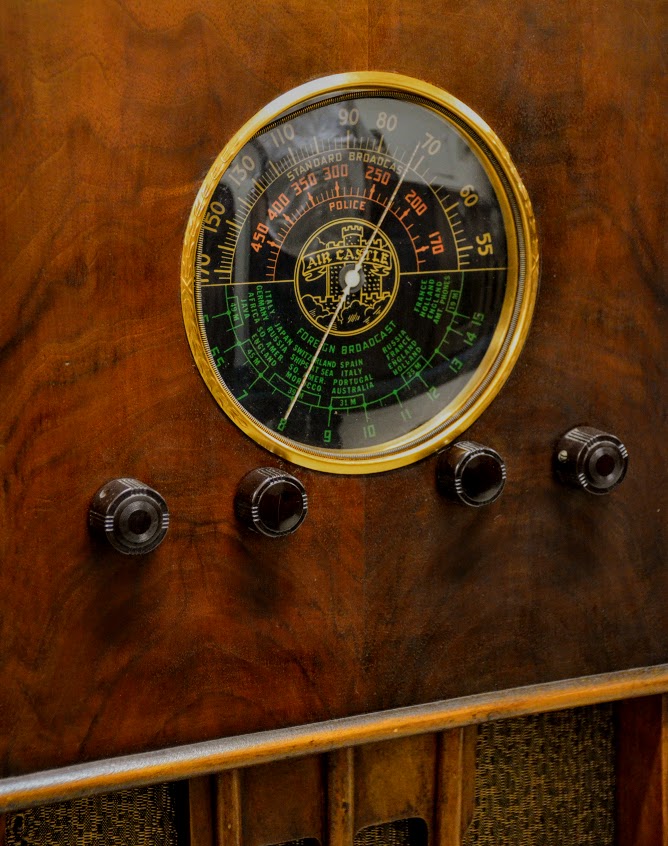 Radio Waves:  Stories Making Waves in the World of Radio
Because I keep my ear to the waves, as well as receive many tips from others who do the same, I find myself privy to radio-related stories that might interest SWLing Post readers.  To that end: Welcome to the SWLing Post's Radio Waves, a collection of links to interesting stories making waves in the world of radio. Enjoy!
Many thanks to SWLing Post contributors Todd R, Skip Arey and Tracy Wood  for the following tips:
---
Playing Bollywood soundtracks and songs about safety shoes, this shopfloor station made stars out of Dale Winton and Nicky Horne, and paved the way for UK commercial radio

nless you spent your summers packing Jaffa Cakes into boxes in the 70s, you are unlikely to have heard of the United Biscuits Network (UBN). It was a radio station for biscuit-makers, broadcasting around the clock to factories in London, Manchester, Liverpool and Glasgow. One part industrial psychology, another part community radio, UBN was intended to make factory life more bearable, but over its nine-year lifespan, it emerged as one of the most daring, anarchic and pioneering stations to hit the UK airwaves.

Music has long been a point of contention in the workplace. Prof Marek Korczynski, who co-authored Rhythms of Labour (2013), describes the history of British working life as "a battle over soundscapes". Bosses first wanted silent factories, but during the second world war, Korczynski says, "industrial psychologists – the forerunners to HR departments – started looking at playing cheerful music in factories, at the times of day when productivity would dip". After the war, as Britain rebuilt itself, this strategy was maintained with muzak: inoffensive background tunes, played to lighten the monotony of factory work.

There was one issue, according to Korczynski: "Workers grew to hate muzak." As jobs on the production line were deskilled and made ever more monotonous, muzak's effectiveness weakened and staff turnover soared. For Sir Hector Laing, the chairman of United Biscuits in the 1960s, stemming the flow – and its cost – was desperately necessary. Drawing on the success of commercial pirate stations such as Radio Caroline, Laing put adverts in Melody Maker, bought state-of-the-art broadcasting equipment and set up his very own station from UB's headquarters in Osterley, west London (where Sky's HQ sits today).[…]
When the four orange and white steel towers first soared over Bethesda in 1941, they stood in a field surrounded by sparse suburbs emerging just north of where the Capital Beltway didn't yet exist. Reaching 400 feet, they beamed the voices of WMAL 630 AM talk radio across the nation's capital for 77 years.[…]
LITTLE CURRENT – Great Lakes Country 103 FM and Hits100 FM have opened a new broadcasting studio and office space at the Flat Rock Entertainment Centre, home of Manitoulin Countryfest and Rockin' the Rock, becoming the first off-grid commercial radio stations in Canada, according to CEO Craig Timmermans.

"It's super nice to not have an electricity bill anymore," says Mr. Timmermans as he leads The Expositor on a tour through his company's new headquarters at 1 Radio Road on the southeastern edge of Little Current.

Through the front doors of the building lies a reception area floating in the centre of a large, open rectangular space. All of the central furniture is moveable so the team can empty the space for special events and small live concerts.

To the right is a small seating area featuring a wood and epoxy tabletop made by Kelly 'KT' Timmermans, president of the company. She has also built the live-edge wooden shelving and a table inside the adjacent boardroom.

"This is what I did with my quarantine," she says with a laugh. "It's nice to have our own space and to be in charge of our own destiny. We loved being downtown but it didn't help our business like we had hoped."[…]
02 November 2020: Telecom Egypt and St Helena Government (SHG) have signed an agreement to connect the Island to Telecom Egypt's subsea system over the Equiano submarine cable system.

Telecom Egypt will be the first to provide St Helena with a fibre optic connection to the rest of the world, which is a crucial step towards the Island's economic growth. The cable, along with the associated high-speed internet, is planned to be delivered to the Island by early 2022.

The branch that connects Telecom Egypt's system to St Helena will be 1,140km long. The cable itself will run from the West Coast of Africa and provide St Helena with access to both Lisbon, Portugal and Melkbosstrand, South Africa with scalable connectivity ranging from a few hundred gigabits up to multiple terabits, as demand varies. It, therefore, provides the most cost effective solution to the growth in the Island's bandwidth needs.

In light of its vast experience in the subsea connectivity business, Telecom Egypt, in conjunction with SHG, will provide a Dynamic Circuit Network functionality, which will ensure that SHG's communication partners have access to fixed bandwidth.?Telecom Egypt will also support SHG in the design, installation, and configuration of the submarine and network equipment.[…]
---
Do you enjoy the SWLing Post?
Please consider supporting us via Patreon or our Coffee Fund!
Your support makes articles like this one possible. Thank you!