Recently, I've received a number of emails from readers who are frustrated because new ham radio transceivers are out of stock and used prices have increased.
At first, I thought this might be due to supply chain and logistics issues due to the continuing Covid-19 pandemic. If it is, it's only a partial explanation.
As of this morning, I've heard from three trusted sources in the radio industry (from retailing and manufacturing) who tell me that the lack of inventory is a supply chain issue, but directly linked to the October 21, 2020 fire at Asahi Kasei Microsystems (AKM) Nobuoka semiconductor Plant "Fab2".
"This factory mainly produces large-scale integrated circuits (LSI) used in audio equipment, home appliances, TCXO oscillator, and other products. Due to the recent fire, AKM has been forced to stop production and delays are to be expected."
Fortunately, according to the article, AKM has been moving some IC production to external companies, but it could take some time to re-tool. A number of markets have been affected by this disruption including the pro audio industry.
There's no need to panic
If you've been looking for a specific radio model, you may find that retailers have been back-ordered and can only offer a vague shipping timeline; 2-6 weeks out, for example.
Some models (including the popular IC-7300, IC-705, Yaesu FT-DX10, and Yaesu FT-991A) are still in-stock at some retailers.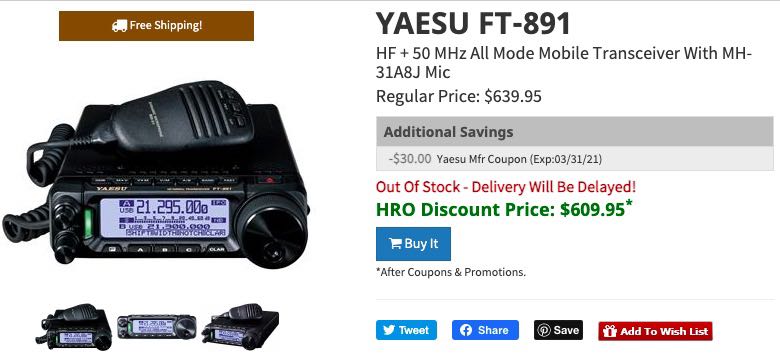 Several readers have been trying to purchase the popular Yaesu FT-891 and found that no one has inventory at present.  We may be looking at extended delays for this model and others once inventory is depleted.
But again, I don't think this is a panic situation. This supply chain disruption has been in play for a number of months already and you can bet the industry is already working on solutions.
My advice would be that if you're getting close to pulling the trigger on a new transceiver, if it's in stock, I'd jump on it now. Otherwise, you'll simply need to be patient as new inventory eventually makes its way back to retailer shelves. Used prices on some of these models may be inflated until new inventory returns.