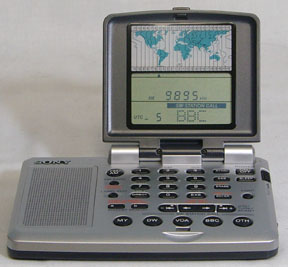 Many thanks to SWLing Post contributor, William, who asks:
Hello,

Firstly thank you for the blog – I have been reading occasionally for several years – it's really interesting.

I live in the UK. I own (was given as a gift many years ago) a Sony ICF-SW07 and have been playing with it for the first time in the while.

I'm wondering if you remember it or ever used it, and if you can give me a rough idea if a new radio, such as the latest Tecsun, have considerably better sensitivity – for SW and MW – or not?

Many thanks.
William
Thank you for your question, William!
To my knowledge, I've only used a Sony ICF-SW07 once and it was from a hotel room at a radio convention, so not ideal for really gauging anything other than economics and superficial qualities. I do know that my friend held it in high regard.  My inclination would be to say that the ICF-SW07 should hold its own and potentially even outperform many modern (late-model) portable receivers.
I do know this, William: in good condition, that 'SW07 will fetch top dollar. I'm not sure I'd ever let go of it!
Sony ICF-SW07 owner comments and feedback?
SWLing Post readers: If you own the 'SW07 and would like to share your thoughts with William, please comment!