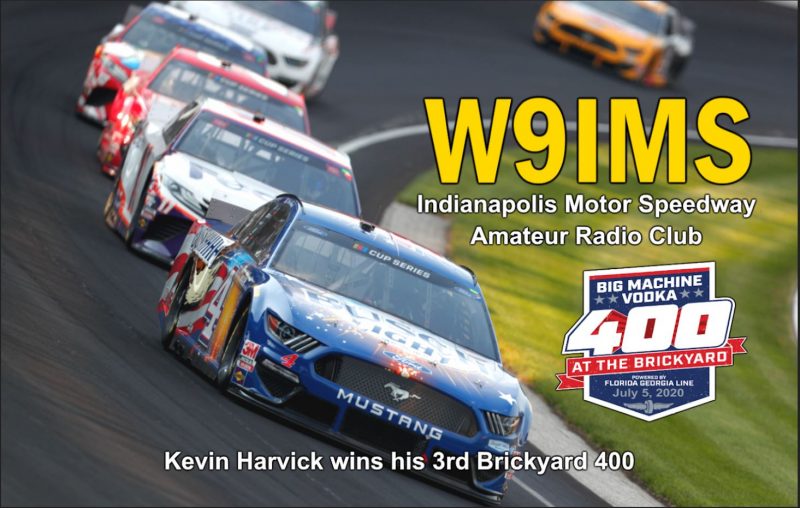 Many thanks to SWLing Post contributor, Brian D. Smith (W9IND), who shares the following announcement:
---
Last W9IMS Special Event of 2021 Brings a Final Chance to Qualify for a "Checkered Flag" certificate or QSL card
If the month of May took you two-thirds of the way to the W9IMS Checkered Flag Award, the week ahead can carry you to Victory Lane.
From now through Sunday, members of the Indianapolis Motor Speedway Amateur Radio Club will operate their third and final special event of 2021, commemorating the upcoming NASCAR Brickyard 200 race. Work or tune in W9IMS and you'll qualify for a special QSL card – along with the Checkered Flag certificate if you logged the station during this year's previous special events, the Grand Prix of Indianapolis and the Indianapolis 500, both held in May.
You'll find W9IMS on 20 and 40 meters and possibly 80 – generally near 3.840, 7.245 and 14.245 MHz – and frequently on two bands simultaneously, especially during the 6 to 10 p.m. EDT "prime time" on weeknights (2200 to 0200 UTC).
To see if the station is on the air at any given time, go to DX Summit – http://dxsummit.fi/#/ – and type "W9IMS" in the search box at upper right.
For more information about W9IMS, including instructions on how hams and SWLs can obtain certificates and QSL cards, go to www.w9ims.org. The page also contains a link to the Brickyard 200 operator schedule, but keep in mind that ops can get on the air at any time, day or night, between now and through Sunday.
If all else fails, look for W9IMS during its final hour of operation, between 11 and 11:59 p.m. local time Sunday (0300 to 0359 UTC Monday). That's when W9IMS often engages in rapid contest-style QSOs, sometimes on two bands, as the final minutes tick away.
But don't stake your card or certificate on it! W9IMS operators have been known to pull the plug early if band conditions deteriorate and/or calling stations become scarce.
– Brian D. Smith, W9IND