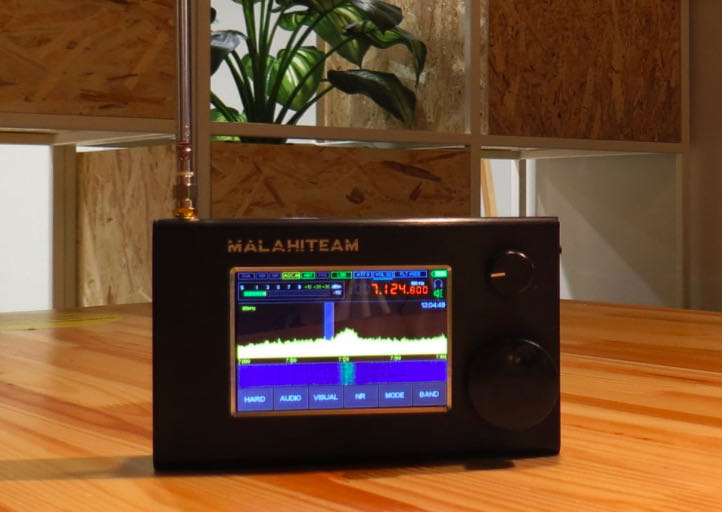 Many thanks to SWLing Post contributor, Mark, who recently shared the following comments in response to Dan Robinson's excellent Malahit DSP-2 review series. Mark writes:
I've been playing with my new Malachit for a week now and I am very impressed. It's got a superb receiver and last night I was pulling in several South American stations using the absolutely amazing Bonito MA305 with the longer whip, not the stock one, it's around 30 feet up in a tree using H155 coax grounded at the base of the tree, this antenna really blows me away. Some of these stations are only 1Kw and the little Bonito was pulling them in very well indeed. I am in the country so have a very low noise floor and QTH is Ireland.
Yes I do have to turn the RF gain to 0 and use around 20db attenuation on Longwave but I know what I should be receiving here in Ireland on LW and by using attenuation it has no negative effect on LW. I do have a strong enough LW transmitter around 45-50 miles away which is probably having an effect here but if I compare it to my Tecsun PL-990x the Malahit completely obliterated the 990x on LW even with the attenuation on the 990x. Its performance on LW with external antenna is very poor even using one of the hidden features by Press and hold the [ 3 ] key for about 2 seconds, this does make a notable improvement to the 990x on LW and MW but the Malahit completely obliterates it on LW and External antenna. Of course the Malahit has no internal ferrite so without external antenna you won't receive anything on LW or MW.
Go to MW and I can reduce the level of attenuation on the Malahit and where I can hear the local LW transmitter 252 kHz on the PL-990x on 756 kHz MW which is BBC R4, Medium Wave I can not hear any bleed over from 252 kHz anywhere on the Malahit on MW. I notice some overloading on the 990x in the SW bands too which doesn't happen on the Malahit at least where I live far away from any SW transmitter except Shannon volmet which is around 100 Miles away. Apart from this and Shanwick Air Traffic, I am not aware of any SW transmitters on the Island of Ireland, certainly no higher power ones
The audio quality of course on the Malahit on SSB absolutely blows the Tecsun PL-990x out of the water. The PL-990x suffers from muffled audio and distortion on SSB and the 4 kHz filter does not work; and on the Malahit SYNC works well which helps a lot to reduce QRM from noise or close stations when trying to weed out a weaker distant station. SYNC on the Tecsun is a disaster due to the poor sound quality and distortion especially with stronger signals and lack of a working 4 kHz filter. For the price of the 990x this is unacceptable using a known flawed DSP chip, the little PL-330 sounds a lot better, clearer audio and a 4 kHz filter that works along with better audio on the 2.5 kHz filter though still has some of that pesky DSP related DSP distortion. But it also works well with the Bonito MA305 which was a real surprise but the muting while tuning is really annoying.
The PL-680 performs much better for ECSS and SSB in general despite the lack of filtering, the audio quality more than makes up for this.
I notice the [DSP-2] supplied whip antenna doesn't perform great but I am sure 20 feet of wire would make things a little better. I have not yet compared the Malahit and the 990x on the whip, I use external antenna 99% of the time anyway.
I notice no screen induced noise, at least not using the external antenna or perhaps this was fixed–? I'm also on 2.10D Firmware.
I would like a larger screen on the Malahit. I wear glasses and I can sometimes struggle to see things clearly which could also be a combination of the colours used.
The rear facing speaker on the Malahit means, to me, audio is seriously degraded, what could have been used perhaps is a sort of port to allow some audio escape from the front of the radio but a larger radio with speaker in the front would have been nice. Still I suppose you can turn the radio around when the screen is off to save battery and then audio clarity from the speaker is quite good for its size. I use headphones 99% of the time anyway so it's not a huge deal.
I would love to see Georgiy and Team make a larger table top radio with some hardware buttons, this would be really sweet but overall the Malahit DSP 2 is a superb and very compact radio.
The Malahit is a real gem of a radio and a credit to Georgiy and his Team. Pair it with the Bonito MA305 with the longer whip and you will have one amazing RX station with much lower noise than a long wire and it really pulls in the DX.
Thanks for sharing these comments and notes, Mark!