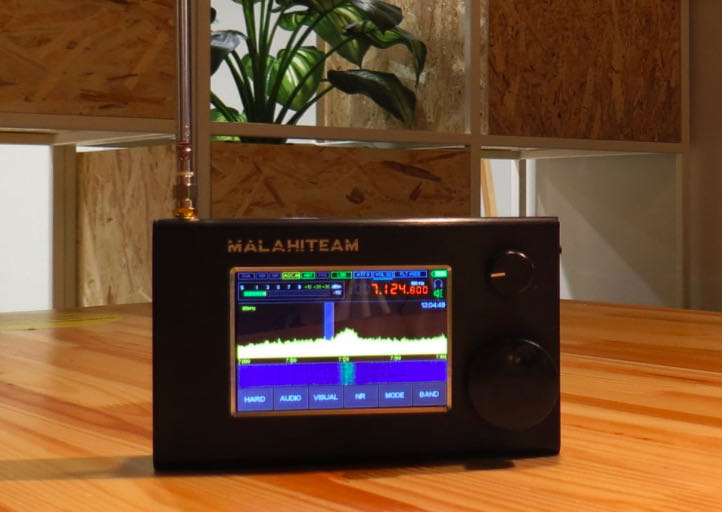 Many thanks to SWLing Post contributor, Dan Robinson, for the following guest post:
---
Additional Thoughts on the Malahit DSP-2 
Potential for Noise Reduction Using Non-Whip Antennas
Latest Firmware Changes
by Dan Robinson
After my last update on the Russia-made Malahit DSP-2, I thought it important to add something about the receiver, as it could well influence those who may be on the fence about purchasing one.
In a series of communications, Georgiy at Malahit team has stressed steps taken to attempt to deal with internal interference seen across the bands.  And he has asserted
that noise spikes lessen if the receiver is connected to a non-whip antenna.
Most of my tests have used whip antennas of various lengths, in various locations indoors and outdoors, because it's my view that portability is a major attraction of these small SDR receivers.
This is certainly true of the Belka DX which combines an incredibly small size with top performance to create what is arguably the best small portable available today, though lack of coverage of mediumwave is a drawback.
I have deliberately not connected my Malahit DSP-2 receiver to my central antenna system which uses Wellbrook and W6LVP loops feeding numerous receivers through a multi-port that maintains constant gain.
In recent tests, I have used the DSP-2 with an AirSpy You Loop, placed in an indoors location where I get the best reception in my house, at a height of about 8 feet.
The result:  indeed the numerous noise spikes that are seen so prominently when using the receiver with a whip antenna, indoors or out, seem to disappear or become subsumed in the noise floor of the receiver.
Georgiy of Malahit team suggests that best performance on shortwave will be achieved with a normal longwire antenna, or a wire of at least two meters.  Through a series of firmware updates, the Malahit team has been playing a cat and mouse game, attempting to reduce noise across the spectrum.  At some point, a limit is reached in terms of what can be achieved with the existing design.
So, I felt it important to mention that the severity of noise spikes is reduced when using the receiver with other than whip antennas.  Whether this pushes prospective purchasers in the direction of obtaining a Malahit, at the fairly high price of $260 in comparison with the acquisition cost of a Belka DX, is another matter.
One could easily argue that the numerous signal processing and other flexibilities of the Malahit make that decision for you.  While the Belka DX is superior in many respects, it lags behind the Malahit on sheer number of settings, though the Belka's fixed processing positions are more than sufficient for superb reception on shortwave.
If the Malahit team can come up with changes in the future that help improve the receiver when used with a whip antenna, beyond the option of activating the 50 ohm
HI-Z setting, that would get me closer to issuing a RECOMMEND on the Malahit.
However, another requirement would be to redesign the antenna connector to make it more robust, preferably to BNC.  Customers simply should not have to deal with some of the problems that have been seen with the current SMA structure.
At present, there's a question that anyone considering purchasing a Malahit, or any of the Chinese clones, should ask:  what is your objective?  If the answer is to have a high performing portable, I have to offer some other observations.
At every point when testing the Malahit, I have concluded my sessions by taking a Tecsun receiver – 990x, 501x, PL-330 and 368 – and comparing them in terms of basic listenability, to the Malahit.  I have used some older classic portables – SONY SW-77, ICF-2010, SW-100, Panasonic RF-B65, even a SONY ICF-7700 (a mostly forgotten basic portable) and tuned in the same signals.
The results are clear – with all the bells and whistles that a Malahit offers in terms of signal processing – it is often much easier to get comfortably listenable audio from a portable made for shortwave listening than with the Malahit.
Add to this the various steps often needed with the Malahit, including fine adjustments of AGC, RF gain, PRE-AMP level and limits, etc to counteract internal noise issues and boost sensitivity where necessary.  By the time all of this is completed, one could have been actually listening to stations on a 990x or SONY 2010.
Can the same be said about a Belka DX?  Yes, and no.  The Belka has a number of fixed settings which need to be mastered to get the most out of that receiver.  But once accomplished, it produces excellent listenable audio, and acceptable sensitivity levels, in a short period of time whereas the Malahit requires considerably more fiddling.
Does this mean I regret diving into the pool with the Malahit?  Absolutely not.  It's an amazing piece of technology, backed by an enthusiastic group at Malahit Team that will surely be improving on the DSP-2 and probably coming out with even better receivers in  the months to come.
But I had to offer up this comparison.  Even with noise reduction efforts on the part of Malahit Team, in the end, you're not likely to hear much more using a Malahit that you won't hear also on a Tecsun 501x or similar recent portable – IF you're a skilled operator with thorough knowledge of the bands.
I am conducting further testing and will report back, including comparisons between the Russia-made Malahit and two recent China-made clones that are en route here that have attracted a lot of attention.
A major question:  will it be possible to simply install firmware updates that are accessible through the Russia Malahit online network, in these Chinese clones?  Another question involves batteries, which do not appear to be easily replaceable on Chinese clones as they are on the Russia-made unit.
An additional recommendation.  Anyone with a Malahit, or Chinese clone for that matter, should purchase silicone bumpers and attach them both to the back of the radio cabinet, and the bottom.  This will protect the cabinet from scratches when using the receiver in horizontal flat mode or vertical stand up mode.
On August 25th, the latest test firmware version was posted by the Malahit team.   Called M2_FW2_10D there are no fewer than 26 changes listed for this version, though many had already been noted for previous updates stretching back into July, including changing waterfall bandwidth from 160 kHz to 192 kHz.
A shorter list of changes can be seen at this site, but I'll summarize them here:
added Pseudo Stereo function. Added Pseudo Stereo button to Audio menu
added the ability to switch audio output in the HARD menu – added the Audio out button. PH + SP (headphones and speaker, Phone – headphones, Speaker – speaker
added PGA BST function to HARD menu. This function can be useful when receiving strong signals and receiving congestion. When overloading, you must select the Disabled position.
changed the arrangement in the frequency bar under the spectrum
changed the behavior of the receiver with a short press on the power button. Now, with a short press in the receiver, the touchscreen is turned off, the spectrum and waterfall work similarly to the Pan & WTF Single option.
the lower operating frequency has been reduced from 50 kHz to 20 kHz.
Note that lowest range has been decreased to 20 kHz, along with yet further efforts to make it possible to handle strong signals and overloading.
These upgrades show again that the Malahit team is serious about improving the current DSP-2 model, though it's clear development continues for new hardware that will likely be available in coming months.
Click here to view all previous Malahit DSP-2 posts by Dan Robinson.