Many thanks to SWLing Post contributor, Pavel Kraus, who shares the following guest post:
---
Raspberry and internet radio
Raspberry and Volumio
I recently read an article about a Raspberry microcomputer here and I would like to introduce you to an idea that is easy to implement, not too expensive and does not require special computer knowledge due to the number of detailed instructions on the Internet. With Raspberry and the Volumio free software audiophile system, it is possible to design devices that allow you to play music files from connected or network storage or listen to Internet radio, etc. You can also play music from Spotify using the available plugins.
The system can be controlled by touch from the built-in display, from a mobile phone or tablet or by remote control. There are a huge number of internet radios, you can search them by genre or by country. For example, radio stations in the United States are categorized by  state, in each state by city, and we can select individual stations in that city.
Volumio is the name for the project, which is presented at https://volumio.com/en/.
There is also the option to download this software and install it on a microSD card. Detailed documentation is available at https://volumio.github.io/docs/, so I will not describe it in detail here, the installation itself is not complicated. I used the following components to make this device: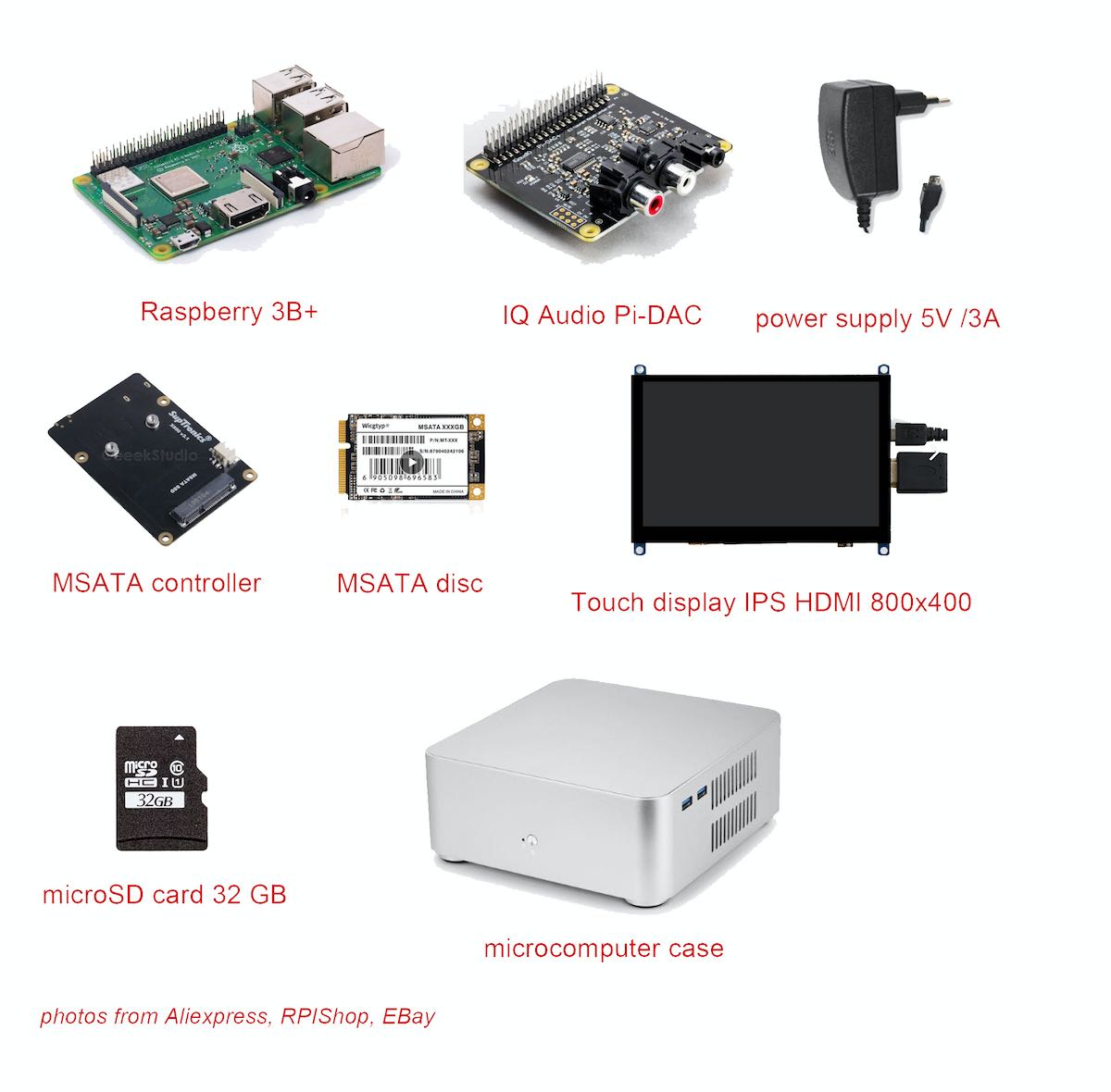 Raspberry 3B + microcomputer
IQAudio Pi DAC + sound card
MSATA SSD controller and 128GB MSATA SSD (not required for operation, used for manual collection of recordings)
5.1 V / 3A power supply
Waveshare 5 "IPS LCD display (H) V4, HDMI, 800 × 480, touch, capacitive (not necessary, but it looks better)
microSD card (32GB is enough) with downloaded Volumio Free system.
USB powered active eight-port hub – an external CD computer drive can be connected to the device, and thanks to the plugin, an audio CD can be played or ripped on the Volumium.
PC cabinet from Aliexpress (unfortunately we do not have similar small and nice cabinets available)
The result can be, for example, this device: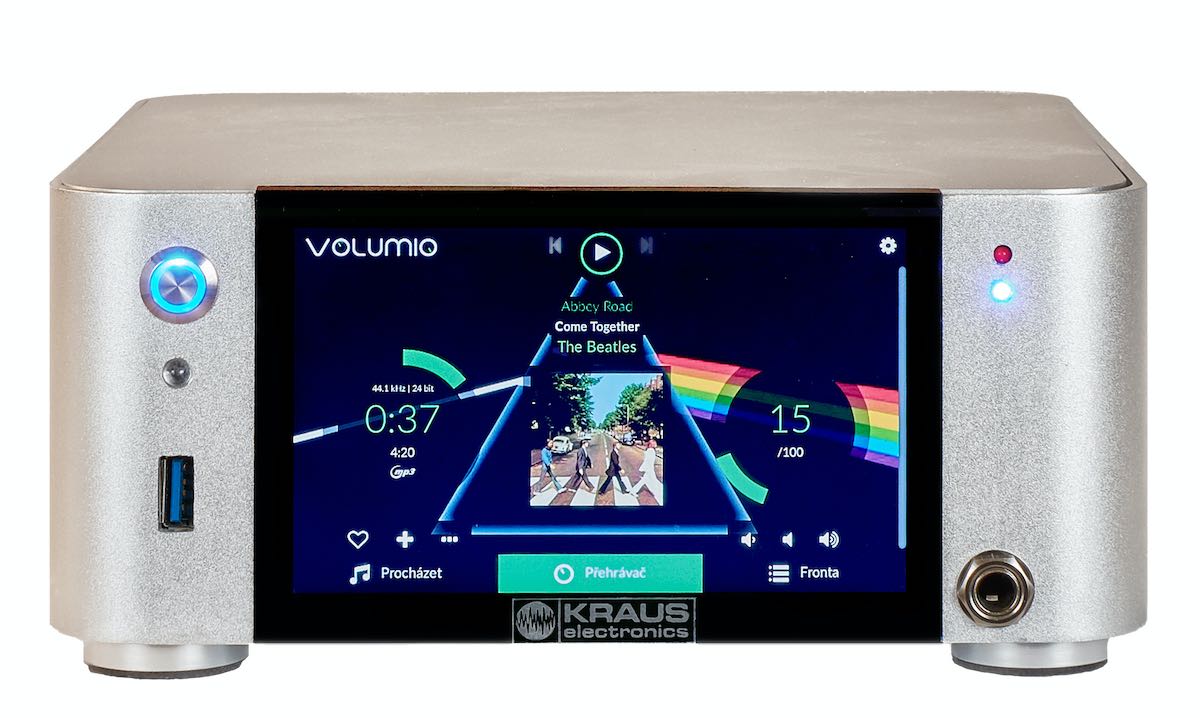 The mechanical machining of the cabinet is also not demanding on equipment – I was satisfied with a cordless drill and hand files for metal. I have been using this system for several years to my complete satisfaction, and in the end I added it to the whole produced hifi set (Network Player with Volumio, preamplifier, equalizer, power amplifier, tuner, headphone amplifier and split CD player and DAC converter with SABER ES9038Q2M circuit.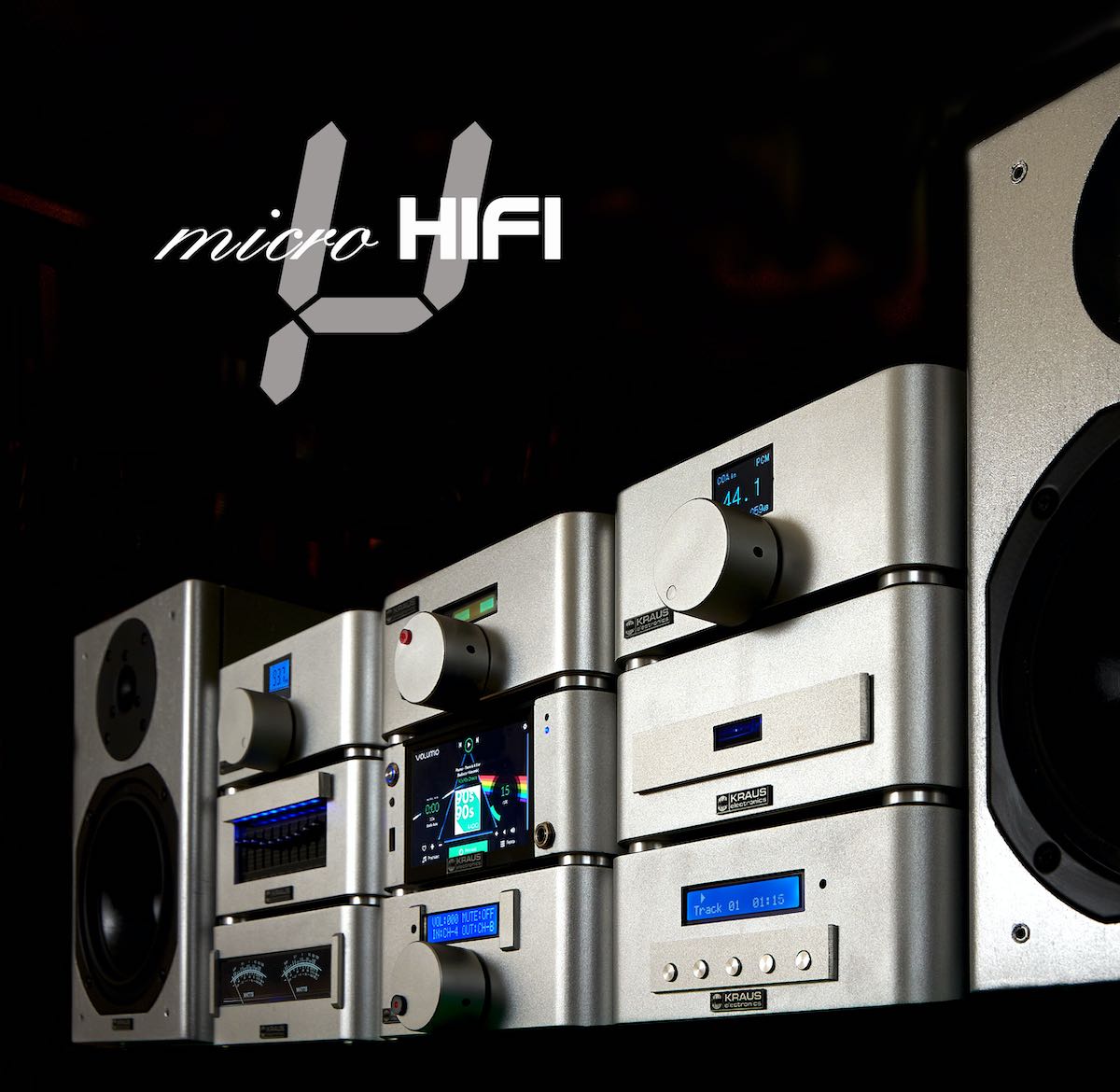 There are a number of projects on multimedia systems including Internet radio with Raspberry, another possible system is
Raspberry and LibreELEC – KODI
KODI is a multimedia application and runs on the Linux open source operating system LibreELEC.
The system can be downloaded from https://libreelec.tv/downloads/raspberry/
More detailed information about the installation can be found at https://kodi.tv/
This system can not only play audio and internet radio but also watch video.
It allows you to play movies from local or network storage.  After adding a Sony TV tuner to the Raspberry, you can watch and record DVBT / DVBT + terrestrial TV. Again there are a lot of plugins (Spotify, YouTube Music and many others). The system can be used in many ways – such as a photo frame with background music, weather info, internet radio playback, TV and VCR, streamer, etc.
The first product is designed as an accessory for the manager's desk. It has smaller dimensions, single-band speakers and its heart is the Raspberry in the 3B + version. It has a TV tuner, 2x10W amplifier with the possibility of connecting external speaker systems and HDMI output. Control is possible using the touch screen, or mobile phone, tablet or radio remote control of all functions.
The second larger device (Kodi2) emphasizes the better sound reproduction, built-in speakers are two-band, amplifier power 2x20W. The basis is again Raspberry, this time in version 4 (more power is suitable for watching video and for newer versions of the operating system), it is again supplemented by a sound card. The DAC converter and Sony TV tuner then allows you to watch and record terrestrial TV DVBT / DVBT +. The built-in 128GB MSATA SSD allows you to store a handy collection of movies, music and photos. The display on the bottom of the instrument shows the clock / VU meter / spectrum analyzer. This device is complemented by an active USB hub, which allows you to connect a keyboard and mouse, and by exchanging a microSD card with a loaded Linux operating system. Raspbian can turn a multimedia system into a full-fledged computer with a web browser, office suite and the like.
I believe that, like me, you will be enchanted by the Raspberry microcomputer, which has almost endless possibilities of use depending on the software used.