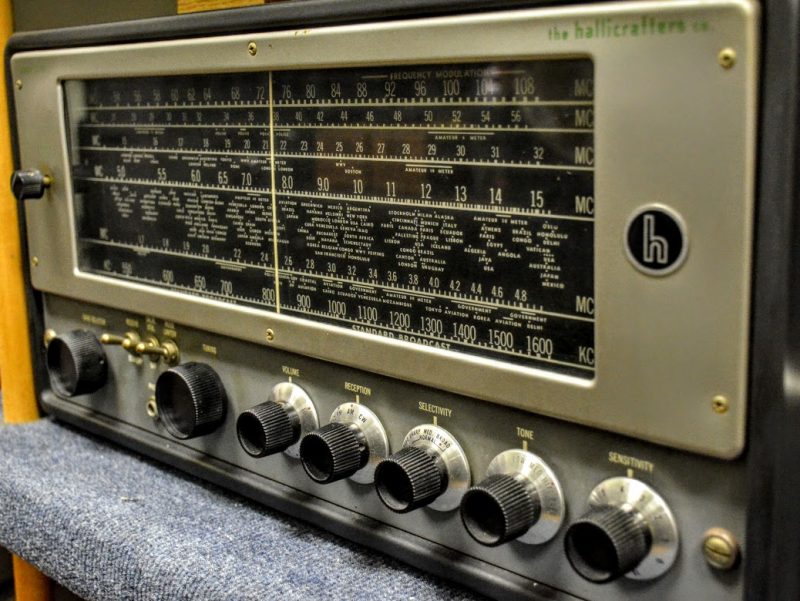 Radio Waves:  Stories Making Waves in the World of Radio
Welcome to the SWLing Post's Radio Waves, a collection of links to interesting stories making waves in the world of radio. Enjoy!
---
If you're driving through the greater Ravenswood area and tune your radio dial to 87.9 FM, you might just enter a sort of radio twilight zone. On tap? Old timey, crime-thriller radio dramas, complete with sleuthy melodramatic music, damsels in distress and classic radio sound effects – footsteps, doors slamming, the gun going off.
There are no call letters or DJs, just "audio noir" floating out over a two-square-mile sweet spot on Chicago's North Side.
It's all broadcast illegally out of a nondescript two-flat on a residential block. There's a spindly antenna on the roof, visible mainly from the alley, and a 50-watt transmitter in the upstairs apartment. And there's Bill, a retired computer and audio engineer who's been operating this illegal station for some 15 years. He asked us not to use his last name for fear of "FCC prison."
"People on the lakefront up in the high rises can hear it," said Bill. "And they used to listen at Lane Tech somewhere on an upper floor. So it gets out a little ways, but not that far."
Bill got into noir not because it's gripping radio, but rather because it's not. He has insomnia, and the plot lines from Dragnet and Yours Truly, Johnny Dollar help him fall asleep. [Continue reading and listen to this piece at WBEZ.]
U.S.-backed news outlets and Ukrainian activists use Cold War techniques and high-tech tactics to get news about the war to Russians.
WASHINGTON — Using a mix of high-tech and Cold War tactics, Ukrainian activists and Western institutions have begun to pierce the propaganda bubble in Russia, circulating information about the Ukraine war among Russian citizens to sow doubt about the Kremlin's accounts.
The efforts come at a particularly urgent moment: Moscow appears to be preparing for a new assault in eastern Ukraine that could prove devastatingly bloody to both sides, while mounting reports of atrocities make plain the brutality of the Kremlin's tactics.
As Russia presents a sanitized version of the war, Ukrainian activists have been sending messages highlighting government corruption and incompetence in an effort to undermine faith in the Kremlin.
Radio Free Europe/Radio Liberty, a U.S.-funded but independent news organization founded decades ago, is trying to push its broadcasts deeper into Russia. Its Russian-language articles are published on copies of its websites called "mirrors," which Russian censors seek out in a high-stakes game of whack-a-mole. Audience numbers have surged during the war despite the censorship.
American organizations are also promoting the use of software that allows Russian citizens to leap over the nascent firewall erected by the Kremlin to control internet access.
The efforts face high barriers as the Kremlin tightens controls on journalists and the internet, passing laws that have forced the closure of independent media outlets, like the Echo of Moscow. President Vladimir V. Putin is doing all he can to keep Russians in the dark about Europe's largest land war since 1945, with casualties going largely unreported in Russian news media. [Continue reading–note, you might need a free NY Times account to read this full article.]
Thank you to Joseph IT9YBG for submitting his article describing how he has made an RTL-SDR based panadapter for his TECSUN PL660 portable shortwave radio.
[…]The result is that Joseph is able to receive the IF output of the PL660 at 451 kHz in SDRUno with his RTL-SDR Blog V3 running in Q-Branch direct sampling mode. He notes that although the IF bandwidth from the PL660 is small, it is possible to decode digital signals by passing the audio demodulated by SDRUno into decoding software. [Click here to continue reading…]
MOGADISHU —
Somalia's first women-run radio and television outlet has opened in the capital, Mogadishu. United Nations-supported Bilan Media will produce content aimed at addressing issues affecting women and champion women's rights in the conservative country.
The launch of Bilan Media in Mogadishu marks another leap in the effort by women to secure their place in Somalia's patriarchal public arena.
Bilan means bright and clear in the Somali language, and the founders say they will stay true to its meaning by shedding light on some of the most consequential issues relating to and affecting women.
Nasrin Mohamed Ibrahim is the editor at Bilan Media.
This project is designed to overcome many of the challenges facing the community, she says. It will focus on the challenges facing women. She says there are stories about women which will be revealed … because there are a lot of stories in the community and they don't allow them to be published, so Bilan will reveal those stories.
By going all-female, Bilan hopes to break the barriers in Somalia's conservative society where issues such as rape, sexual assault and women's medical issues are often ignored.
Bilan says it does not seek to compete with the mainstream media but to chart its course in elevating the voices of women and influencing the agenda in the male-dominated society
Fathi Mohamed Ahmed is the deputy editor.
She says, "I can say that the reason for the formation of this media outlet for women is that in most parts of Mogadishu and Somalia as a whole, there are media outlets where both men and women work but are managed and owned by men. The circumstances of women's needs are not discussed in detail. For example, violence against women is not discussed in depth."
Ahmed says the owners of the station are not out to make a profit.
It is not about making money, it is about showcasing the productivity and power of women. So we want to improve our skills and present them at a place free from corruption and abuse by men.
Practitioners in the industry say the launch of a female-only media house is a bold step in a country where Islamist militant groups do not hesitate to harm or even kill journalists.
The situation is even worse for female journalists who have to battle other forms of challenges such as sexual harassment in newsrooms, cultural stereotypes, pressures from families as well as low pay, compared to male counterparts.
Hinda Jama is head of gender affairs at the Somali Journalists Syndicate.
The potential challenges to this radio station are many, she says. As the radio is only operated by women, women could face challenges from Somali culture. Also, she says, Somali society is not accustomed to women doing things alone or being journalists working alone and most people are not aware of it. Religion-wise, she adds, some clerics may consider women unworthy to speak in the media.
The answers will come soon as to whether the station can meet these challenges. Bilan Media is scheduled to go on the air April 25th. [Click here to read this article at VOA News.]
Many thanks to SWLing Post contributor, Paul, who notes that the following book which details the construction of a T41-ep ham radio SDR transceiver has just been published on Amazon.
Click here to check it out and note that this is an SWling Post Amazon affiliate link.
---
Do you enjoy the SWLing Post?
Please consider supporting us via Patreon or our Coffee Fund!
Your support makes articles like this one possible. Thank you!