Many thanks to SWLing Post contributor, Julian S, who shares the following guest post and review:
---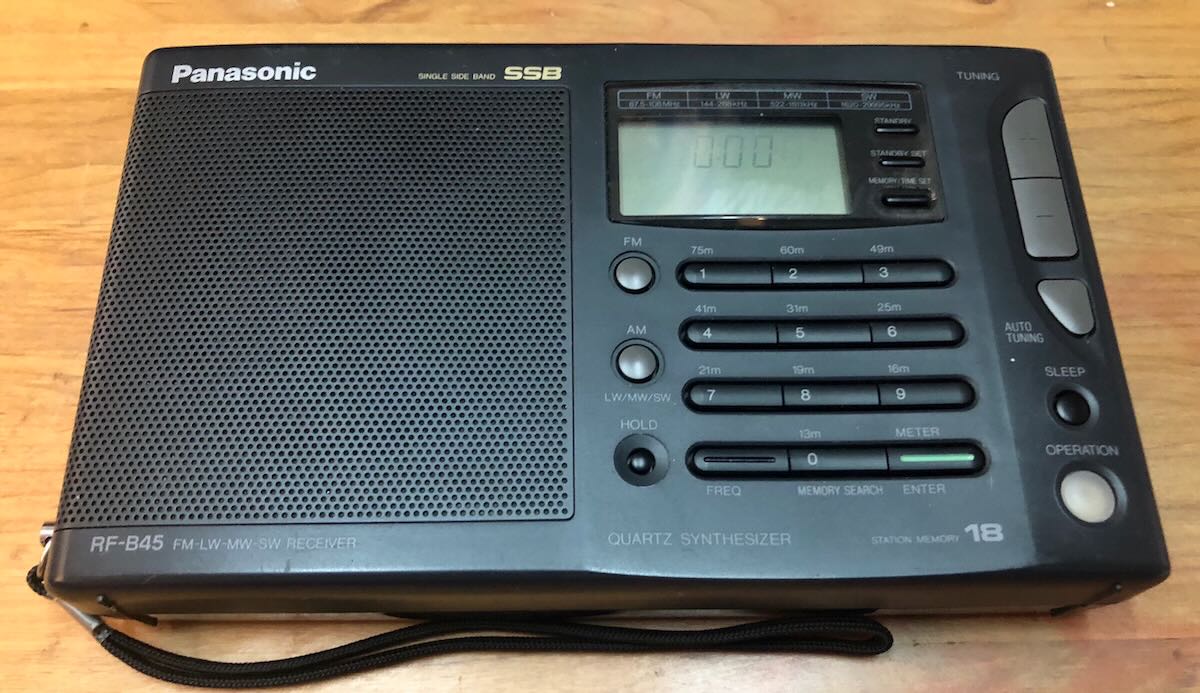 Panasonic RF-B45 – A Comparative Review
by Julian S
18 and 19 October, 2022
I was raised on valve / tube radios. From my pre-teens in the 1960s, I enjoyed tuning through the frequencies as a form of exploration. In the 1970s I experimented with antennae to improve reception. And later, starting in the 1980s, I began to use travel radios, always looking for that perfect radio.
Today the perfect radio for us SWL'ers might need to include a time machine to take us back to the halcyon days of SW, say in the 1980s or 1990s, before so many Western broadcasters axed their Short Wave services.
Looking at the BBC World Service's latest round of cuts, I am filled with horror. Is whoever decided those cuts deeply cynical or deeply ignorant?
Switching BBC World Service content from radio to the internet for countries that block or restrict internet access is not the way to reach people living there. In places where every person's internet access is monitored, where access to websites and web-content is censored or blocked, BBC news internet content will not be widely available. Today and for the foreseeable future the way to reach perhaps half or more of the world's population is radio, especially Short Wave radio broadcasts.
The People's Republic of China (PRC) and other like-minded countries, eg the DPRK (North Korea) fully understand the importance of radio, especially Short Wave and they vigorously maintain multiple Short Wave broadcast programmes as a way to project soft power and influence people.
In this context, it's no surprise that when the Australian Broadcasting Corporation in 2017 suddenly, unexpectedly and against a back-drop of protests from Pacific Island Nations and rural Australians ditched its Short Wave broadcasts, the PRC's China Radio International grabbed Australia's SW frequencies.
I heard that in an earlier round of cuts China acquired frequencies dropped by the BBC World Service.
By the time the West wakes up again to the importance of Short Wave radio broadcasting as a means to communicate to the world, they will find the SW airwaves are full of PRC, North Korean, Vietnamese, Cuban and other broadcasters who never forgot how important SW broadcasts to the world are. I'm reminded of a line from the Sean Connery film, Rising Sun, "If you don't want us to buy it, don't sell it."
Aside from the broadcasters mentioned above, there are still many others broadcasting on SW and there are plenty of Hams too. Short Wave radio listening and Ham radio are widespread and popular in Asia and Africa and are a major source of news. In some countries SW is also used as a means of business and social communication. So much so that there are home-grown radio and transceiver manufacturers in a number of African and Asian nations.
SW listening is big in China. So it's no surprise that probably the best manufacturer of consumer grade short wave radio receivers is a China based company, Tecsun, who need no introduction. Tecsun seems to have taken over the role that was once held by Grundig, Sony, Panasonic and others. Indeed many of the later Grundig models are made by Tecsun.
If you've guessed that I like short wave radio, you've guessed right. And I suppose like many other fans, I usually have my eye open for something special.
Since hearing of the Panasonic RF B65 some years ago, I've been on the look-out for one at a reasonable price… this search led me to the RF B45…. But I'm a man of modest means so I need them to be priced accordingly.
Usually these two 30+ year old radios are priced on North American eBay like holy grail radios. More expensive than a 2nd hand Sony ICF 2010 / 2001D. Go figure. But the other day I found a Panasonic RF B45 for what I considered a reasonable price. It arrived yesterday, well packed, clean and in good condition. After dinner and this morning before breakfast I put it through some of its paces
What follows are some initial impressions of the Panasonic RF B45:
I've read a few reviews of it on eham, shortwave.ch etc. The controls are pretty easy to figure out. It has a similar form factor to the Sony ICF7600 series and is probably comparable in performance to the digital iterations of the Sony 7600 series… though the only 7600 series radio I have at present is the analogue 7601 which is comparable to the Tecsun R9700DX, except in price. New the Tecsun R9700DX is likely to be cheaper than a used Sony 7601 on eBay, and the Tecsun has a wider range of features, eg external antenna socket, comes with a long wire antenna, has better audio… but I digress…
…back to the Panasonic RF B45. This is a fine compact travel radio about the size of a paperback book or two DVD stacked boxes.
In its day – circa 1991 – the RF B45 was a top of the range travel receiver. It still is.
In terms of features it is more spartan than the Panasonic RF B65 though some reviewers say the '45 and '65 have similar but slightly different circuitry. I'll take that on trust. Both receivers' service manuals with schematics are available on the web, though I haven't done a comparison of their circuit diagrams. Here are a couple of links:
https://archive.org/details/manual_RFB45_SM_PANASONIC
https://www.hifiengine.com/manual_library/panasonic/rf-b45.shtml
I compared the Panasonic RF B45 with some of my Tecsuns: a Tecsun PL-330, Tecsun PL-660, Tecsun PL-880X and a Tecsun PL-990X. Using their whip antennas and built in loudspeakers for Short Wave, the Tecsuns have clearer, better, more intelligible sound. But then Tecsun is known for the good audio of their portable radios – and they are venturing into the HiFi market too.
I was surprised by how clear and pleasant the Panasonic RF-B45 sounds with its onboard loudspeaker. This is a radio one could enjoy using to listen to strong signal broadcasts on any frequency for hours.
I live in Hong Kong. And since Hong Kong stopped re-broadcasting the BBC World Service 24/7 on MW, I like to listen to the Beeb on SW. Though RTHK, Hong Kong's equivalent of the BBC, often uses BBC World Service reports in its news, I prefer to get the BBC on SW.
Listening conditions can be challenging. A lot of RFI and Faraday cage effect. We live in an old low-rise building surrounded on all sides by steel framed or reinforced concrete skyscrapers. And our own building also has a reinforced concrete frame, floors and ceilings, making it a quasi-Faraday Cage. My FRG7 is almost deaf in these conditions. But the Tecsuns, Drakes, Sonys, Belka and Malahit (original not fake) and now the new addition the Panasonic RF B45 all work surprisingly well. Listening to RTHK Radio 3 on MW 567KHz, I see the Panasonic needs alignment, its dial peaks the broadcast at "558"KHz, but if truly tuned to 558KHz, the broadcast signal is in fact degraded.
With stereo headphones the Panasonic delivers sound to one channel only, unlike the Tecsuns which even with mono frequencies and broadcasts, e.g. SW, MW and LW deliver two channel sound – which to my ears makes a considerable difference.
By 1991, the year the RF-B45 came out, mono with a single ear bud was already an antiquated way to deliver sound. Perhaps my radio has a defective headphone socket, I asked myself? No. A quick look at the on-line service manual shows the supplied "earphone" is just that, a single mono earbud and the earphone socket is a mono socket. A strange, likely cost-saving, decision to make for a top-of-the-line travel radio in 1991. I will see if I can find a mono to stereo adaptor plug so I get sound in both sides of my headset.
I like the form factor of the Panasonic RF-B45, it has a slightly curved front, rounded edges, the buttons are nicely spaced and well-made and even after 30+ years everything works smoothly and without fuss, pretty impressive statement about build quality. It has a tilt stand at the back and a nice heft to it. Panasonic's engineers clearly put thought into the design. And even after 30+ years it works well and is comparable to the better modern offerings.
I've hunted high and low all over the 'web for a detailed comparison between the Panasonic RF-B45 and the RF-B65. But I have yet to find one. I'd really like to know how the RF B45 and the RF B65 compare with one another and with the current comparable range of Tecsuns, eg the much smaller Tecsun 330, the similarly sized Tecsun 660, 680, 880 and 990.
Listening to the BBC World Service on 11.865MHz earlier this evening I had to use the fine tuning to centre the broadcast, but once centred, the signal was clear, the audio excellent and the background noise negligible. The Tecsuns received the signal better and did not need any fine tuning, they were spot on. But the background noise level on the Tecsuns seems higher.
The Panasonic RF-B45 has digital tuning in 5KHz steps which is displayed on the frequency counter. Main tuning is done by one of three methods:
Entering the desired frequency via a key-pad
Manual scanning using one of two buttons to scan through the frequencies
Auto scanning
In addition it has a rotary fine tuning knob to centre a transmission, fine tuning is also used to demodulate a transmission when the radio is switched to SSB. The fine tuning steps are not displayed on the frequency display. I have not yet tested this radio on SSB, nor have I compared it with SSB on any of the Tecsuns.
I'm glad to have the Panasonic RF-B45, it's a nice radio and a bit of nostalgia. But it's not quite as versatile or as good at snatching a signal out of the air as my Tecsuns. The Panasonic does not have a rotary main tuning knob, which I miss. Some versions have an external antenna socket, though mine does not. But one could clip a long wire to the telescopic antenna, or fit an antenna socket to it if you were so minded. It is a mono radio, even in FM and it has single channel mono to only one channel of stereo headphones, meaning a listener will only hear the sound out of one side of the ear buds or headphones. But audio from its speaker is excellent.
Given its price and limitations, if you're in the market for a go-to travel radio, I'd give it a miss and go for one of the Tecsuns, unless you manage to find the Panasonic for a really low price, in which case snap it up!
But if you're looking for a nice piece of early PLL digital radio nostalgia it's a good radio to have.
Finally a quick personal note about travel radios. I love the Sony ICF 2001D / 2010. I have 4. They are all dead. Cause of death? Capacitoritis. Failed / leaking capacitors seems to be a common problem with many Sony products. Was it a case of designed and engineered in-built obselescence? Or is there some other cause?
Sony has a fine display room in Hong Kong an entire floor in a major building. A playground for Sony fans. For years I tried to order from them an ICF 7600 GR, which no one in Hong Kong stocked, they declined to order it for me. I had an early analogue 7600 which disappeared one day. I was very pleased in the early 2000s to find a new 7601 in a department store. This has suffered various ignominies and no longer works. The other day I was delighted to find for about US$18.00, a clean 2nd hand 7601 on a street stall in Ap Liu Street, Hong Kong's equivalent to Tokyo's Akihabara electronic fish market… yes they even sell fish near by.
But after trial and error for some years now my go-to travel radios are the Tecsun PL-880X and PL-990X. When I bought my first 880 I couldn't believe it. What excellent sound. What good looks, how intuitively it's laid out and how amazing that in SSB it tunes in 10Hz steps. And then the 990X came out. For SWLing, I prefer the 990X. Interestingly, I'm told, the 990 uses the same loud speaker as the 880. But the speaker enclosure is different so one doesn't get the mellow bassy sound of the 880. Instead the 990 has a crisper sound.
Over the years my son and I have acquired many of Tecsun's travel radios. The Tecsun Ham-2000, aka Grundig 800 which is a reconfigured Drake SW-8, S-8800, PL880X, PL990X, PL330, PL660, PL368, PL365, Degen DE-1103 (the original, not the DSP), Degen DE-321, and the Tecsun S-2000 aka Grundig 750. All of these are good radios for what they do and are. And I recommend them all. My only reservations are about the S-2000, which is the most expensive of the current production and while a lot of fun to operate, in my view out of the box and unmodified it's not up to the level of the other serious Tecsun SWLing radios. Tecsun radios are available from many sellers on the internet. I don't have experience of all of them. The sellers I trust are Anon-Co and Tecsun Australia.
I really like the Panasonic RF B45 and enjoy using it. However, when I next travel I'm not likely to take it with me, unless I'd like to compare it with other radios in better listening conditions. That's partly because of its comparative rarity and partly because in my view it's not quite as good as the PL-880X or the PL-990X. Having said that, the RF B45 is an excellent travel radio and if you have the opportunity to buy one in good condition at a reasonable price, get it!
I found a recording comparing the RF B45 with the PL880X and another comparing the RF B65 with the PL880X – to my ears the 880 sounds better. What do you think?
Panasonic RF B45 vs. Tecsun PL-880 – Doug's videos
Panasonic RF B65 vs. Tecsun PL-880 by frequent SWLing contributor Oxford Shortwave
Thanks Doug and Oxford SW for posting your videos.
Disclaimer: I do not own shares in Tecsun, Anon-co or Tecsun Australia nor do they give me free radios.