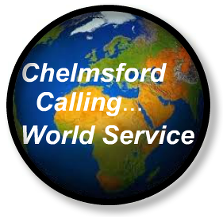 (Source: Chelmsford Calling World Service via WRMI)
We are happy to announce that our first programme will be relayed by WRMI – Radio Miami International on the 2nd Friday of the month – 14th November – at 2300 UTC on 9955 kHz.

We are pleased to be associated with WRMI especially at this exciting period when the importance, enjoyment & potential of short wave broadcasting is recognised & revived.

ABOUT CCWS :

The 'Chelmsford Calling World Service' is a light entertainment programme produced by Jim Salmon – 'Sunny Jim' from the Chelmsford Calling Network – set up with the aim of promoting radio technology past, present & future. Our programme is to be broadcast monthly via various short wave relay stations around the world & is also available to listen to online. Our aim is to re-create the fun & friendship of a regular short wave programme.
We welcome listener feedback & suggestions. To get in touch, e-mail to – chelm[email protected] – or contact us via Facebook or Twitter.
SWLing Post readers: I believe Jeff White at WRMI is doing an fantastic job putting a little fun back into shortwave radio (indeed, giving the medium a shot of adrenaline!).  If you agree, drop him a line and let him know: [email protected]