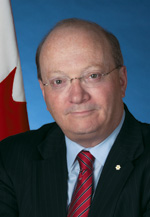 An excellent development in Canada: Senator Hugh Segal's motion for a special committee enquiry into the CBC decision to slash the Radio Canada International budget by 80 per cent has received a unanimous vote in the Senate. Committee hearings will begin as early as February.
Below is the full press release I received from Senator Segal:
(Source: Office of Senator Segal)
Senator Hugh Segal has issued this statement on the unanimous vote in the Senate to have a special committee enquiry into the CBC decision to slash the RCI budget by 80 per cent.

"I am delighted that, in a non partisan way, the Senate voted to have the RCI matter go to a full review of the Standing Senate Committee on Transport and Communications.   My motion was amended by Senator Champagne to go to a full committee hearing rather than a one day appearance before bar of the Senate.

That a ten percent cut to the CBC budget produced an 80 percent slash and burn of  Radio Canada International reflects an internal CBC management decision which needs to be better understood.  CBC management may well believe that if they let people go and dismantle transmitters, the problem will go away.

The importance of Canada's voice to the rest of the world is not a detail of no consequence. The chance to call witnesses, pursue how other enlightened countries have expanded their short wave capacity, among other facts, will be a constructive step ahead in strengthening Canada's international voice."

Committee hearings on this matter may start as early as February2013.