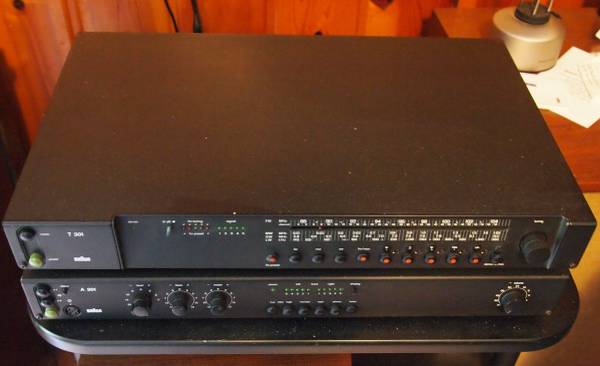 Many thanks to SWLing Post contributor, Paul, who shares this link to a post on Craig's List and asks:
"Interesting shortwave tuner, designed by Dieter Rams. Anybody know anything about this?"
I was not familiar with the Braun A-301 and T-301, but I know there are a few SWLing Post readers who are big fans of Braun gear and Rams' designs. Perhaps someone can comment? If you're a Braun collector and live in the DC area, this may be worth checking out.
Here's the full description from CraigsList:
This is a Braun amp/tuner combo from the 80's in excellent condition. It includes the A-301 integrated amplifier and the T-301 AM/FM/SW tuner designed by Dieter Rams. Both units have been converted to 110 Volt, but only the amp has an American power plug. The tuner will be supplied with an adaptor. This is the last series manufactured in Germany, called "Slim-line". The amp was recently serviced by Musical Technology in Springfield, bad capacitors were changed out and crystallized solder connections were redone.
This A-301 amp uses DIN connectors for inputs and one will be supplied with the unit. The tuner has a captive DIN connector, and if you wish to use it with other amps, you will have to get a female DIN to RCA plug adaptor. It works fine with this amp, though. This analog tuner has FM (UKW), AM (MW) and SW bands as well as 5 manual presets.
All metal construction with excellent design and ergonomics. Not a huge amount of power, only 42 watts, but very good sound, excellent extended bass and a very captivating midrange for a solid-state amp. Unusual balance control with a variable loudness contour. Tuner is also unusual, with a shortwave section as well as sensitive FM and AM bands. Overall, very good sound.
I will also supply one set of DIN speaker connectors without wires, although this amp has 2 sets of outputs. I will also supply a set of 2-prong DIN speaker plugs, but they are not capable of accepting large speaker wires. If you wish to use larger gauge wire, you will have to find larger plugs (available on Ebay).
More info on this amp can be found at Radiomuseum here:
http://www.radiomuseum.org/r/braun_a301a_30.html
Tuner info:
http://www.radiomuseum.org/r/braun_t301t_30.html
I can demo these units for any serious purchaser.