Guest Post by Troy Riedel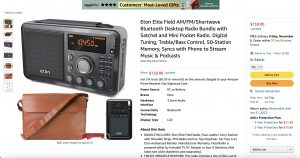 Click to enlarge the photo
I decided to compose a post that 'kills two birds with one stone'.
Almost every time a post appears here that states something like "Amazon its selling WXYZ Shortwave Portable for the lowest price I've ever seen", I typically post a comment "doesn't everyone use Keepa"?
Okay, lets kill the two birds:
Bird #1: Amazon (3rd party seller fulfilled by Amazon) started bundling the Eton Elite Field BT Radio, a carry satchel & the Eton Elite Mini 30-days ago (how do I know, I'll explain that below with bird #2).  The bundle was introduced at a price of $179.95.  Frankly, given the street prices of the Elite Field with satchel & the under $25 street price of the Elite Mini, $179.95 wasn't a great price.  But at the time I start writing this post, 3-hours ago the price dropped to $139.00.  That's a pretty good price IF you're looking to buy all 3 in this bundle (or even if you want the Field with satchel but choose to gift the Mini as a Christmas gift).
But this opportunity brings me to:
Bird #2: Keepa.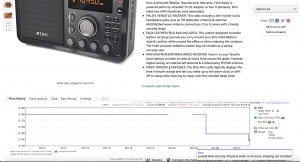 Click to enlarge the photo
Keepa is a great extension (pictured above loaded on my Safari browser).  I have Keepa loaded into multiple browser applications.  With Keepa loaded, I have a complete history of Amazon pricing.  All-time Amazon pricing!  Take a close look at the graphic (click to enlarge).
Keepa tells me this item has been listed on Amazon for 30-days.  It tells me the starting price was $179.95.  It gives me a day-by-day graph of the Amazon price.  It shows me that the price dropped to $149.00 on October 26th at 16:56 EDT.  And it tells me that, 3-hours ago, the price dropped to $139.00.
Want the average Amazon price over the last 90-days?  Easy.  What about the average Amazon price for the past 180-days?  Easy – I get that, too (note: this item has only been listed for 30-days, so the 90-day & 180-day average pricing is the same).
Some of what I am telling you – re: the exact time of the price drop – is only visible when you're [live] on the product page and you move your cursor over the graph (that info pops into view).
And here's the best part: you can Manage Price Watches.  What does that mean?  I can set a target price and Keepa notifies me if/when the product's price meets or goes below my target price (what I want to pay for it).  I cannot tell you how many times I have had items with price watches set … and a few days … or a few weeks go by and <Ding>, I get an email notification that tells me my desired item has dropped below my target price.  I set price watches for radios, tools, tents – even my contact lens solution!  I Manage Price Watches for anything that can wait days, or weeks or even months to buy (I let the price dictate when I buy the item).  Keepa even gives you 24-hours advance notice of an Amazon Lightning Deal.
In summary, this bundle is a pretty good deal as it includes two SW portables & a carrying satchel for the Field.  But this also gave me an opportunity to show everyone how I use Keepa.  I use Keepa for every item I view on Amazon.  And if you look closely, there is an eBay link in Keepa … with a click of my mouse/track pad, I can compare eBay pricing to Amazon.  If this item had ever been listed as "Used", I could graphically track used pricing.  Keepa also tracks Warehouse Deals & even the date, time & price of past Lightning Deals.  Why would anyone not use this handy little extension?  It's like tracking a stock's price history except I'm tracking a specific product's price on Amazon.
But then again, if everyone did use Keepa … there'd be no point in readers sending Amazon deals to Thomas!