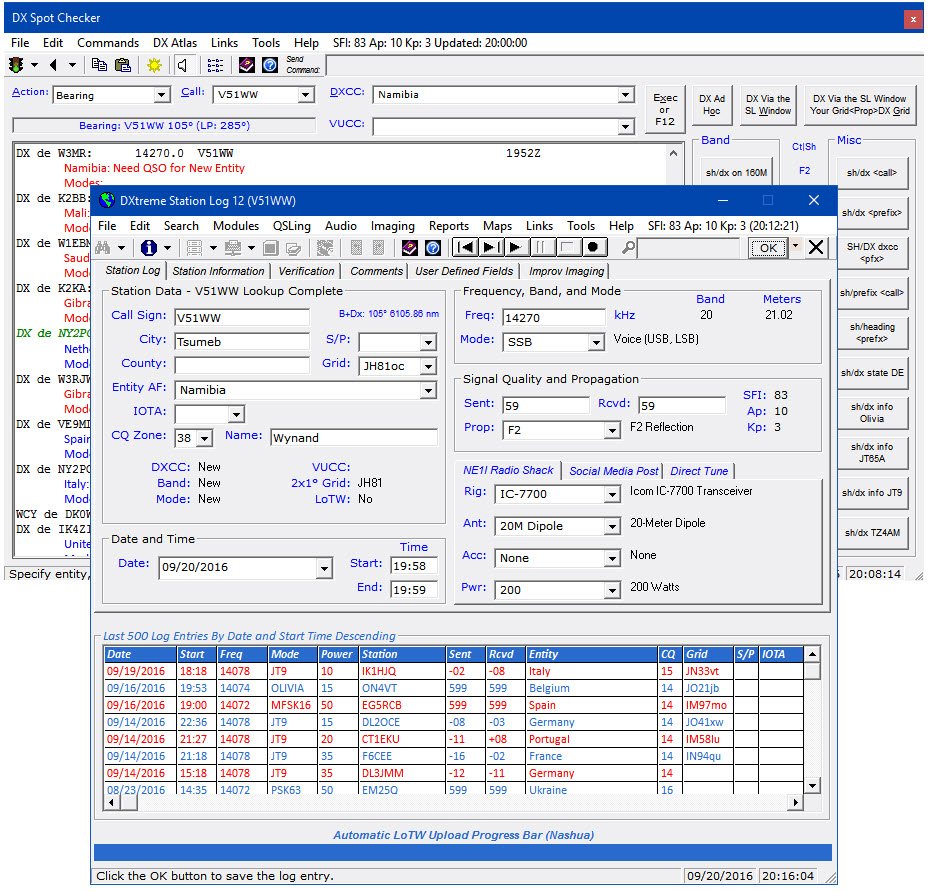 (Source: DXtreme Press Release)
Product Announcement: DXtreme Station Log 12
DXtreme Software™ has released a new version of its popular logging program for
Amateur Radio operators: DXtreme Station Log 12™.
New Features in DXtreme Station Log 12
Automatic LoTW Upload

—

Users can set

Station Log 12

so it uploads each log entry

to LoTW automatically when added, capturing and saving

QSO Record Status

from the LoTW server as part of the process. Modified log entries can be uploaded as well. If desired, users can disable automatic uploading and can upload log entries to LoTW semiautomatically and manually in batches whenever they want to.
LoTW Reporting

—

Users can perform searches and run reports filtered by

LoTW QSO Record Status

, which indicates whether log entries are

On

, or

Not On

, the

LoTW server following upload or QSL-updating. Users can also perform searches and run reports filtered by

LoTW QSL Record Status

, which indicates the date of each LoTW QSL record processed by DXtreme's

LoTW QSL Update Utility

.
JT65A and JT9 Contact Pre-fill

—

Right-clicking the

New

button presents a shortcut

menu that lets users pre-fill the

Station Log

window with log information from a JT65A or JT9 contact completed on WSJT-X or JT65-HF-HB9HQX Edition.
Afreet Ham CAP Integration Expansion

—

Station Log 12

now integrates with

optional Afreet Ham CAP throughout the program. Users activate Ham CAP by requesting short- or long-path propagation predictions on spotted and logged stations and entities.
Quick Find

—

A box on the

Station Log

toolbar lets users type a call sign and press

Enter

to search quickly for a station in their log. If the call is in the log, a list of QSOs

with it appears on a popup window. If desired, the list of log entries can be loaded into the

Station Log

window for viewing or editing, one log entry at a time.
Improv Imaging™

 —

Lets users associate adhoc images with their log entries. This

feature is like, but separate from, our popular QSL Imaging™ facility. Users can

capture

,

scan

, or

paste

any image and save it as a single-page .jpg, or single- or

multi-page .tif. Improv images popular with users include signals on a spectrum analyzer or waterfall, QSOs conducted on Amateur Television and data applications, and rigs and antennas used during contacts.
Other Imaging Enhancements

—

The QSL image previewer on the

Station Log

window is larger, as is the

QSL Image Explorer

, which also lets users call-up, in the

Station Log

window, the log entry associated with each QSL image, making the

Explorer

act like a

Search

window

.

Improv Imaging has its own, dedicated previewer

and explorer.
UX Improvements

—

Users can apply foreground and background colors and font

attributes to grid headings and data rows throughout the program.
Standard Features in DXtreme Station Log 12
DXtreme Station Log 12 lets hams log their contacts and import ADIF files from other programs. It supports major call sign subscription services, and offers the following multimedia and advanced functions:
DX Spot Checker™

—

Receives DX spots from Telnet-based servers, and determines

whether QSOs are needed for new or verified DXCC® entities, band-entities, mode-entities, or VUCC grids.
DX Atlas Integration

—

Performs DX Atlas azimuth plots from the

user's

location to

that of a spotted or logged station. Also creates maps for a variety of reports.
Band Master Integration

—

Afreet Band Master can be invoked with needed band

and IOTA lists based on the user's

Station Log 12

database.
Rig Control

—

Tunes/retrieves frequencies and modes from supported rigs through

integration with Afreet Omni-Rig.
QSL Processing

—

Creates QSL and address labels for physical QSLs, and supports

the ARRL's LoTW facility, including capturing LoTW QSL records as digital images.
Audio Facility

—

Records and plays QSOs.
Reports

—

Provides a wide range of performance and station reports to let users see

how well they're doing. Reports can be filtered and sorted. Includes DXCC® and WAS Analytics™ tools for analyzing and enhancing DXCC and WAS standing.
Operating System and Requirements
DXtreme Station Log 12 runs in 32- and 64-bit versions of Microsoft® Windows® 10, Windows 8.1, Windows 8, Windows 7, Windows Vista®, and Windows XP.
Pricing and Support
DXtreme Station Log 12 retails for $89.95 USD worldwide for Internet distribution. Reduced pricing is available for upgrading users, and CD shipment is available at a nominal surcharge. All prices include product support by Internet e-mail.
About DXtreme Software
Based in Nashua, NH, DXtreme Software produces powerful and easy-to-use logging applications for all kinds of radio enthusiasts — from short-wave and medium-wave listeners and DXers to Amateur Radio operators. For more information about DXtreme Station Log 12, visit www.dxtreme.com or contact Bob Raymond, NE1I, at [email protected].
DXCC® is a registered trademark of the American Radio Relay League, Inc.
Microsoft®, Windows®, and Vista® are registered trademarks of Microsoft Corporation.
Band Master, DX Atlas, Ham CAP, and Omni-Rig are owned by Afreet Software, Inc. A purchased software license for Band Master and DX Atlas are required to use them.
JT65-HF HB9HQX Edition is owned by Beat Oehrli, HB9HQX. WSJT-X is owned by Joe Taylor, K1JT.