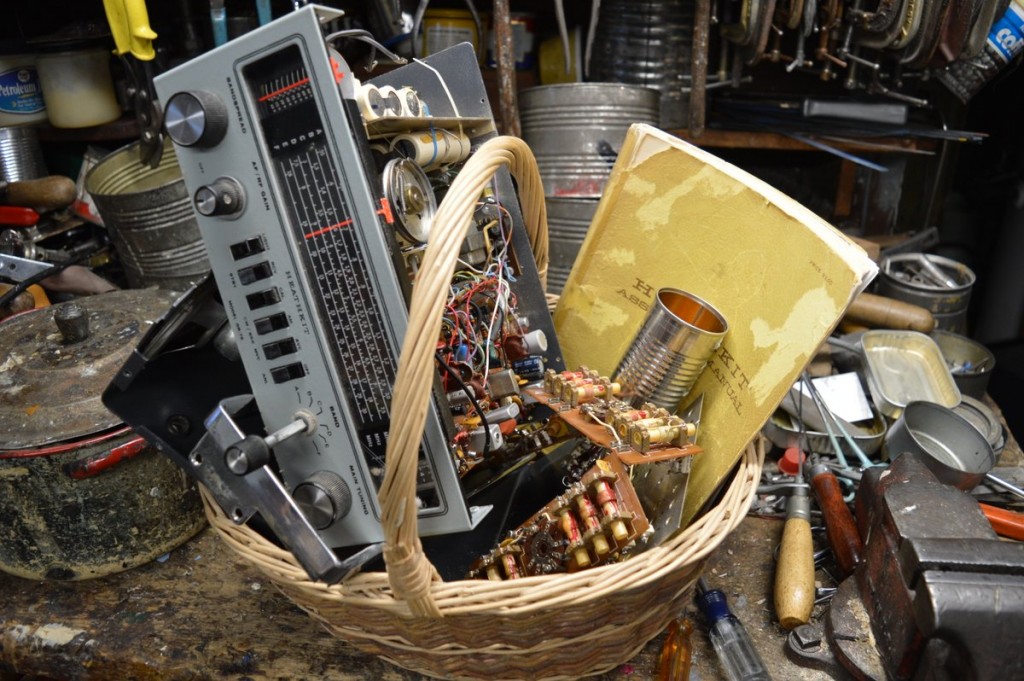 Many thanks to SWLing Post reader, Edward Ganshirt, who writes:
I picked up this Heathkit GR-78 at a estate/moving sale. It was in a pile of "e-waste" (you know, old vcr's broken TVs, remote controllers, dead cell phones, etc.).
I found a container and sorted through the stuff to retrieve all what looks like Heathkit parts. The radio was disassembled and scattered about. I was able to collect all the critical components and brought the works to the sales table. The person manning the table said that was stuff they were discarding and I could have it for free but the Easter basket was $0.50.
So far I had put little time into it but was able to mechanically assemble it completely. All the fasteners holding the cabinet were missing. The rest appears to be all there but the primary side of the transformer is open and the NiCads are shorted and stone dead. The manual that I found in their recycle bin is complete and appears to gone through 3 owners by 3 sets of handwriting in the notes and comments through out the manual. If anything this looks like a CSI/forensics troubleshooting process getting into the mind of 3 different owners unsuccessful at making it work.
I will keep you posted on the progress.
WA1-LAI
More power to you, Ed! There are few things as difficult as picking up where someone else left off on a kit build. Your project is exponentially more complicated since there were three people involved and parts are scattered.  Please update us with your progress.
Readers: If you have any experience with the GR-78, I'm sure Ed would welcome your input!