I'm not sure what I'm going to do after the National Parks On The Air event is over at the end of this year. I hope the ARRL organizes something equally as fun for 2017.
Truth is, I love playing radio outdoors and I love National Parks. The two are a perfect combo.
My buddy, Vlado (N3CZ), and I decided to do an NPOTA activation on Sunday. The weather was fantastic–a little foggy with mild temperatures and the HF bands were open!
We arrived at our site–the Craggy Gardens Picnic Area (PK01)–at 14:30 UTC or so.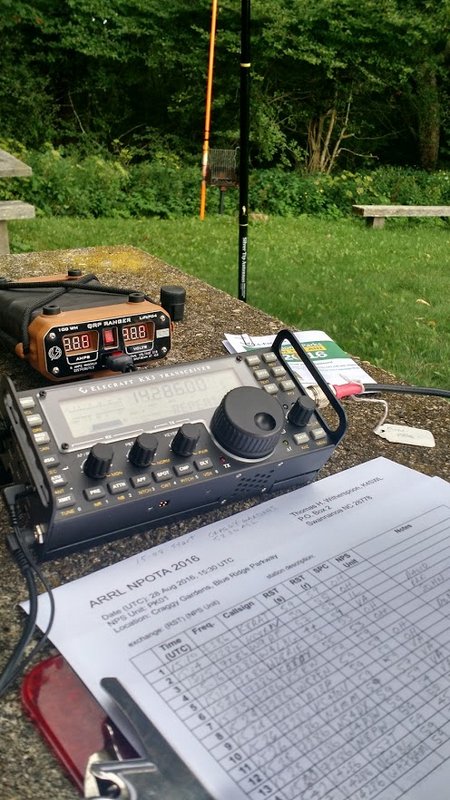 We brought the following antennas and supports:
a self-contained  20 meter band telescopic fiberglass vertical (I recently purchased at the WCARS Hamfest for $40–!) and
a 31 foot fiberglass Jackite pole (the fluorescent orange on in the photos) which we used to suspend a homemade 40 meter doublet Vlado built the day before.
Setup was quick. We were both especially pleased the 20 meter vertical. It was so easy to install, even considering it was the first time either of us had used it.
I powered the LD-11 and the KX3 with my QRP Ranger.
I operated SSB from a picnic table using the LnR Precision LD-11 transceiver, connected to the doublet on 40 meters, and the mono-band vertical on 20 meters.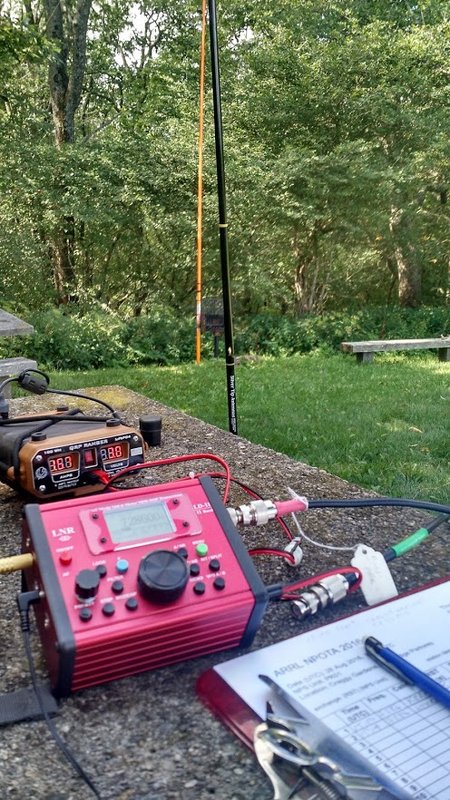 Vlado started by operating CW with his Icom IC-7000 which was installed in his car, but later moved to the picnic table and logged a number of contacts with the Elecraft KX3.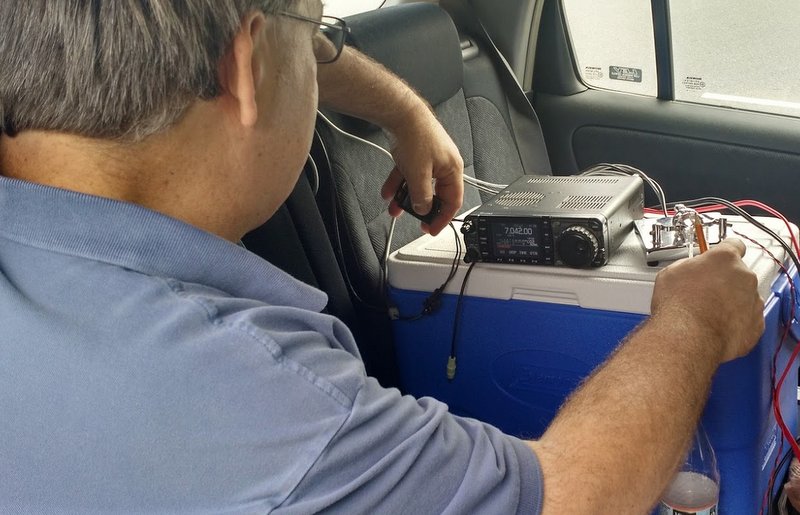 We easily logged the number of stations needed to activate the site.
The 40 meter band was hopping and a good path was open into Ohio, Virginia and other surrounding states. The 20 meter band was serving up some excellent QRP DX.
When I moved to the 20 meter band, the noise floor was so low on the LD-11, I thought perhaps the band was dead.  Not so!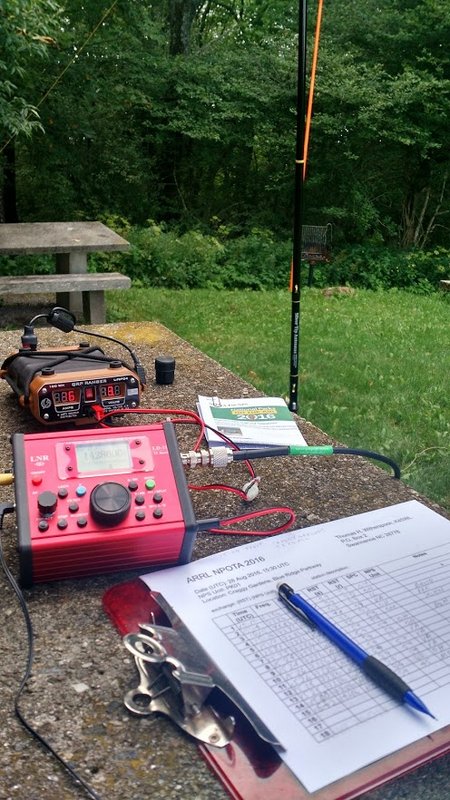 It's hard to believe that with a mere eight watts in SSB  I worked Rhode Island, Texas, Montana, Manitoba, Washington, California and Slovenia from a picnic table on the Blue Ridge Parkway.
Reports on the LD-11 audio were all very positive. I've used the LD-11 for eight NPOTA activations this year and can say with confidence that it's a brilliant & fun little field radio. (FYI: I'll be publishing a full review of the LD-11 in the October 2016 issue of The Spectrum Monitor magazine.)
Vlado and I are planning on several more activations together this year. Our next one will most likely be at the Carl Sandburg Home-. I can't wait!
Any other post readers participating as an activator or chaser in the National Parks on the Air event?