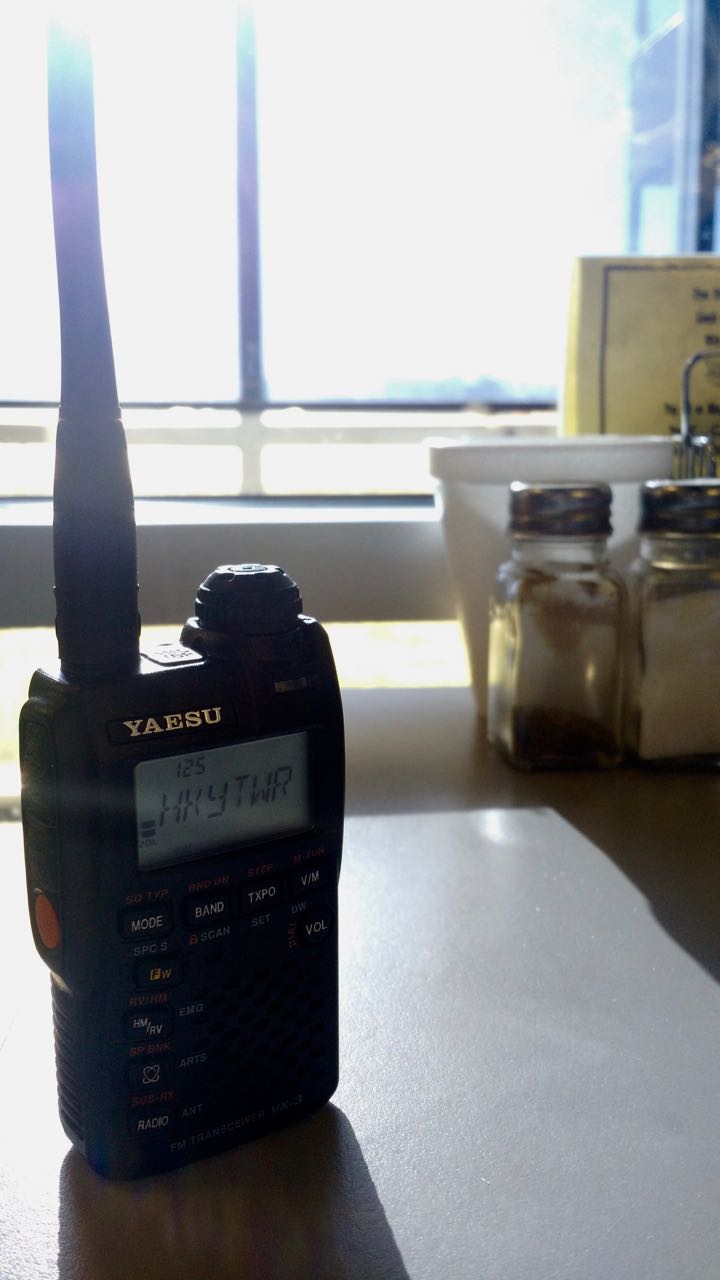 While I have a number of amateur radio handheld radios, one of my favorites is the recently-discontinued Yaesu VX-3R.
Saturday morning, I took my father to the his local regional airport's café (KHKY). It's a frequent stop when I'm in town visiting.
While sipping coffee, talking with friends and watching GA aircraft land and take off, I tuned to the airport's tower. It was a pretty busy morning air traffic-wise and it was fun to monitor communications from our table with a view of the runway.
While the little VX-3R lacks the power output of larger HTs, and doesn't include digital modes like D-Star or DMR, it is dual-band (2M/70cm) and its wideband receiver covers the shortwave, FM and MW broadcast bands in a pinch. Best of all, the VX-3R is amazingly portable.
I take the VX-3R everywhere in my compact EDC (Everyday Carry) pack:
I've used this little radio while traveling (hitting local repeaters and even simplex), I've monitored live air support during a local forest fire, and, on a moment's notice, even caught an ARISS contact.
This week, I decided it might make sense to purchase another VX-3R to carry in the glove compartment of my truck. Since I already know my way around this radio, and since I already have the software and programming cable through RT Systems--it seems to make sense.
I checked the price at Universal Radio only to find the following notice:
AVAILABILITY UPDATE:
This model is being discontinued. We expect one more shipment in late February which will fill our back-orders.  We are not accepting additional orders at this time.
DX Engineering, Ham Radio Outlet and GigaParts also show no stock.
I feel like $139 was a bargain for this versatile amateur HT.
Late last night, a "New Open Box" unit appeared on eBay for $119 shipped. The seller had 100% positive feedback, so I snagged it.
If you're interested in the VX-3R, your best bet will be to check with radio retailers like Universal Radio and Ham Radio Outlet for used/demo units.
Of course, you might also follow a VX-3R search on eBay.
Post readers: Any other VX-3R owners in our community? Any other fans of monitoring ATC/aviation traffic?